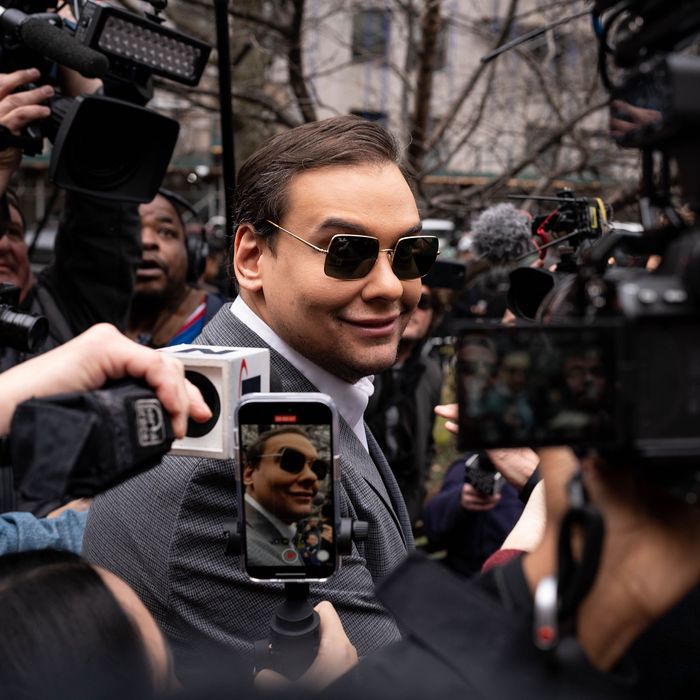 Photo: Mostafa Bassim/Anadolu Agency via Getty Images
George Santos is not done yet.
The freshman Republican U.S. representative announced Monday that he is running for a second term despite his steep unpopularity and looming legal trouble. Santos had hinted at a reelection bid last month when he filed with the Federal Election Commission, but he made his 2024 goal official in a statement on Twitter.
"Since the Left is pushing radical agendas, the economy is struggling, and Washington is incapable of solving anything, we need a fighter who knows the district and can serve the people fearlessly, and independent of local or national party influence," Santos said.
Since winning his seat in November, Santos's campaign-crafted image began to unravel following a barrage of reports alleging that he lied about nearly every aspect of his life. The fabrications ranged from his past employment and where he attended college to his family heritage and whether his mother's death was a result of 9/11. His extensive falsehoods appear to go beyond his biography into his finances with many questions still left outstanding about his campaign's financial filings. The representative has faced loud calls for his resignation but has remained defiant.
It's not clear where support for a second term would come from. Santos lacks backing from his fellow Republicans at home, for starters. In January, Nassau County GOP chairman Joseph Cairo said Santos "has disgraced the House of Representatives." Several of his fellow New York Republicans in the chamber have urged him to step down and even sponsored a bill aimed at preventing him from profiting from his untruths.
Santos is incredibly unpopular. A Newsday-Siena poll from February found that 78 percent of voters in his district think he should resign with a nearly identical number saying they didn't believe Santos could represent their district effectively.
Then there is the matter of the law. He is being investigated by federal and local prosecutors for a variety of financial dealings including the shady money he put into his 2022 campaign. The House Ethics Committee is also looking into him following a complaint filed by two of his Democratic colleagues from New York.