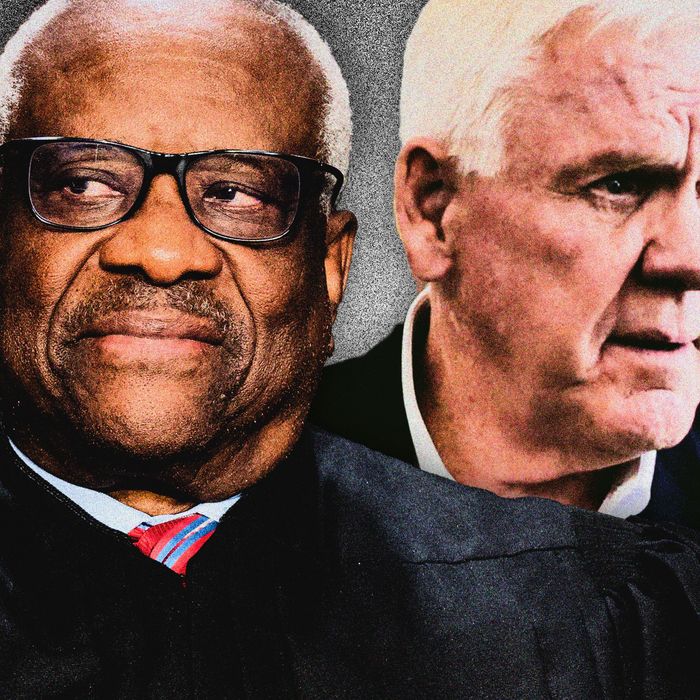 Photo-Illustration: Intelligencer; Photos: Getty Images
When Supreme Court Justice Clarence Thomas got caught last week for accepting lavish vacations and yacht trips from billionaire conservative donor Harlan Crow, he said his patron's generous hospitality was "not reportable." But according to a new report, Thomas didn't even disclose when one of Crow's firms directly paid him tens of thousands of dollars.
ProPublica, which broke the news, followed up in a Thursday report showing that in 2014 one of Crow's companies bought a number of Savannah, Georgia, properties co-owned by Thomas and members of his family for a total of $133,363. The purchase included the two-bedroom home of the justice's mother, Leola, which Crow's firm then upgraded with $36,000 in renovations by an award-winning local architect, including a garage, a repaired roof, and a new fence and gate.
A post-Watergate federal disclosure law requires justices to report details of real-estate sales over $1,000, but Thomas failed to disclose the purchase. Four ethics-law experts told ProPublica that he had violated the law in not doing so. "Given the role Crow has played in subsidizing the lifestyle of Thomas and his wife, you have to wonder if this was an effort to put cash in their pockets," one watchdog told ProPublica. Buying Thomas's mother a new garage was simply an effort to "preserve its long-term viability," Crow told ProPublica in a statement. Thomas did not respond to requests for comment.
According to two neighbors, Thomas's 94-year-old mother still lives in the house owned by her son's billionaire friend. (Slate, who spoke to Leola Willis weeks ago for a podcast on Thomas, also confirmed that she still lives there.) Crow did not say whether he or not he charges her rent.