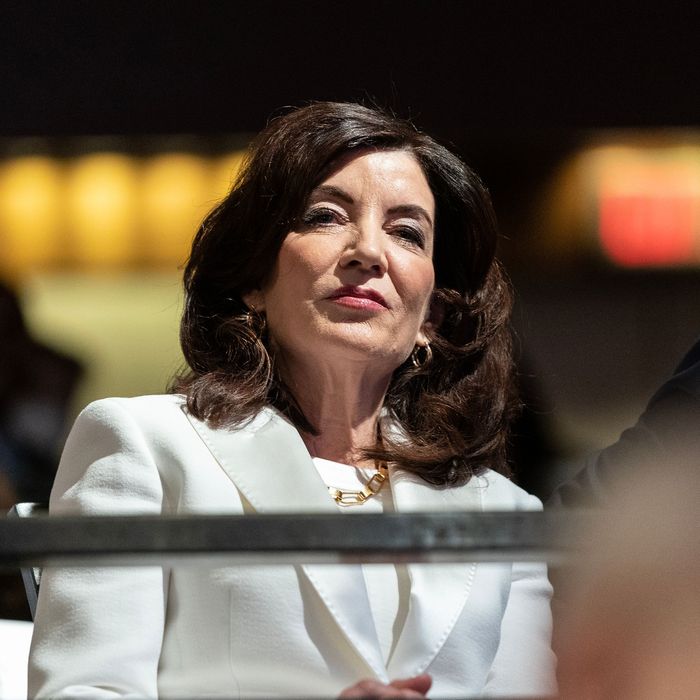 Photo: Lev Radin/Pacific Press/Shutterstock/Lev Radin/Pacific Press/Shutters
The New York Times reported Wednesday that one of Governor Kathy Hochul's top advisers is based in Colorado, thousands of miles from the state whose policies he is influencing.
According to the Times, Adam Sullivan is a somewhat mysterious figure who is disliked by some in the governor's orbit both for his political advice and his treatment of peers. Several people who spoke to the Times described him as "disparaging subordinates, especially younger women" as well as "marginalizing those who disagreed with him." He is also responsible for a risky messaging decision made early in Hochul's bid for a full term as governor, one that would follow her campaign all the way to November.
Last spring, Hochul's team cut a 30-second ad focused on crime and keeping the city safe, but Sullivan suggested focusing on abortion instead and the TV spot ultimately never ran. Then crime became a significant topic in the governor's race, first as Hochul was attacked from the right during the Democratic primary by then-Congressman Tom Suozzi, who painted her as weak on the issue, particularly when it came to bail reform. That same line of attack was used to great effect by her Republican opponent in the general, Lee Zeldin, who came within striking distance of Hochul in late polling, prompting a more crime-focused strategy in the waning weeks of the campaign. In the end, Hochul won by six points, though Democrats dropped four House seats in the state, largely because of Republican attacks on crime.
Sullivan had previously served as Hochul's campaign manager during her successful 2011 bid for Congress from her native Buffalo. Since then, he continues to advise the governor and has played a key role in her administration despite being based in Boulder, Colorado. He heads ACS Campaign Consulting, which the Times notes has received $50,000 from Hochul's campaign since 2021. But sources tell the outlet Sullivan also likely receives a portion of the campaign's ad spending, which means he has potentially netted at least $500,000.
Sullivan also had a hand in another controversial move by Hochul: her selection of Hector LaSalle to be the state's first Latino chief judge of the court of appeals. The pick was swiftly denounced by many members of her own party who felt some of the justice's past decisions were too conservative. But Hochul stuck by her pick, and the Senate Judiciary Committee voted down LaSalle's nomination. A court challenge later forced a vote before the full State Senate, which also rejected the judge. Hochul later appointed Rowan Wilson to the role, and he was quickly approved by the Legislature.
In a statement, Sullivan said, "I have always tried to treat everyone with respect and regret that there are people who feel I did not meet that bar."