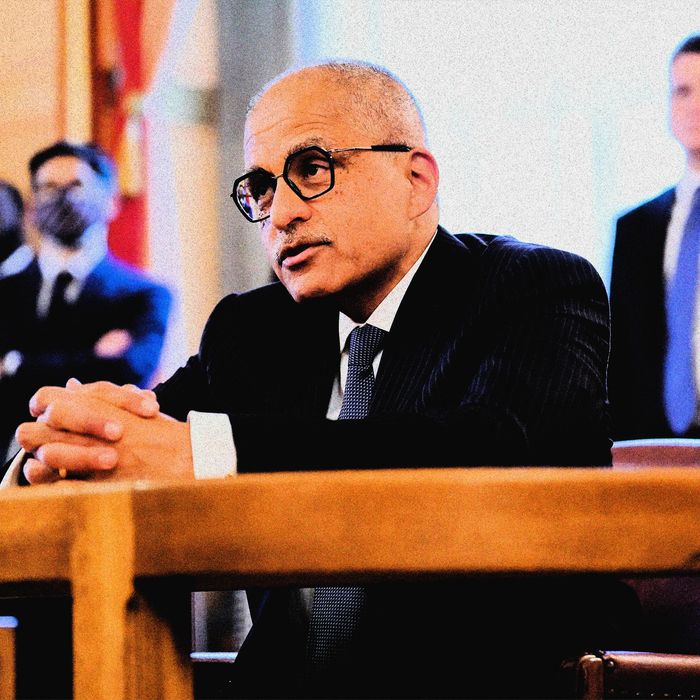 Photo-Illustration: Intelligencer; Photo: CINDY SCHULTZ/The New York Times/Redux
After months of debate, denunciations, and threats and a first-ever rejection of a governor's nominee, the State Senate happily agreed, 40 to 19, to make Rowan Wilson New York's chief judge after a speedy, courteous, and uneventful hearing. A lot of contentious issues are sure to come before the state's highest court — including bail reform, civil-rights questions, environmental mandates, and eviction procedures — so why did Wilson get ushered in so quickly, unlike Governor Hochul's previous nominee, Hector LaSalle?
The issue that got Wilson over the finish line is his stated belief that the Democratic-controlled legislature should have been allowed to create gerrymandered political districts. That made him especially attractive to the state senate's Democratic supermajority, which seems determined to flex its progressive muscles and clearly would like an ally leading the high court.
"The Court of Appeals is so important for so many reasons, not least because of the makeup of our current U.S. Supreme Court and how it is either chipping away or in some instances completely eliminating rights that we need to be protected. We depend on our state courts to do that," Alice Fontier, the managing director of the Neighborhood Defender Service of Harlem, told me. "He will be the first Black chief judge, and also he will be able to set culture and direction on the court."
Wilson's elevation is not free from controversy — including a version of the same one that doomed LaSalle's nomination. Last month, he penned a Court of Appeals decision, People v. Regan, that dismissed charges against an upstate man who'd been convicted of first-degree rape. The case had to be thrown out, said Wilson, writing for the 4-2 majority, because prosecutors in St. Lawrence County — despite the victim's prompt report to the police the day after being raped — did not indict the accused man until four years late and failed to take even basic investigative steps like a DNA test until more than two and a half years after the crime.
"Our constitution allows for modest unexcused delays; it allows for lengthy justifiable delays. But it does not allow for lengthy unexplained or, as here, inexplicable delays caused by lethargy or ignorance of basic prosecutorial procedures," Wilson wrote in his opinion, concluding that the long delays by police and prosecutors violated provisions of the state constitution that require prompt prosecution of cases.
"With the majority decision, the scales, once again, weigh against women's voices," Judge Madeline Singas wrote in a blistering dissent. "The result is a stunning nullification of a jury's first-degree rape conviction and the reinforcement of the bleak history of the treatment of sexual assault victims."
Singas's concerns were echoed by the National Organization for Women's NYC chapter.
"I have to point out just the fundamental unfairness and misogyny that's built into this reasoning, that the way to serve rape victims is to throw out their convictions as a way to spank prosecutors. That is unacceptable. It fully disqualifies him to lead this court," NOW-NYC's president, Sonia Ossorio, told me, predicting that Wilson's elevation "is going to go down in history as one of the worst decisions that has come out of this administration and this legislature."
Ossorio also pointed out that many of the same progressive senators supporting Wilson's appointment had earlier this year attacked Judge Hector LaSalle — and voted down his nomination — based, in part, on his 2017 vote in Evergreen v. Schneiderman, a case involving the privacy rights of an anti-abortion organization.
"In the last nomination, they were outraged that the nominee made a call on a procedural case about subpoena power for an anti-choice group. Where's the outrage here?" Ossorio said. "We're talking about a person who's back in the small town where she lives, where the rapist lives. And he's going to say, 'My case was overturned.'"
One reason Wilson got such a friendly reception from the State Senate is his dissent in last year's case Harkenrider v. Hochul, in which the Court of Appeals threw out the legislature's proposed redrawing of political district lines and turned the matter over to a court-appointed outside special master. The resulting new maps disrupted Democratic political dominance and contributed to Republicans' flipping four congressional seats.
Wilson opposed appointing the special master. "It is important to pay close attention to the wording of the Constitution. It does not prohibit the creation (or maintenance) of districts that are highly partisan in one direction or the other," he wrote in what was surely music to the ears of Democratic leaders. "I do not mean to say that I know the Legislature did not draw some districts in a way that violated our State Constitution; rather, the evidence here does not prove that to be the case at the level of certainty required to invalidate the 2022 redistricting as unconstitutional."
Wilson's opposition to the redistricting process matters because Dems are still quietly fighting to get last year's lines thrown out. Earlier this month, Governor Hochul and Attorney General Letitia James submitted a friend-of-the-court brief arguing that last year's hastily redrawn lines should not last for the rest of the decade; they are calling on the court to allow the state legislature to take another crack at redistricting.
That tees up what could be an important legal and political showdown. If Hochul, James, and other leading Democrats get their way, redistricting will end up in the Court of Appeals again. And should that happen, Democrats will get a sympathetic hearing — and, perhaps, a favorable outcome — under Chief Judge Wilson. Stay tuned.