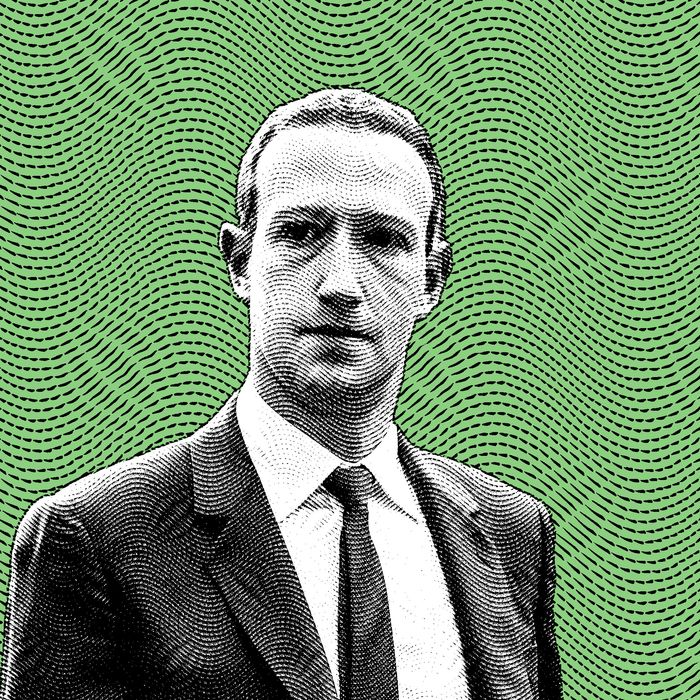 This is his happy face.
Photo-Illustration: Intelligencer; Photo: David Paul Morris/Bloomberg via Getty Images
It is hard to believe, but Mark Zuckerberg is on the cusp of having his best year in a decade — maybe since he launched Facebook from his Harvard dorm. Meta, the parent company of the social network your parents still use, has grown at the fastest rate since becoming a public company. After bottoming out in November, shares of the company have more than doubled, and Zuckerberg's personal wealth has increased by more than $30 billion. On Wednesday, things got even better after the company reported that it had made more money than Wall Street expected, signaling that the old Zuckerberg was back. (His wife, Priscilla Chan, also gave birth to their third child in March. Mazel!) How did this happen? In part, it's the result of an about-face after pouring billions into his metaverse whimsy, a decision that was threatening to run the company toward a very rapid failure. But there's also a lot of dumb luck and Zuckerberg's own unabashed drive to rip off whatever is popular on the internet that has made this such a bonanza for the 38-year-old CEO.
Looking at Meta's first-quarter earnings statement is a bit like going into a time warp back to 2016, before the election and Cambridge Analytica and QAnon and all the mind-warping effects of social media became evident. Meta made more than $28 billion in revenue from ad sales, and it expects to make as much as $32 billion this quarter. Daily users rose to 2.04 billion; monthly to nearly 3 billion. Sell more ads, get more people on the platforms — this was the basic formula that made Zuckerberg rich in the first place. These are increases of a few percentages, but for a giant company like Meta — with a market cap of more than $500 billion — they signal giant moves. And Reality Labs, the unit that oversees the metaverse, saw the money it made fall by more than half from the first quarter last year — perhaps a reflection of the change in priorities.
All this didn't come out of nowhere, and much of this year's turnaround is happening because the bar is set so low. Last year was a disaster for Zuckerberg. The company was planning on investing $100 billion into the "embodied internet" of the metaverse, but the plan only seemed to get less popular as the company spent more and more money. That February, it lost $232 billion in market value in a single day, still the single largest one-day drop for any public company ever. Tim Cook choked off his ad business; TikTok was stealing his users. By the end of the year, all the investors that Zuckerberg had ignored were getting tired of waiting for the company to make ridiculous amounts of money again. "Meta needs to get its mojo back," investor Brad Gerstner wrote in an October open letter to the board. The solution involved cutting employees, scaling back the metaverse plans, and investing in AI.
Zuckerberg has previously talked about how he went through a "humbling wake-up call" last year, and has since called 2023 the "year of efficiency" for his company, the kind of direct message that Wall Street loves to hear. He laid off 21,000 people. (A "third wave" is still to come later this year, Zuckerberg said in an investor call). And the metaverse is already buried as a company priority — hardly the "next frontier" that he had gone all in on not even two years ago. During an investor call, he said it was "not accurate" that the company was moving away from its metaverse plans, but every time he brought up the topic, there was always a shift in tone, a subtle shift in excitement, and a caveat that, whatever it was they were building, it would take a long time before his vision would come to the fore. The momentum here is clearly on AI.
But laying off thousands of people doesn't make make a company's stock go up 140 percent in six months — not by itself. November, the company's most recent low point, was also the same month that OpenAI released ChatGPT, which has clearly gotten Zuckerberg's attention. AI has already shown that it can make behemoths like Microsoft and, to a lesser extent, Google even bigger mountains of money. (As a point of comparison, the day Microsoft announced it was partnering with Meta to build out its own business-VR products, shares of both companies didn't really go anywhere. Was anybody actually excited about virtual-reality offices?)
Zuckerberg has always done well not so much by coming up with wildly creative and new ideas but by buying his competitors, such as Instagram and WhatsApp, or ripping off his rivals, as when he began pushing TikTok-like Reels. This year, he has already poured billions of dollars into AI technologies, taking advantage of the deep well of data the company has on its 3 billion or so users. He revealed that about 20 percent of what you see in your Facebook or Instagram feeds are recommended by AI — which might explain why feeds increasingly feel awful and boring.
The details about how much Meta is dumping its metaverse plans, and pumping AI, aren't clear from the earnings report, and Zuckerberg didn't go into it — but it will be a lot. The Reality Labs unit that houses the metaverse research also oversees AI, and the report says it will keep on spending even more money this year than it did last year. (So far this year, it's lost $4 billion). All in, the company plans on spending as much as $33 billion in 2023. Zuckerberg might not be the one who first brought AI chat to the mainstream, but it sure doesn't sound like he's ready to let someone else rake in all that money either.