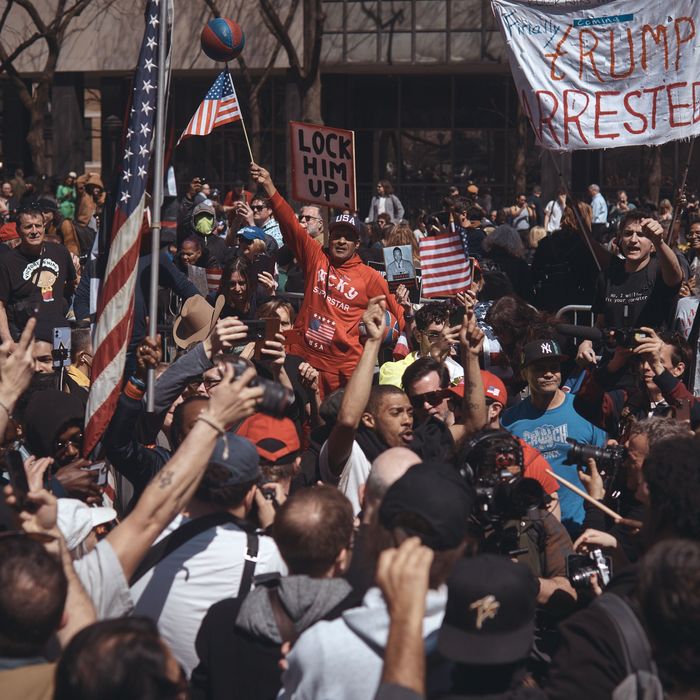 Donald Trump's arraignment on charges of falsifying business records Tuesday has likely rendered him less electable and yet more invulnerable to Republican attacks on his electability. For this reason, both Trump's nomination and Joe Biden's reelection just became a bit more likely.
Entering the 2024 Republican primary, Trump's greatest liability was his uncertain competitiveness in a general election. The vast majority of GOP voters have few complaints with the ex-president's governing record, ideological positioning, or personal character. NeverTrump Republicans may wring their hands over the insurrectionary demagogue's despoilment of their party in MSNBC green rooms. But in a recent Quinnipiac poll, 72 percent of GOP voters said that Trump "has had a mainly positive impact" on the Republican Party, while 79 percent said they viewed themselves as members of Trump's "MAGA movement."
No one is going to persuade a critical mass of GOP primary voters that a second Trump presidency is undesirable. The best hope of the myriad Republican activists, donors, and elected officials who crave liberation from the mogul's personality cult is to convince the conservative rank-and-file that another Trump term is impossible (or, at least, highly unlikely).
After all, Trump is the only Republican who has ever lost a presidential election to Joe Biden. Even conservatives who deny the legitimacy of that election must grapple with the fact that Trump failed to "stop the steal" despite having the powers of the presidency at his disposal (a benefit that he will not have next year).
Ron DeSantis has staked his 2024 campaign on an implicit electability argument. The Florida governor has taken pains to minimize the distance between himself and Trump on virtually every substantive issue that splits Republican elder statesmen from the ex-president. DeSantis has embraced Trump's iconoclastic skepticism of U.S. support for Ukraine while implementing illiberal attacks on free thought and expression that arguably outstrip those of his rival.
DeSantis has signaled an interest in attacking Trump from the right on COVID policy, portraying himself as more militantly hostile to the existence of life-saving vaccines. But that issue loses salience with each passing day as the pandemic's acute phase further recedes into the past and Trump reasserts his anti-vax bonafides.
Thus, DeSantis's fundamental pitch to the GOP faithful is that he is indistinguishable from Trump in terms of substance; indeed, the Florida governor's willingness to quash "wokeness" by any means necessary is second to none. But he is a less chaotic figure than the ex-president and therefore a more electable standard-bearer for the MAGA movement, as demonstrated by his recent landslide reelection in a formerly purple state.
DeSantis gestured toward this message following the first reports of an impending Trump indictment last month, telling the press, "Look, I don't know what goes into paying hush money to a porn star to secure silence over some type of alleged affair," then advertising his own ostensibly normal and healthy marriage in an interview with the New York Post. True, as Jonathan Chait notes, DeSantis sounded a bit like an alien when describing his domestic bliss, saying of his success in persuading his wife to marry him, "it was good to get that one in the win column." Still, DeSantis's basic pitch came through: Here's an authoritarian demagogue you can take home and introduce to the median voter.
But this argument just became much harder to make. A Reuters report published Monday offers an anecdotal illustration of the problem:
Larry White, a self-described Republican conservative, was thinking of voting for Ron DeSantis in his party's presidential nominating contest, believing the Florida governor had a better chance of winning back the White House from the Democrats than former President Donald Trump.




Then came news on March 30 that Trump had been indicted in New York on charges related to a hush money payment to a porn star, making him the first former U.S. president to face criminal prosecution.




"Now I am absolutely voting for Trump," said White, 75, a composer and musician in Nevada. "The indictment was the last straw for me, because Trump has suffered so much political abuse. I think he's the strongest candidate to contest what the left is doing. I'm all in."
White's way of thinking was typical among the Nevada Republicans interviewed by Reuters. Of the 35 GOP voters interviewed by the news service, 20 said they were considering supporting DeSantis over Trump before the indictment; afterward, only six held to that position. Meanwhile, the Republican strategist Sarah Longwell told the publication that the first six times she held focus groups with GOP voters this year, the participants were divided over whom to support in 2024. In the seventh focus group, taken shortly after news of Trump's indictment, all nine Republicans declared their support for his candidacy.
More statistically robust evidence of this phenomenon can be found in the first national poll of the GOP electorate conducted after the indictment. In that Yahoo News and YouGov survey, Trump's advantage over DeSantis jumped from an eight point-margin two weeks ago to a 26-point lead following the indictment, with 57 percent of Republican voters pledging allegiance to their embattled champion.
DeSantis himself, like every other Republican presidential hopeful, recognized that rallying to Trump's defense was a political imperative, and he vowed to shelter Trump from extradition should he choose to hide out from Johnny Law at Mar-a-Lago.
All this presents DeSantis and his fellow GOP presidential aspirants with a formidable challenge. Trump was already opening up a commanding lead before the indictment came down. Which is to say it was already becoming apparent that the Republican electorate will default to supporting the former president unless given compelling reasons to do otherwise. DeSantis's strategy of avoiding direct confrontation with Trump, so as to avoid alienating his sympathizers, was becoming unsustainable.
But now, in the eyes of the conservative base, to attack Trump is to aid and abet the president's persecution at the hands of Soros and his minions. To question his electability, meanwhile, is tantamount to calling on Republicans to let the terrorists win.
Sure, DeSantis could try to marshall an electability argument that doesn't rest on Trump's legal woes. But the ex-president's criminal and electoral liabilities will be inextricably linked in public discourse. Already, there are indications that the former are magnifying the latter. A CNN poll released Monday found 60 percent of voters approving of the Trump indictment. That figure could of course plummet if the president escapes conviction. From the perspective of most Americans, however, the notion that Trump is guilty of criminal misdeeds is plausible until proven otherwise. And there's a high chance that subsequent indictments connected to Trump's subversion of the 2020 election in Georgia, his incitement of an insurrection on January 6, 2021, and/or his mishandling of classified documents could reinforce the median voter's impression that Trump is a criminal (even as it reinforces the conservative base's belief that he represents an unprecedented threat to America's internal enemies).
In any event, no Republican wants to be seen as making the implicit argument that "the vast left-wing conspiracy against Trump has succeeded in poisoning his image with swing voters, so we just need to defer to the woke mob on this one and nominate someone else." To associate yourself with such reasoning would be to declare your unfitness for holy war with the liberal establishment. What's more, conservative voters would not be entirely wrong for deeming this point of view needlessly defeatist. After all, Trump could be a historically weak candidate and still defeat Biden, whose approval rating sits near 43 percent and whose coalition is structurally disadvantaged in the Electoral College.
The big problem for DeSantis, Mike Pence, Nikki Haley, and every other Republican with 2024 ambitions is that Trump's legal difficulties are liable to persist for the entirety of the primary campaign. While the prosecution asked for a January trial on Tuesday, Trump's attorneys called that timeline too "aggressive" and requested a spring start date. The judge did not settle the dispute. Given the probability of additional indictments, and the considerable resources that Trump can direct at prolonging the legal proceedings, his GOP rivals probably can't simply wait until his supposed persecution is over before going on the attack. Rather, they will eventually need to go on offense against red America's beloved martyr or hope that a criminal conviction (or some other exogenous development) incapacitates him.
The political implications of Trump's legal troubles are therefore paradoxical. On the one hand, they have made his greatest liability as a candidate for the GOP nomination worse; all else equal, Trump is almost certainly less likely to win a general election while being criminally prosecuted than he otherwise would be. And yet, those legal troubles have also rendered Trump's uncertain electability inadmissible in the court of Republican opinion, thereby increasing his odds of winning the GOP nomination.