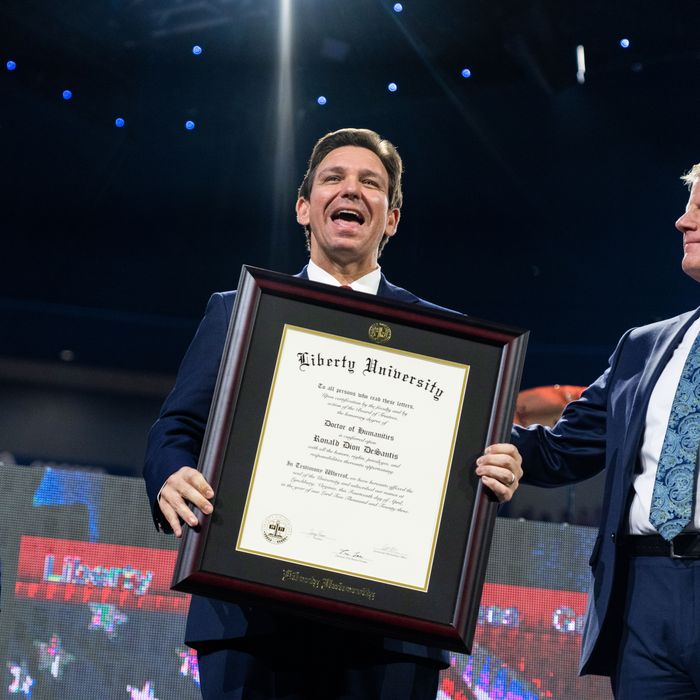 DeSantis gets an honorary degree from Liberty University. But did he learn anything from his underwhelming speech there?
Photo: Tom Williams/CQ-Roll Call, Inc via Getty Images
A few days before the 2022 midterms, when Florida governor Ron DeSantis was cruising toward an easy reelection victory, his campaign released a truly remarkable ad loosely based on "God Made a Farmer," a tribute to farmers once delivered by legendary 20th-century commentator Paul Harvey.
If you can hold your nose and ignore the smell of brimstone emanating from this blasphemous assertion that God cares deeply about which politician governs Florida, the ad is pretty cleverly aimed at conservative Evangelicals accustomed to thinking of Donald Trump as a divinely appointed defender of the godly. When DeSantis bullies LGBTQ kids and public-school teachers and DEI consultants and "woke corporations," he's actually protecting you, conservative Christians. It sure looked like a pitch Team DeSantis was refining for a 2024 presidential contest against Trump and Christian right warhorses like Mike Pence and Tim Scott.
An over-the-top "God sent me" appeal to conservative Christians looked particularly well-timed after the midterms when Trump tried to deflect blame for the GOP's underwhelming national results by pointing a finger at the anti-abortion movement for the extremist positions it was imposing on Republican candidates. It created a clear opening for DeSantis to suggest that Trump was no longer a reliable instrument for the Cause and needed to be replaced by a younger, more vigorous champion designated by the Almighty to save the babies from God-defying feminists.
In recent weeks, DeSantis has had at least three opportunities to make a powerful case to conservative Evangelicals: a draconian new anti-abortion bill the Republican supermajority in the Florida legislature was sending his way; a speaking gig at the West Point of Evangelical higher education, Liberty University; and a trip to Israel, where many Evangelicals believe God (with a little help from the United States) is preparing the End of the World. As it happened, the first two opportunities coincided perfectly: He signed the six-week abortion ban late on the evening of April 13 and then flew off to Lynchburg to speak to a huge crowd of students the very next morning. Surely DeSantis was planning to crow about all the babies he saved and proclaim his personal faith in Jesus Christ as Lord and Savior, right?
Not so much.
DeSantis did not say a word about the abortion law he had just signed hours earlier (though Falwell did mention it). He did not say a word about Jesus or his personal faith (which appears to be Catholic). Yes, he avoided the kind of clumsy shout-outs to Christianity for which Trump is famous (it was at Liberty in 2016, after all, that he tried to cite "Two Corinthians"), but that's because he didn't even try. DeSantis instead offered a version of his stock speech about Florida becoming a beacon of light for those wanting low taxes, access to as many guns as they wanted, and "freedom." It was like coming to a tent revival and instead of an inspiring sermon hearing a Rotary Club speech. The president of Liberty's College Republicans Club suggested to the New York Times that it was all a bit underwhelming:
Jesse Hughes, a junior at Liberty, had been hoping to hear Mr. DeSantis offer a more intimate account of how his faith influenced his approach to governing and helped him navigate challenges like his wife's cancer diagnosis. Instead, he said he mostly heard material he recognized from Mr. DeSantis's other speeches. …




Mr. Hughes read Mr. DeSantis's recent memoir, "The Courage to Be Free," but said he found little to help him understand the governor's personal spiritual life. "There are references to his faith, but he doesn't go into much detail on anything," he said.
In the days since that lost opportunity, DeSantis has been presented with a lot of evidence that his six-week abortion ban is going to be a problem for him in the 2024 presidential race and the GOP if it nominates him. This functionally total abortion ban is not at all popular in his own state: A May 2022 poll by Florida Atlantic University found support for legal abortion in all or most cases at 67 percent, and support for making all abortions illegal at 12 percent (the law has a limited exception for rape-incest victims, but they bear the burden of proving they meet it). And DeSantis may have to defend the law against a 2024 ballot initiative to overturn it. One major donor has already publicly said he was withdrawing support for DeSantis's presidential campaign out of concern over this law and similar gestures of cultural extremism.
So far it seems DeSantis is going to count on word of mouth among anti-abortion activists to get credit for Florida's law without talking about it himself. That gutless approach doesn't square very well with the "God's fighter" image he was projecting last November. I'm beginning to wonder about the quality of the advice he's getting on outreach to conservative Christians: He recently created an avoidable conflict with Florida's own Latino Evangelicals with a heavy-handed anti-immigration proposal that could interfere with church work among the undocumented. If he fumbles the chance to directly pander to Evangelicals during his upcoming trip to Israel, DeSantis is going to be compared unfavorably to Trump, who thrilled apocalypse fans with his decision as president to move the U.S. embassy from Tel Aviv to Jerusalem.
Sure, DeSantis can still beat Donald Trump among conservative Evangelicals and Republicans in general with a strong electability pitch and the sense that he is the wave of the MAGA future. But soon enough he will be rubbing shoulders with the very powerful Christian right activists of Iowa, who want an upfront and personal view of candidates praying over their food at potlucks and Pizza Ranches. Maybe Ron DeSantis just cannot authentically tell these people he is one of them. But if that's the case, he needs to step up his efforts to convince them he's indispensable to their own fight to remake America in their image, pregnancy by pregnancy.