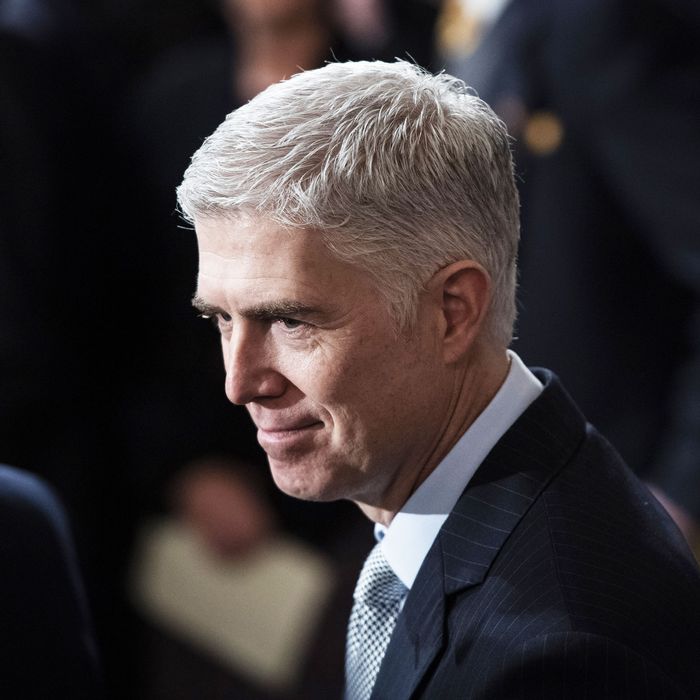 Photo: Jabin Botsford/UPI/Shutterstock
As an appellate judge in the 2010s, Neil Gorsuch spent two years trying to sell a 40-acre property he co-owned deep in the Colorado Rocky Mountains. Despite the ideal location of the 3,000-square-foot log home on the Colorado River, he couldn't find a buyer. But in April 2017 — just six days after he was sworn in as a Supreme Court justice — Gorsuch was able to sell the property for an impressive $1.825 million.
Unlike other fans of originalist jurisprudence who failed to disclose major financial deals, Gorsuch did report this sale, according to federal disclosure forms. However, according to a Politico report on Tuesday, he did not report who purchased the cabin: Brian Duffy, the chief executive and chief litigator of the law firm Greenberg Traurig. Based on the ongoing Supreme Court ethics scandal involving Clarence Thomas, you may be able to guess where this is going.
Greenberg Traurig, the 12th-largest law firm, has had a good deal of business before the high court since Gorsuch joined. Politico counts 22 cases before or presented to the court in which Greenberg Traurig has been named. That includes 12 cases in which Gorsuch's opinion is recorded — in which he sided in favor of Greenberg Traurig's clients eight times. The most notable of these opinions was Gorsuch's presence in the six-three majority in West Virginia v. Environmental Protection Agency, in which the Court restricted the EPA's authority to force the emissions cuts necessary to combat climate change.
Gorsuch did not respond to Politico's request for comment, but Duffy told Politico that he has "never met" Gorsuch and never tried a case in front of him. The lawyer said he is a fly-fisher who has been looking for the right place for years. In all the houses in all the west, it just so happened that he closed on the one owned by the Supreme Court justice six days into his tenure. "It's a wonderful piece of property and we're so glad we bought it," Duffy said.
Thomas's acceptance of lavish gifts and direct payments from billionaire conservative donor Harlan Crow is a much more serious ethics violation than the (right now) discreet one involving Gorsuch's failure to disclose that he sold his property to a major litigator whose firm would have business in front of the Supreme Court. But it still reveals how easy it is for justices to avoid financial scrutiny. The financial disclosure form Gorsuch filed "didn't indicate that there had been a real estate sale or a purchaser," according to Politico. Gorsuch only listed the name of the LLC he and his co-owners had for the property.
But, hey, at least the sale cleared the bar with Duffy's firm's ethics department.