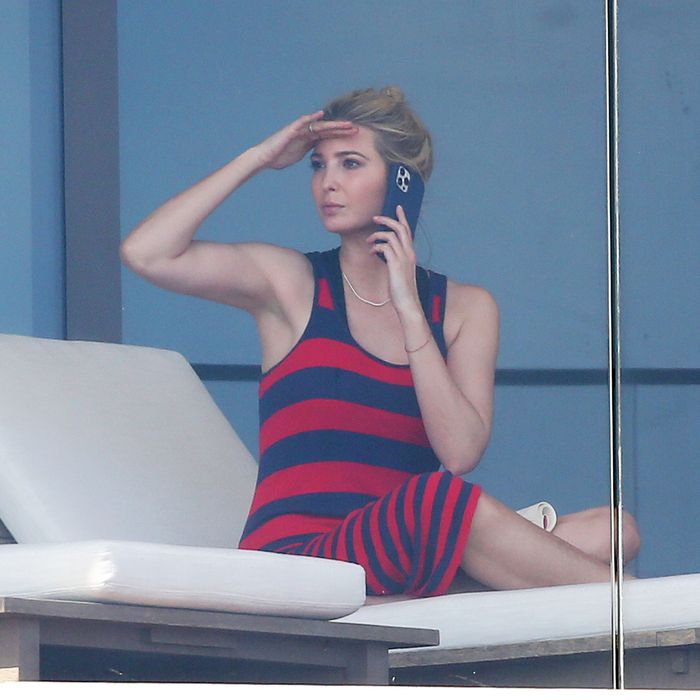 Tuesday was a pretty rough day for Donald Trump. He was arrested and charged with 34 counts of falsifying business records in New York, and didn't even get a badass mug shot out of it. But at least his family members were there to support him every step of the way — or, rather, some family members were there to support him while others were conspicuously absent.
Melania Trump dined with her husband very publicly last Thursday, hours after we learned he would be indicted over hush-money payments to porn star Stormy Daniels, who says she slept with Trump soon after Melania had their son Barron. That was the beginning and the end of Melania's public show of support for her husband during this ordeal. She did not release any public statement on his indictment, nor did she fly with him to New York for his arraignment (he was joined by Eric Trump and Diet Coke valet turned personal aide Walt Nauta). Melania didn't even show up to Trump's big post-arrest speech back at Mar-a-Lago, though she lives there.
And some other very important Trumps were missing from this lineup at Tuesday's speech: Ivanka and her husband, Jared Kushner.
Yes, that's right. Tiffany Trump, who rarely involves herself in her father's political career, made sure she was front row at the speech, but his eldest daughter/former White House adviser Ivanka was not present.
But this definitely wasn't a snub (if you believe the New York Post's Ivanka sources). Shortly before the arraignment, "Page Six" reported that she followed up her impressively noncommittal statement on Trump's indictment with a visit to Mar-a-Lago on Sunday. This was described as a "display of support" for her dad — though no one actually saw her there:
The move to visit her father marked a seeming display of support for him privately — after she'd previously distanced herself from his latest White House campaign.




Ivanka, 41, managed to visit the club without being photographed.
Did Ivanka really slip into Mar-a-Lago without attracting any press attention? It's possible, though the same day paparazzi did manage to catch her and Jared visiting a condo owned by his parents in Bal Harbour, Florida, which is around an hour to an hour-and-40-minute drive from Mar-a-Lago.
Ivanka may not want photographic evidence that she's still associating with her dad, but someone in her orbit did offer the Post an explanation for her absence from Trump's speech the following morning:
However, his eldest daughter Ivanka and her husband, who were his top White House advisers, were in Wyoming to celebrate Passover — a trip they've made in past years — as the Jewish holiday begins Wednesay, a source told The Post.




The former first daughter, who saw her father in person last week, and Kushner are "supporting him as family members in private," the person familiar with their whereabouts said.
Whatever Ivanka has done to show her support in recent days, it was good enough for Donald Trump. During his speech, he gave a shout-out to each of his children, including Ivanka and even Barron (he said the 17-year-old "will be great some day," noting, "he is tall and he's smart"). But Trump made no mention of his wife Melania.