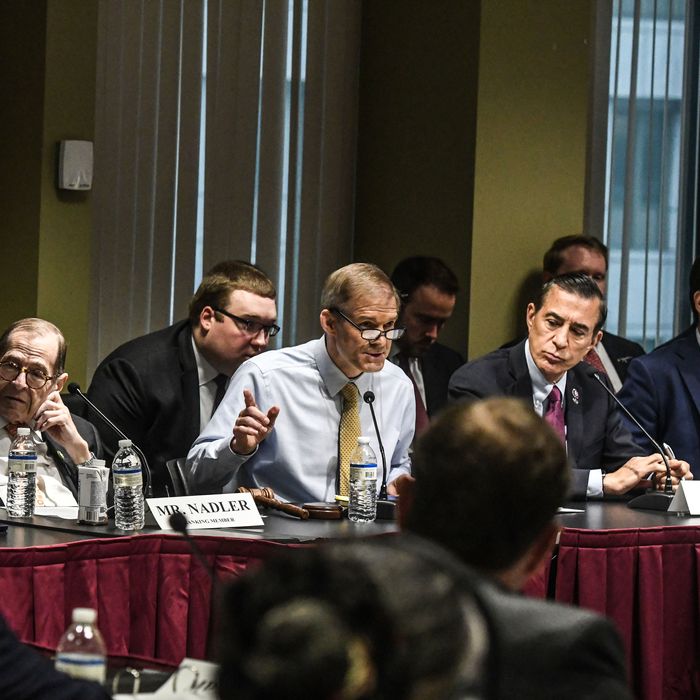 Photo: Stephanie Keith/Bloomberg via Getty Images
House Republicans' attacks on Manhattan district attorney Alvin Bragg officially crossed state lines as members of the judiciary committee attacked Donald Trump's prosecutor as soft on crime during a hearing on the DA's home turf on Monday.
During the four-hour hearing held at the Jacob Javits Federal Building in Manhattan, Republicans argued that the city was crime-ridden as a result of Bragg's actions, and Democrats denounced the hearing as a sham intended to undermine Bragg's authority following his office's indictment of Trump.
"For the district attorney, justice isn't blind. It's about looking for opportunities to advance a political agenda, a radical political agenda. Rather than enforcing the law, the DA is using his office to do the bidding of left-wing campaign funders," said Republican chairman Jim Jordan in his opening statement. In his new role as chairman, Jordan announced his intent to investigate Bragg and his office over its Trump inquiry, requesting testimony and documents related to the probe. Bragg has consistently pushed back against Jordan's requests, categorizing them as federal meddling in a state proceeding. Last week, the DA sued Jordan and the committee, writing in a filing that Congress "has no power to supervise state criminal prosecutions."
In his own opening statement, Representative Jerry Nadler said the hearing was "an outrageous abuse of power" that amounted to a "weaponization" of the judiciary committee. "Now we all grieve for the victims of violent crime here in Manhattan and everywhere. But it is shameful that the Republicans of this committee would use the pretext of violent crime as an excuse to play tourist in New York and bully the district attorney," he said. "It is particularly disgraceful that they would use this pretext after doing nothing, nothing to stop the gun violence that terrorizes our nation."
The scene was, at times, rowdy. Protesters, both pro-Trump and anti-Jordan, chanted outside the hearing room as some members of the public were barred from entering. Security had to escort several people from the room following loud outbursts, including a man who could be heard calling the Democratic representatives "scumbags."
Democrats on the committee emphasized that crime rates in the city have gone down recently, especially in comparison to the home districts of many of their Republican colleagues. One witness, Rebecca Fischer, the executive director of New Yorkers Against Gun Violence, echoed this sentiment.
"According to NYPD's own data, as of April, shootings and murder are down in all five boroughs including Manhattan. Crimes unrelated to guns are also going down in Manhattan and across the city," she said.
But Madeline Brame, a mother of a murdered Army veteran who now chairs a victim-rights group, rejected that argument, saying that numbers did not represent the realities of New Yorkers' concerns and fears.
"We don't care nothing about your statistics. You cannot convince us to not believe our lying eyes with your numbers because we see it with our very eyes day in and day out," she said. "Especially in the poor Black and brown communities where none of you in this room would even step foot in."