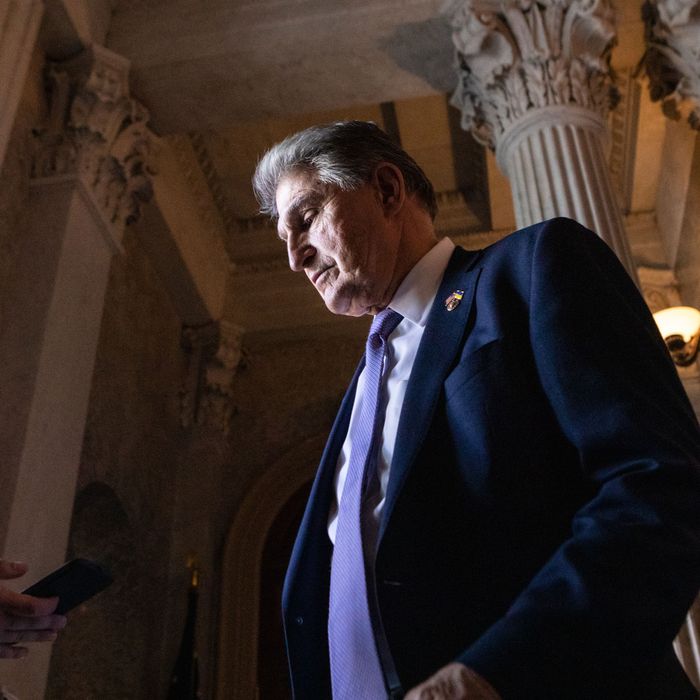 Sometimes being a big cheese on Capitol Hill means small potatoes back home.
Photo: Anna Rose Layden/Bloomberg via Getty Images
According to the ancient narrative of how senatorial reelection campaigns work, you'd think West Virginia's Joe Manchin would be in relatively good shape for 2024. Yes, he's from a deep-red state, but his legislative activity since Joe Biden took office in 2021 has been designed to do two things that have usually helped incumbent lawmakers in tough territory survive in the past: He's had a decisively moderating influence on his party, and he's shown he's a guy with some real clout. Surely West Virginians heard at least some of that "President Manchin" talk over the last couple of years as Democrats in and beyond the Senate struggled to make him happy and sometimes let him beat up on them to impress the folks at home.
But in Manchin's case, being an unusually consequential senator may have ultimately just painted an even bigger bull's-eye on his back in a deep-red state. In the first quarter of 2022, Morning Consult's job-approval rating polling of all the senators showed Manchin with a solid 57-35 approval ratio. But that's when he was more clearly understood to be a mortal threat to Biden's agenda than a potential enabler of Socialism Lite. Indeed, he enjoyed an approval ratio among Republicans (69-24) that was higher than his overall average.
But now that Manchin has earned credit and blame for the Inflation Reduction Act, Morning Consult shows his approval ratio in the first quarter of 2023 dropping to 38-55, and among Republicans, to 33-60. And that's with him going into a reelection fight that coincides with a presidential election in which Republicans are sure to sweep West Virginia by a huge margin (Trump carried the state by 42 points in 2016 and 39 points in 2020).
Manchin's main hope for reelection (if he chooses to run; he hasn't formally announced) is a good, vicious Republican primary that turns off both GOP and independent voters. That's a possibility, with a battle in Washington already brewing between the Club for Growth, which is backing right-wing congressman Alex Mooney, and Mitch McConnell's Senate Leadership Fund, which is trying to lure Governor Jim Justice into the race. Justice is an ex-Democrat who has a bitter personal rivalry with Manchin; he's also a very wealthy former coal operator who can self-fund a campaign. And he ends his second and final gubernatorial term in 2024. Justice is, moreover, quite popular; Morning Consult shows him with a 66-31 job approval ratio. His job approval rating from Democrats (52 percent) is actually higher than Manchin's (49 percent). If he's the GOP Senate nominee, it's probably curtains for Manchin. The incumbent has, however, survived a potentially tough year before: in 2012 he won his first full Senate term in a presidential year by running 25 points ahead of Barack Obama in his state.
Manchin isn't the sole Senate target for Republicans in 2024, of course. They need to flip two seats to win control of the chamber, unless they also conquer the White House and secure the veep's tie-breaking vote. The other Democratic incumbent in a deep-red state is Montana's Jon Tester. Unlike Manchin, Tester's popularity is current very strong: His approval ratio, per Morning Consult, is a robust 58-33. Though he is a more regular Democrat in his Senate voting habits than Manchin, Tester has maintained enough of a reputation for independence that he enjoys support from nearly half the Montanans who give a thumbs-down to the job performance of Joe Biden. And Montana Republicans are far from being decided on an opponent for the three-term incumbent. Hard-core right-wing congressman Matt Rosendale may run, though national-party wizards are encouraging wealthy first-time candidate and heavily decorated Navy SEAL Tim Sheehy to enter the race. Montana isn't as red as West Virginia, but it's red enough to be a problem for Tester in a presidential year; Trump won the state by 22 points in 2016 and 17 points in 2020.
One other red-state Democrat is on the ballot in 2024: Ohio's Sherrod Brown. His net job-approval rating, per Morning Consult, is plus-nine even though Trump carried his state by eight points in both 2016 and 2020. Brown has the support of more than a fourth of Ohio voters who disapprove of President Biden's job performance.
Blue-state Democratic incumbents thought to be in some peril in 2024 include Wisconsin's Tammy Baldwin; Nevada's Jacky Rosen; and Pennsylvania's Bob Casey, though all of them have job-approval ratios in positive territory. In a category of her own is Arizona's Kyrsten Sinema, elected as a Democrat but expected to run as an independent and as a distinct underdog.