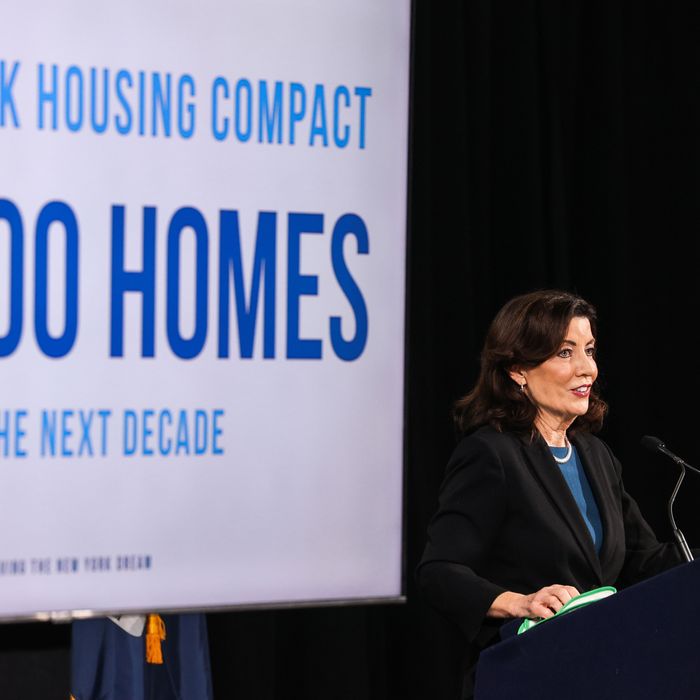 Photo: Steve Pfost/Newsday RM via Getty Images
What to do about the housing emergency in New York? Apparently nothing, if you're a lawmaker or the governor. Nothing for tenants, nothing for home construction, nothing to dent a decades-long affordability crisis that is feeding homelessness and a middle-class exodus to cheaper locations. Promises were made and all of them are on the verge of being broken for good.
Over the last week, the Democrat-run legislature snuffed out Kathy Hochul's proposed housing compact, which would have mandated downstate counties, including those in the city, add 3 percent to their housing stock every three years or face a zoning override from the state. Always the most controversial piece of Hochul's legislative agenda, the well-meaning proposal met rabid opposition in Westchester and Long Island, where suburban mayors and lawmakers—Democrat and Republican alike—united to oppose any attempt to usurp local control. Talk of autonomy, and the loss of it, was something of a smokescreen, though: the real fear was that Hochul could upzone the suburbs, adding apartment-style housing to towns that have remained unchanged, physically, since the 1960s.
Suburban homeowners guard the status quo everywhere, but New York's entrenched constituency may be the most resistant to change. Other states like California and Massachusetts have managed to pass new laws to force more housing on localities that would never build it on their own. New York, at last, was expected to join the future, only for Hochul to realize her political capital was too limited—and her politicking, too poor—to make lawmakers budge. Meanwhile, new homebuyers find themselves priced out from the suburbs almost entirely and affordable rentals remain a rarity.
It's plausible Democrats, Hochul in particular, were looking warily to 2024, when the fate of the House will again hinge on the fickle nature of voters within commuting distance of the city. Last year, Republican Lee Zeldin obliterated Hochul on Long Island, where Democrats lost all four House seats, and managed margins large enough in Rockland, Putnam, and Orange counties to drive two other House Democrats from office, including Sean Patrick Maloney, the head of the Democratic Congressional Campaign Committee. Westchester was Hochul's blue wall and Westchester did not want more apartment buildings. Had Hochul's housing compact become law, Democratic candidates in the suburbs would have met furious protest everywhere they went. In Washington, Democrats are probably sighing with relief. Their short-term plans remain intact.
The longer term outlook for actual New Yorkers, however, is much more grim. Control of the House won't impact life on the ground because neither party wants to force a much-needed regional housing strategy on the Tri-state area. If New York is ever going to be affordable again, the suburbs attached to commuter rail lines have to add housing supply. The city itself must build at a much faster pace—under Mayor Eric Adams, affordable housing construction has tailed off drastically—and developers, along with ambitious left-leaning Democrats, have to overcome entrenched NIMBYs in both Manhattan and the outer boroughs. Right now, the political leadership to conjure such a movement is mostly absent.
In Albany, policymaking often happens during negotiations of the enormous state budget, which is due at the beginning of April and is now almost a month late. For generations, legislators have relished smashing together unrelated policy items into the budget because supporting omnibus bills is much easier than taking tough standalone votes. That was the hope with housing—take your time, jam it altogether, and accords can be reached. But the impasse could not be overcome. Lawmakers in the Assembly, the larger of the two chambers, were very much opposed to overriding suburban zoning. Meanwhile, Hochul herself blocked Democrats in both houses who wanted to pass "good cause" eviction, legislation that would limit rent increases and evictions, and a far-reaching rent relief initiative known as the Housing Access Voucher Program (HAVP).
The real-estate industry liked Hochul's housing proposal because it would have meant more business for them. They revile the good cause legislation, which has stalled out in Albany for the last four years, because landlords could not reap, any longer, the dramatic rent increases of the pandemic era. Median asking rents are at historic highs; good cause would do nothing to lower rent, but would merely offer some of the protections a rent-stabilized tenant enjoys to many more people throughout the state. Since losing out in 2019, when progressives in the state legislature ran roughshod over Andrew Cuomo to pass a suite of pro-tenant bills, landlords have organized effectively to keep Hochul in their corner and retain the support of tenant-skeptical Democrats in the Assembly.
The defeat of HAVP is more perplexing. The program was a rarity in Albany, enlisting backing from both tenant advocates and landlords. Last year, Democrats allocated $250 million for the program, which would have covered housing vouchers for at least 40,000 to 50,000 homeless individuals and those facing eviction across the state. The idea was straightforward: create a streamlined, easy to access voucher that could help those who can't afford rent in expensive cities, particularly New York. Last year, Hochul proclaimed that HAVP would actually cost $6 billion, though the legislature was not trying to fund a voucher initiative to cover every person experiencing homelessness in the state. Rather, it was a starting point, with more cash to be added in subsequent years. It's unclear why HAVP was dropped again. Unlike the housing compact and good cause, HAVP's disappearance from the budget means it's dead until at least 2024, since the legislation is tied directly to state funding.
In theory, Albany lawmakers and Hochul can huddle in the next two months, before the end of the current legislative session, and hammer out an agreement to spur housing construction and safeguard tenants. Perhaps they'll feel more motivated, having put the budget behind them. But the politics of it all will remain unchanged. Suburban politicians do not want change and Hochul lacks the clout to force it on them. Landlords do not want legislation that can cut into their profits and progressive Democrats can't hustle up the votes or persuade Hochul to help tenants. A grand bargain around the revival of 421a, a controversial tax subsidy program for developers that expired several years ago, also seems distant. Albany simply cannot meet the moment.