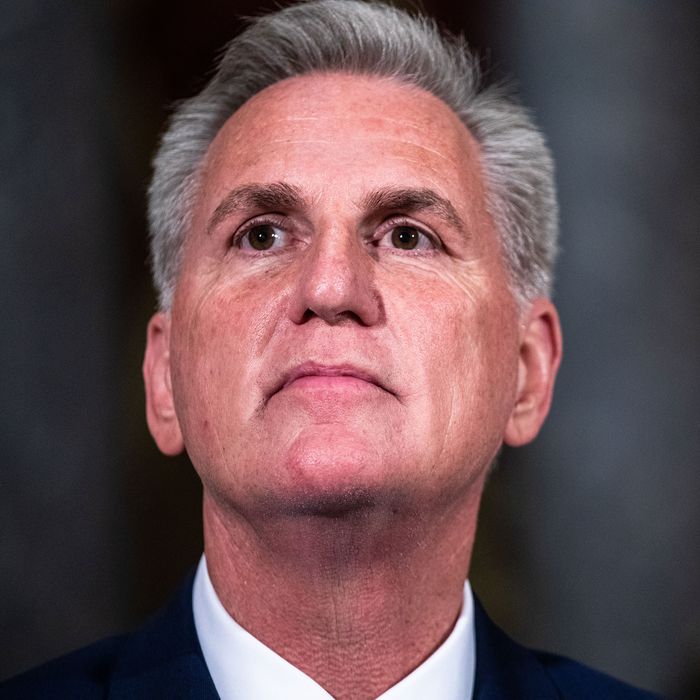 Photo: Valerie Plesch/Bloomberg via Getty Images
House Republicans are celebrating passage by the narrowest margin possible (217-215) of a measure providing a short-term increase in the public debt limit in exchange for deep across-the-board cuts in discretionary spending (details TBD), stepped-up work requirements for beneficiaries of federal programs, repeals of Inflation Reduction Act green tax credits, and a clawback of COVID-relief funds. Since the bill in question is absolutely dead on arrival in the Senate and at the White House, the celebrating is actually about Kevin McCarthy's Speakership surviving for another day, and right-wing members flexing their power.
After scratching and clawing and surrendering to his members' demands, ranging from Iowans demanding biofuel credits and House Freedom Caucus folk wanting to accelerate work requirements, McCarthy got to the starting line of theoretical negotiations with the White House and the Senate. Now he gets to play chicken with Democrats who are entirely united around a demand for a "clean" debt-limit increase or suspension that pays the nation's bills. Failure to pass a debt-limit measure quite soon (perhaps as early as June, depending on the U.S. Treasury's revenue and spending estimates) could pose a catastrophic threat to the U.S. and global economy. So McCarthy, with just four votes to spare, will have to somehow convince the public (and his own party) that his grab bag of random proposals must be imposed on Congress and the White House, lest he drag the whole country into a fiscal crisis. The current celebrations are sure to be brief.
The MAGA folk who hold McCarthy hostage as he holds the country hostage don't care about the ultimate outcome as much as they do about their control of the GOP, as Politico notes:
Soon after House conservatives extracted enough concessions from Kevin McCarthy to let him claim the speakership, they began plotting their next move: Pushing him as far right as they possibly could on the debt ceiling. …




It started in late January, when a group of House and Senate conservatives gathered around Sen. Rick Scott's dining room table to try to solve a seemingly impossible problem. Given McCarthy's slim majority — and the reality that many on his right flank had never voted to lift the debt ceiling — could conservatives write a bill that would unite the party and give it at least a bit of leverage in talks with the White House?
Well, they did write a bill that united House Republicans. But now the question is who will supply the votes for the inevitable surrender that the GOP's Wall Street allies will eventually insist upon, like a parent telling an unruly child it's time to shut up, cut off the lights, and go to sleep. McCarthy is hoping to avoid both blame for an economic catastrophe, and blame from within his party for caving too easily. If he can do that, his gavel is probably secure for a bit longer. The price his party is paying for his Speakership, however, continues to rise.