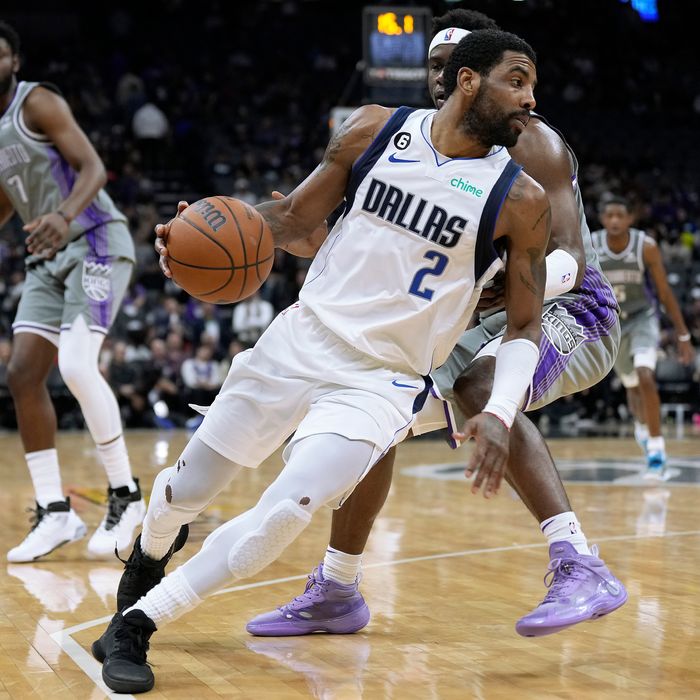 Photo: Thearon W. Henderson/Getty Images
You'd be forgiven if, after the Brooklyn Nets washed their hands of Kyrie Irving by trading him to the Dallas Mavericks back in February, you lost track of what was going on with him. As Simon van Zuylen-Wood's terrific cover story in this magazine vividly illustrated, riding the Kyrie roller coaster is, more than anything else, profoundly exhausting. One minute you're convinced he's going to lead your team to an NBA title, the next he's refusing to get vaccinated, the next he's tweeting links to videos involving Holocaust denialism, the next he's back to talking about winning that title, and then seemingly five minutes later he's demanding a trade to blow the whole thing up. Even if you love Kyrie's on-court game — and there remains so much to love — cheering for him now feels like work. There is no longer any joy in it. If you're a Nets fan, you probably even felt some measure of relief when he got traded. Life's too short, you know?
And a funny thing happened after Kyrie departed Brooklyn, soon followed by Kevin Durant: The Nets have kept their heads above water, and the Mavericks — who thought themselves so close to winning a title that they saw Irving as the final piece of the puzzle — have fallen apart. Just look at the two teams' records since the trade:
Brooklyn Nets: 12-13
Dallas Mavericks: 8-16
The Nets traded away two players ostensibly among the 20 greatest in the NBA, but they're essentially locked into the No. 6 seed in the Eastern Conference, avoiding the dreaded play-in game (in which playoff seeds No. 7–10 must compete in a series of elimination games, with two of them reaching the playoffs). Meanwhile, in the less competitive Western Conference, the Mavericks are in significantly worse shape. According to PlayoffStatus.com, they have only a one-in-four chance of even reaching the play-in game; they're highly likely to miss the playoffs entirely. This is a team that got to the Western Conference Finals with their generational superstar Luka Doncic last year, and they seemed poised to go even further this spring. And since Irving arrived, all their ambitions have collapsed into dust.
It's not that Kyrie has been awful for the Mavs. In 19 games for Dallas, he has averaged 26.7 points, 5.9 assists, and 5.1 rebounds, almost exactly the stats that he put up for the Nets in 40 games before the trade: 27.1 ppg, 5.3 apg, 5.1 rpg. (Those numbers are about in line with his career averages — a little higher, actually, though teams generally score more now than they have during any in recent years, inflating everybody's totals.) By all accounts, Kyrie has also done his best to blend in in Dallas; he has been quiet and has courted no controversy, almost like a normal human person. And yet he has made the Mavericks worse. Part of the problem is his defense, which has never been a strength, but has become downright matador-like since getting to Texas. The Mavs traded away their best defender, Dorian Finney-Smith, in the deal to get Kyrie; the Nets have raved about Finney-Smith's defense, which has improved the team as a whole.
But the real reason the Mavericks keep losing is that they've fallen apart in close games. As Tom Ziller pointed out in his terrific basketball newsletter, Dallas has gone 4-14 in clutch games since Irving became a Maverick and struggled mightily in what he calls "clutch minutes" since then. Most great NBA teams have one offensive star who can be counted on to make the big shot down the stretch: someone like Kyrie Irving. Or Luka Doncic. The Mavs have two of them, yet they keep failing in close contests. Again, it's not that Kyrie has been bad. But putting another scorer (and non-defender) like him next to Doncic (who, for all his skills, has the same deficiencies) is clogging up the system, making it harder, not easier, to execute the right play. Once Kyrie arrived, the team has been worse than anyone thought it would be, largely because they have been worse at the very thing they brought in Kyrie to be better at. If that sounds familiar, it's what happened in Brooklyn and Boston before that: A star who was supposed to be a key cog among fellow stars ends up mucking up the works — sticking out rather than fitting in.
For most teams, missing the playoffs isn't the end of the world. But it might be for the Mavericks, because trading for Kyrie was a classic "win now" move. In addition to Finney-Smith, the Mavs sent the Nets Spencer Dinwiddie (averaging 16.8 points a game since the deal), two second-round picks, and the Mavs' 2029 first-round pick, which they'll surely regret down the line. But more to the point: Getting Irving was supposed to keep Doncic happy. The 23-year-old Slovenian might be the most valuable asset in the entire NBA, the sort of player organizations spend decades trying to acquire. But he has been frustrated with his lack of supporting cast, particularly after the Mavs let Jalen Brunson leave for the Knicks in the off-season. Doncic isn't exactly hiding his dissatisfaction at the moment:
Does that guy look happy with his current situation? Nothing would rock the NBA more than Doncic requesting a trade out of Dallas: It could be more seismic than the Durant and Irving moves combined. And the disaster that has been Irving's tenure so far has made that scenario far more likely. The Mavericks aren't just losing their playoff spot; they might be losing everything.
And that includes Kyrie, who is a free agent after this season. He remains an electric talent, an elite scorer, the sort of player you can't take your eyes off. He is also a player who will be coming off one of the most tumultuous seasons in NBA history. Would you pay for him to come to your team? Well, let's look at the season that's about to end and how it turned out for Kyrie Irving. He has helped disband the Nets, cost himself tens of millions in endorsements, lost countless fans, and, in the final coup de grâce, may help sink the entire Mavericks franchise. He has carved a swath of destruction this year unlike any in NBA history. Suitors, line up!