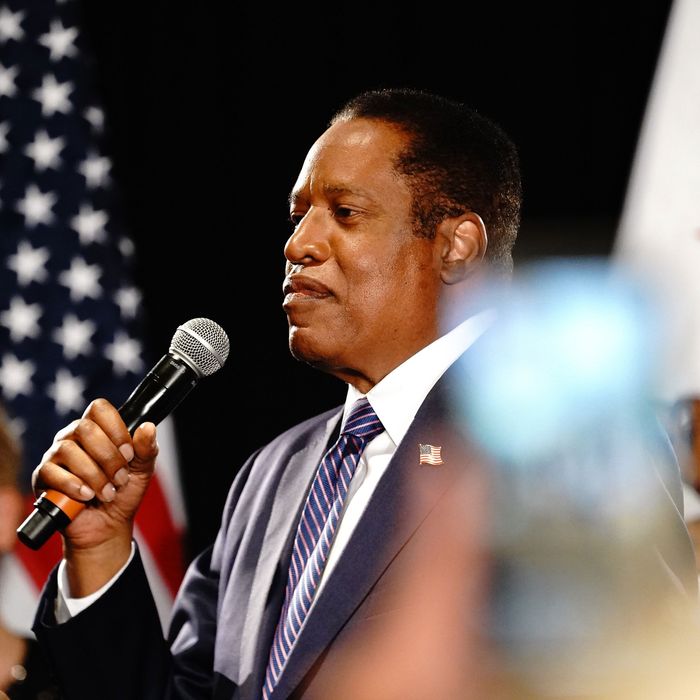 Larry Elder during his 2021 bid to replace Gavin Newsom as governor of California.
Photo: Bing Guan/Bloomberg via Getty Images
It would be easy to dismiss California-based right-wing talk-show veteran Larry Elder's 2024 presidential candidacy as just another entry in the "some dude" lane destined to vanish without a trace. On the other hand, anonymous shmoes don't generally get to announce their White House bids on Tucker Carlson Tonight, as Elder just did:
This isn't Elder's first high-profile campaign for office. In 2021, he was a briefly viable candidate to replace California governor Gavin Newsom in a recall election mostly spurred by unhappiness with Newsom's COVID-19 policies (and his hypocrisy in violating them). Indeed, Elder won nearly half the 7 million votes cast for "replacement" candidates to succeed Newsom had the incumbent been recalled; no other candidate made it into double-digit percentages. Unfortunately for Elder, none of it mattered because Newsom crushed the recall itself by better than a three-to-two margin. Elder's long history of abrasive views (especially those disparaging women) made him a useful foil for Team Newsom's claim that recall proponents were just Trump fans who wanted to drag California backward on a wide variety of issues.
Despite making some noise about running for governor again in 2022 (when Newsom would be elected to a second full term by a landslide), Elder took a pass, and now he's going to show off his well-honed talent for provocative gabbing on the biggest stage of all.
The trouble is, aside from his lack of any sort of experience in public office, there's nothing particularly distinctive about Elder's views, though he's a bit more hawkish on foreign-policy issues and a bit more libertarian on domestic issues than your standard MAGA-era Republican. Asked directly by Carlson why he felt compelled to run for president, Elder said he'd had an itch for "giving back" to America ever since he missed performing military service during the Vietnam War (presumably he got a favorable draft-lottery number).
When pressed to articulate the most urgent issue he wanted to address, Elder said, "The lie that America is systemically racist." Like fellow 2024 candidates of color Nikki Haley, Vivek Ramaswamy and Tim Scott, Elder hopes to take advantage of the bottomless hunger of white conservatives to be absolved by non-white voices of any allegations of racism. Indeed, that's one explanation for the remarkable fact that these non-white candidates represent two-thirds of the early GOP field for 2024, leaving Donald Trump and Tim Hutchinson to represent the party's dominant white-male demographic (though presumably they will be joined by Ron DeSantis and Mike Pence before long).
There's another thing Elder appears to share with Tim Scott: a pretty good knack of combining apocalyptic attacks on Democrats as destroyers of all that is good and true with an "optimistic" vision of America's promise (if only these evil progressives could be crushed once and for all):
If Elder can somehow manage to stay in the race until March 5, 2024, he should get some significant votes from his native California. Even before then, if the GOP presidential field is small enough to accommodate all of them on a single debate stage, Elder has many decades of experience in red-meat word slinging that he could deploy to wow audiences or brush back rivals. He is not going to be the next president of the United States, but he could still make a mark, just as he did as roadkill on Newsom's path to vindication.