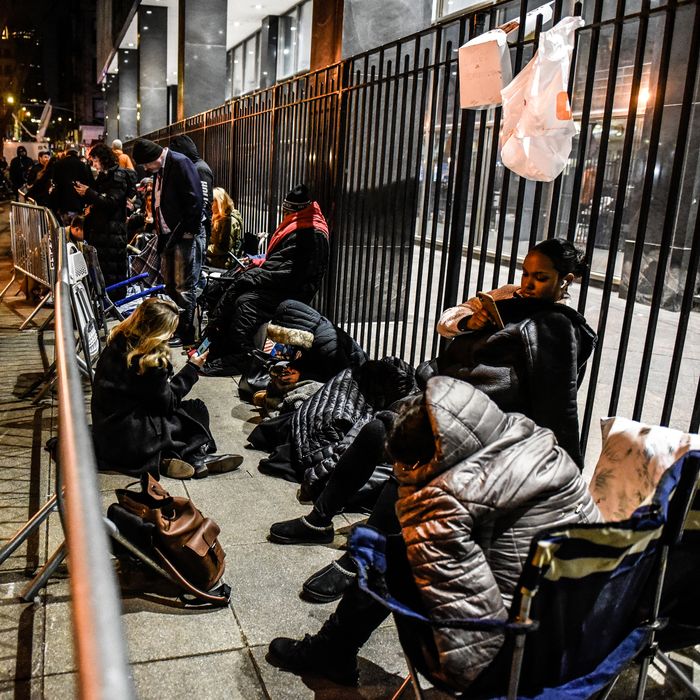 Photo: Stephanie Keith/Bloomberg via Getty Images
Shortly before 2 p.m. on April 3, a handful of reporters and professional line sitters started to gather in front of Manhattan Criminal Court, where former President Donald Trump was set to be arraigned the following afternoon. Little was known about how many reporters would be allowed into the courtroom to cover this unprecedented story and whether or not outlets would be permitted to broadcast Trump's appearance. As word began to spread via Twitter that reporters were already lining up, others quickly descended on 100 Centre Street to secure their spots.
With the mass of people rapidly expanding, the potential for chaos became clear to those near the front of the line. Frank Runyeon from Law360 described the initial announcement about a line as akin to yelling "fire" in a crowded theater, so he spearheaded an effort to compile a written list cataloging the names and places of everyone in line. Among those lucky few who managed to snag spots at the very front were reporters and line sitters representing NBC (who some blamed for starting this whole mess), Hell Gate, the New York Times, The New Yorker, Telemundo, the Daily News, AP, ABC, Bloomberg, the New York Post, and Law360.
With little other information available, the line was told that tickets would be handed out at 8 a.m. that would grant us entry to the courthouse. I asked Runyeon if he had faith that the order of the list would be respected once the tickets appeared. "Let me put it this way: It's the only thing we've got," he said. "It's just about trying to create civility out of a situation that could devolve into madness. So in the absence of any official order, we are self-governing on the streets of New York."
When pressed, he conceded that "the most difficult hours are yet to come," alluding to a fear expressed by many of my neighbors that our fragile social contract would break down as soon as the time came to actually pick up our tickets in the morning.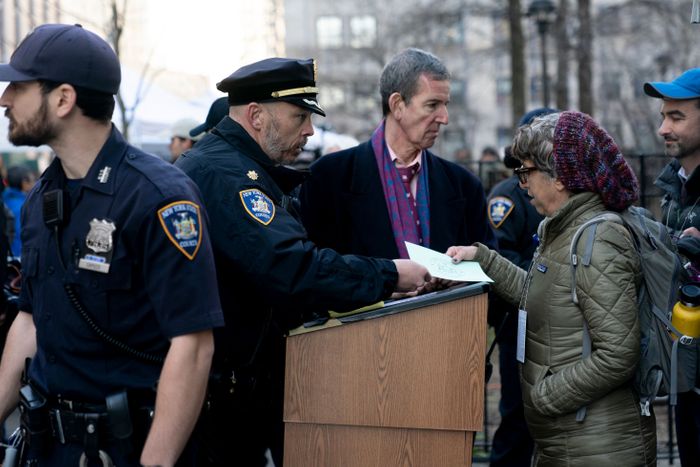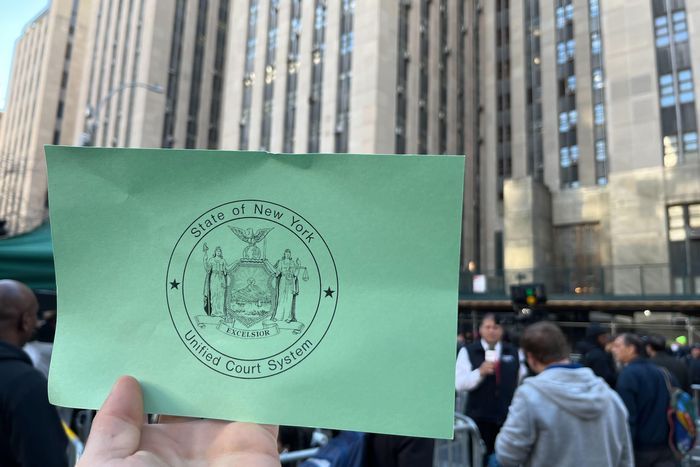 I settled into my spot in line with two student journalists to my left; they were being paid a pretty penny by a major media outlet to hold spots for the entirety of the night. To my right sat the icon himself, Robert Samuel, the founder and CEO of Same Ole Line Dudes LLC. Outfitted in a maroon Adidas x Ivy Park sweatsuit, hat, and sneakers, Samuel was the most fashionable man in a line of extremely disheveled reporters and line workers. All night he was fielding calls from outlets desperate to find someone to get them a spot in New York's hottest line. By the time all was said and done, he was employing 13 line sitters on behalf of five different media outlets and had a lengthy waiting list he knew he wouldn't be able to accommodate, which he was attempting to redirect to Taskrabbit and Craigslist. He had doubled his typical charge to $50 an hour, which was still less than others were being paid to wait in line. Samuel's employees seemed to be the only ones actually prepared to spend the night outside of the courthouse, armed with beach chairs, blankets, and tents emblazoned with the #LineDudes logo in which they comfortably napped and watched Netflix.
As the night wore on, the number of actual reporters in line began to dwindle as they were swapped out for professional line sitters, interns, and anyone else they were able to wrangle to lower Manhattan at a moment's notice. Some people were starting to smuggle alcohol into the line to pass the time, while others had arrived already tipsy, unaware earlier in the evening that they would be called to the line of duty mere moments later. A few brave and sleepy souls napped on the cold hard ground or on nearby benches, and I even caught sight of a man scrolling through Grindr to see if there were any eligible bachelors hanging around the courthouse.
By 4:30 a.m., TV reporters began to arrive to set up for the morning news and were overheard expressing disdain for the line and those in it, claiming that the arraignment was being "treated like a sneaker drop." The fact that they were allowed to go home and luxuriate in bed for a glorious few hours while the rest of us had been standing in line overnight doesn't seem to have improved their moods.
As 7 a.m. rolled around, the demographics of the line started to shift yet again. Reporters returned to relieve many of the people who were hired to hold their places. Some of those departing had other lines to attend to, including the one outside a hot new sample sale that will be opening later this morning.
As of press time, with hours still to go before Trump's arrival, our social contract has held strong for the most part, though one obvious line cutter tried to sneak in behind me, and one of the line administrators revealed that he turned down an attempted $300 bribe.