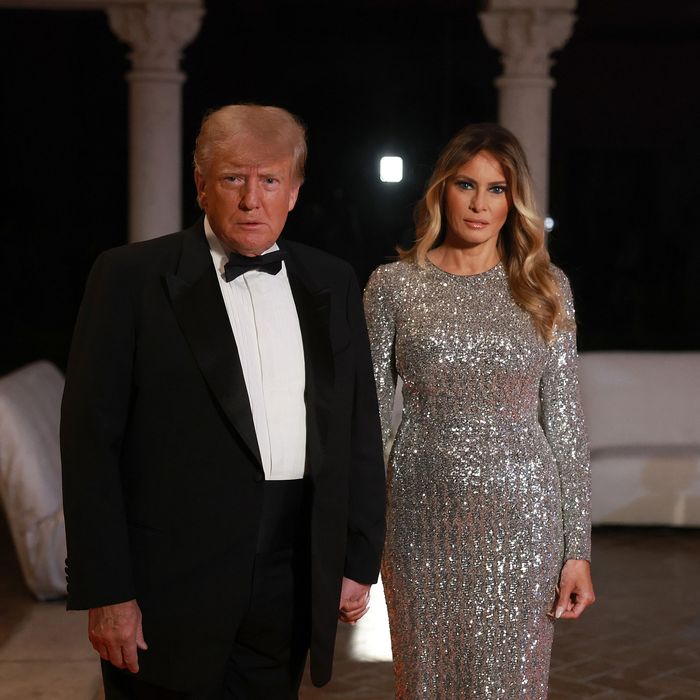 The happy (?) couple.
Photo: Joe Raedle/Getty Images
Melania Trump has always been a cipher. Is Donald Trump's wife a reserved, apolitical woman who just wants us all to "Be Best" and leave her alone? Or is the partner of the biggest bully in American politics a nasty schemer herself? While the former First Lady doesn't say much, we do know she isn't afraid to publicly swat her husband's hand away; she doesn't "give a fuck about Christmas stuff"; she occasionally offered the president inane political advice; and she wore a jacket featuring an offensive message during a trip to visit child migrants impacted by her husband's cruel immigration policies.
Melania's response to Donald Trump being arraigned in New York last week on felony charges related to hush money for his alleged mistress Stormy Daniels is similarly confounding. This is what we know for sure:
Melania publicly dined with her husband at Mar-a-Lago hours after the indictment news broke.
She did not travel with him to New York for his arraignment.
She did not attend his big post-arrest speech at Mar-a-Lago, though she lives at the golf club.

She publicly dined with her husband at Mar-a-Lago on Easter Sunday, and broke her weeks-long social-media silence with this generic holiday greeting.
To quote Melania, "What is she thinking?"
In times like this, I usually turn to anonymously sourced gossip for answers. But right now, Trump-world "insiders" are only adding to my confusion.
On Monday afternoon, People reported that Melania has no intention of helping her husband handle the political fallout from his indictment:
"Melania is not now or hasn't recently taken part in her husband's political events," a source tells PEOPLE. "It is not comfortable for her."




The source adds that Melania has her own life at the couple's Palm Beach, Florida, home at Mar-a-Lago and likes to be left to herself, even as chaos and drama surrounds the former first couple.




"Melania can be aloof and not particularly friendly because she simply wants to be left alone," the source says.
While Melania has accepted her lot in life, People's sources say she's still (understandably) furious about her husband allegedly cheating on her four months after she gave birth to their son Barron:
"She remains angry and doesn't want to hear [the alleged hush money payment] mentioned," a source told PEOPLE before the Manhattan grand jury voted to indict Donald. "She is aware of who her husband is and keeps her life upbeat with her own family and a few close friends."
But just hours later, the New York Post offered a completely different read of Melania's post-indictment behavior. "Page Six" said we should "Expect more Melania," as her husband begged her to be more involved in his reelection campaign, and she agreed.
"He told her, 'I really need you for this because we are going to be campaigning,'" a source said. "They had a major talk over the weekend, and she has … agreed to be on board."
"Insiders" told "Page Six" that both the "Happy Easter!" tweet and Melania having Easter brunch with her husband at a roped-off Mar-a-Lago dining table show that she's changed her tune:
An insider told us of the holiday meal: "She wanted just to be alone with him; that was her request."




The source added, "The fact it was the two of them alone was a big statement. This was a statement [saying], 'We are together, I stand by my husband.'"




The source said of the velvet rope: "It was two of them and they had roped off the table. I think she wanted to show support, but didn't want to have to talk about any of this s–t."
So who should we believe, People or "Page Six"?
Melania's team added yet another wrinkle to this story. They were so upset by one, or maybe both, of these stories that they put out a rare message on Tuesday morning urging the public to "exercise caution and good judgment" when trying to determine whether any of this is true.
Sound advice! But while I always strive to "Be Best!", minding my own business isn't really my strong suit.