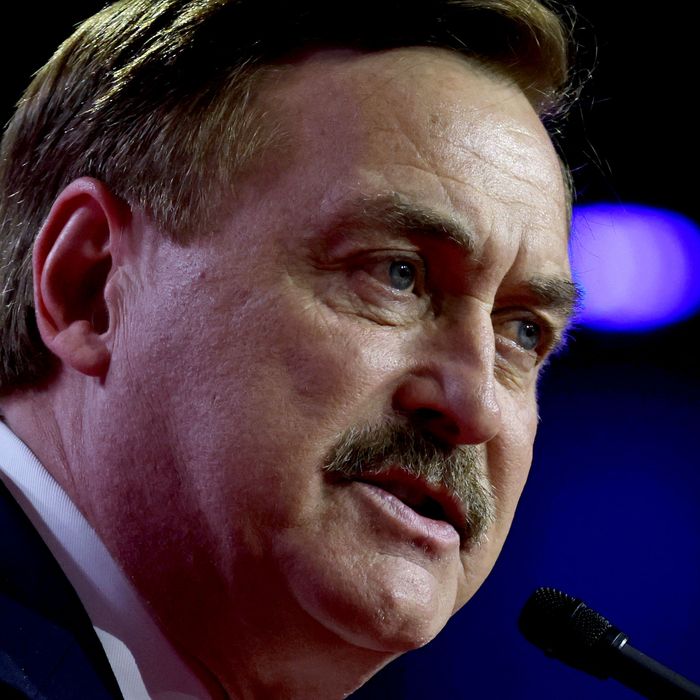 Photo: Alex Wong/Getty Images
Back in 2021, MyPillow founder, MAGA influencer, and election-denial bankroller Mike Lindell was so sure he had data proving Chinese interference in the 2020 presidential election that he announced a contest offering a $5 million bounty to anyone who could "Prove Mike Wrong." He then presented his supposed proof at a "cyber symposium" in South Dakota where Lindell expected, as he later said in a deposition, that "cyber guys" would gather to confirm he was right.
But only one expert took the "Prove Mike Wrong Challenge" seriously: software forensics consultant Robert Zeidman, a 63-year-old Trump voter in Nevada. Despite his political allegiance, Zeidman did indeed prove that Mike was wrong. What happened next wasn't much of a surprise, either: Lindell never made good on the reward. Now, a private arbitration panel has ruled that was wrong, too.
"Based on the foregoing analysis, Mr. Zeidman performed under the contract, he proved the data Lindell LLC provided, and represented reflected information from the November 2020 election, unequivocally did not reflect November 2020 election data," the arbitrators concluded, and ordered his company, Lindell Management, to pony up the $5 million to Zeidman within 30 days.
Zeidman's attorney, Brian Glasser, celebrated the ruling and said it and their lawsuit "mark another important moment in the ongoing proof that the 2020 election was legal and valid, and the role of cybersecurity in ensuring that integrity." The ruling has also triggered regret, since apparently no one other than Zeidman thought the contest would be fair enough to be worth entering.
Reached via text message by the Washington Post, Lindell called the ruling a "terrible wrong decision" and vowed to challenge it in court — except the contest rules dictated that disputes be "resolved exclusively by final and binding arbitration."
Lindell said in a deposition that he never doubted his own claims about the data and conceived of the challenge and big payout as a way to make the news. He wasn't wrong about that.