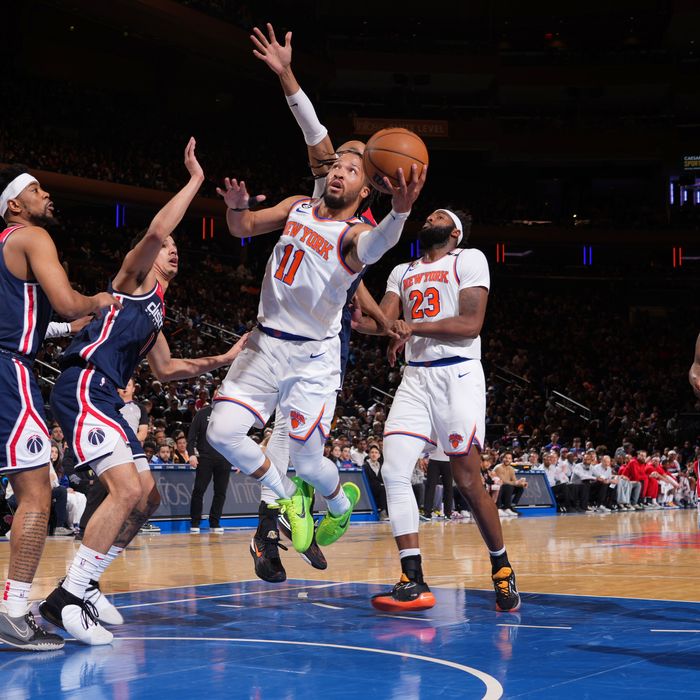 Photo: Jesse D. Garrabrant/NBAE via Getty Images
Sports teams in New York have an expectations problem. They're not only supposed to win, they're supposed to win with big stars, as if the rosters should reflect the scope and grandeur of the city itself. The expectation game puts pressure on teams to perform and on the stars to act as some combination of Derek Jeter, Reggie Jackson, and Joe Namath: to be bigger than everything, ever. (This magazine has not always helped in tempering the hype.)
Such a grandiose mentality has a way of foiling plans and crushing dreams. "New York is a place you have to conquer. It's waiting to be conquered," then-Knicks coach Mike D'Antoni told me back in 2010, talking about the team's free agent Amar'e Stoudemire, whom they'd had brought in to be a star in the mold of Patrick Ewing. (This magazine called Stoudemire "Hope in Shorts," a bit too optimistically.) "We're trying to build a mansion here," Carmelo Anthony told me a year later, after the Knicks traded most of their roster to bring him to the Garden. "I've got the opportunity to do something special here," Kevin Durant told me after he signed with the Brooklyn Nets more than three years ago now. The Knicks, Nets, Yankees, Mets, Jets, Giants, Rangers, Liberty, and even St. John's feel they have to attract A-list athletic talent just to feel relevant in New York.
The strategy has not worked. No New York sports team has won a championship since 2012; the Yankees haven't even reached a World Series since the year Barack Obama was inaugurated; and each franchise (Yankees aside, for now) seems to implode and start over every three or four years or so, with the Nets — which shipped out Durant, Kyrie Irving, and James Harden in the span of 12 months — only the most recent example. The desperate, undignified insistence on bringing in big-name superstars has doomed not just the New York franchises but sometimes the stars themselves; Durant, Irving, and Harden all left Brooklyn in worse shape than they were when they arrived. New York sports teams are rarely allowed to just be normal.They always have to be so big. And then they fail.
Which brings us to the New York Knicks, which kick off their second postseason in the last three years (and, uh, their second postseason in the last ten years) on Saturday afternoon in Cleveland. The Knicks haven't even made it to the second round in a decade, and the years between have been long and ugly. They've chased every star they could find, employed seven different coaches, and electronically scanned the faces of all owner Jim Dolan's enemies, and yet have only put together a single winning season during that time. The bar isn't incredibly high, but this year's team is the best since 2013. And the Knicks accomplished this feat in the best possible way: They did it without stars.
Sure, there's Julius Randle, the first player to make two All-Star Games as a Knick since Anthony. (That's one more than Stoudemire ever made, no matter how much hope he had in his shorts.) And you can certainly make an argument that Jalen Brunson, whom the Knicks pilfered from the suddenly moribund Dallas Mavericks in the off-season, deserved a spot on the team. But neither player even approaches the upper tier of actual stardom; neither Randle nor Brunson is among the top-15-selling jerseys in the sport, and neither would rank among even the top-three most recognizable players on the Warriors, Suns, Clippers, Lakers, 76ers, or Celtics. They're great players. But they're not stars. The Knicks don't have any stars.
What they do have, though, are the highest number of really good basketball players I can remember in my nearly 25 years as a Knicks fan. The Knicks have eight, nine, maybe ten above-average players on their team, from Randle and Brunson to ever-intriguing former No. 3 pick RJ Barrett to defensive stalwart Mitchell Robinson (and super-fun backup Isaiah Hartenstein) to pogo-stick-legged lottery pick Obi Toppin to exciting youngsters Quentin Grimes and Miles McBride to grizzled vet Josh Hart to the happiness machine that is Immanuel Quickley, who may end up being the Knicks' best homegrown player since maybe Kristaps Porzingis or even David Lee. None of those players is showing up on Saturday Night Live, Carmelo-with-Laser-Cats-style, anytime soon. But as deployed by ever-surviving coach Tom Thibodeau, they are relentless, with one of the best offenses in the NBA and a defense that, when it's locked in, can slow down even the most powerful offenses. The Knicks have not always been consistent — I honestly thought Thibodeau was toast about two months ago — and they've recently struggled with injuries, most notably to Randle, who is still recovering from a sprained ankle. But in fantastic wins over the Celtics, 76ers, and other top-tier competition, they have proved able to play head-to-head with almost anyone. And while there may not be any future Basketball Hall of Fame members on the Knicks, they are an absolute gas to watch.
That the Knicks have no stars is not for lack of trying; this was certainly not their plan. It is, in fact, the exact opposite of their plan. Ever since Leon Rose took over as Knicks president nine days before the NBA shutdown in March 2020, Rose (Carmelo's former agent, for what it's worth) has been attempting to maneuver the team to be in position to trade for a big name: DeMar DeRozen, Damian Lillard, OG Anunoby, even LeBron James. They came very close last summer. The Utah Jazz were seemingly minutes away from trading guard Donovan Mitchell to New York until, suddenly, they sent him to Cleveland. The Knicks' retreat from that setback ended up laying the groundwork for this team, which has benefited from a fantastic rebound season from Randle, Brunson's brilliance, and Quickley's breakthrough — all of which might not have happened had Mitchell landed at the Garden. Is it better that the Knicks didn't get him? Not necessarily: Mitchell's likely to end up on the All-NBA first team, and he has led the Cavs to their best non-LeBron season since the days of Mark Price. And in this first playoff round, he may beat the team that couldn't, or wouldn't, trade for him.
And whether or not that happens, the Knicks are unlikely to stop acquiring a bold-faced name.They're surely already lining up to make bids for Dallas's disgruntled Luka Doncic, if he decides to demand a trade at any time over the next year. Superstars are, after all, the coin of the realm in the NBA. All the championship favorites this year — from Milwaukee and Giannis Antetokounmpo, to Denver and Nikola Jokic, to Boston and Jayson Tatum, to Philadelphia and Joel Embiid — are built around a marquee player. Pursuing Doncic, or even Embiid or Kawhi Leonard, in the next few years is hardly a bad idea; only one team in the last 20 years (the 2019 Toronto Raptors) has won a title without at least one MVP on its roster.
That will all be familiar. But what's different and refreshing is this year's team, this collection of excellent (but not transcendent) players, who have managed to put together one of the best Knicks seasons of the last 30 years. Maybe they'll flame out in the playoffs like they did against Atlanta two years ago, or maybe something even more special awaits. But it is undeniably more joyous to watch the Knicks right now than it has been in a long time. They're not changing the world, or leaping off the front pages of the tabloids. They're just a really good, normal, exciting basketball team. What a concept. This Knicks fan is going to try to enjoy it while he can.