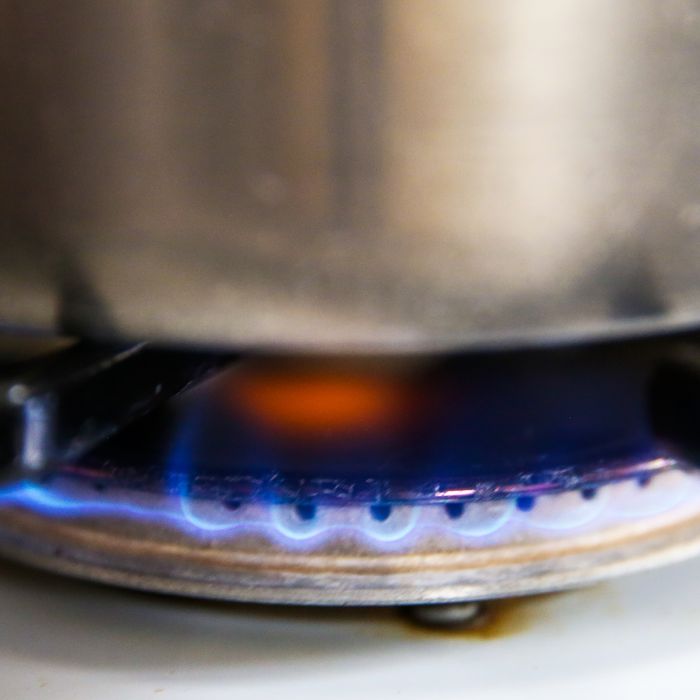 Photo: Steve Taylor/SOPA Images/LightRocket via Getty Images
On Thursday evening, Governor Kathy Hochul announced that legislators in Albany had come to a "conceptual agreement" on the major aspects of the state budget — which includes a provision to cut the gas in all newly constructed buildings.
The $229 budget deal (which arrived weeks after its original April 1 deadline) would increase funding for the MTA, gradually raise the minimum wage to $17 over three years and alter the state's bail laws to allow judges more discretion in setting bail for certain crimes, among other items. Left out of the agreement were several of the governor's big wants including removing the city's cap on charter schools and her ambitious plan to build 800,000 new homes across the state.
But what the framework does include is an environmental provision that, if passed, will require all new construction in the state to meet a zero-emission standard — banning the use of oil and natural gas in these buildings. That would make New York the first state in the nation to institute such a requirement.
Environmentalists have been advocating for the phasing out of gas hookups in homes as a way to cut carbon emissions and fight against climate change. They also cite studies that point to health concerns with gas stoves and indoor air pollution. The natural gas and oil industries have fiercely opposed these plans, and gas stove bans have recently become politicized as yet another battle in the culture wars.
In 2021, New York City Council passed a bill barring gas hookups in newly constructed buildings in the city that'll take effect at the end of the year for buildings under seven stories tall, and in 2027 for buildings taller than that.
Despite the backlash, severing the gas line is an idea that has picked up momentum in recent years, even on the commercial side. Chipotle, the fast-casual Mexican food chain, announced earlier this month that 100 of its new locations will be fully electric, as part of its company-wide goal of decreasing its carbon emissions by 2030.
Lawmakers in Albany will still have to discuss the proposal and are expected to begin voting next week. But even if the gas ban gets their seal of approval, there could still be some challenges to come. Berkeley, California, had its three-year-old gas prohibition in new buildings thrown out in court after a challenge from the California Restaurant Association that claimed the ban went against federal law. And natural-gas advocates reportedly plan to spend $4 million to attempt to defeat a similar ban on the books in Eugene, Oregon.