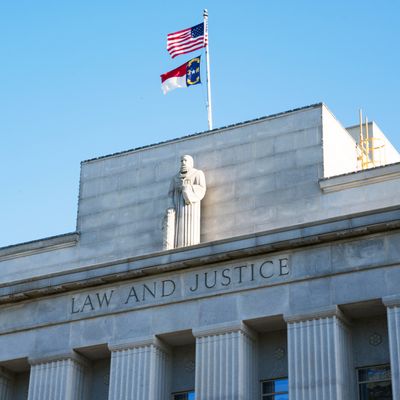 To the electoral victor goes the judicial spoils, it seems.
Photo: Paul Brady/Alamy Stock Photo
In yet another example of even the most obscure elections having consequences, the North Carolina Supreme Court, which was remade in a conservative direction by the 2022 midterms, reversed an earlier decision striking down a partisan gerrymander enacted by the state's Republican legislature. That means the congressional map drawn by a three-judge panel that led to an even split between the two parties will almost certainly be redrawn again by legislators to give Republicans an additional three or four U.S. House seats in 2024, which is great news for embattled Speaker Kevin McCarthy (whose party has just a four-seat majority). Politico provides more detail about the impact:
The new maps will likely gravely endanger Democratic Reps. Kathy Manning in Greensboro, Wiley Nickel in the Raleigh suburbs and Jeff Jackson in Charlotte by placing them into Republican-leaning seats. Freshman Democratic Rep. Don Davis could also see his rural northeastern district become more competitive as well.
The 5-2 decision (with the two dissenters being in the 4-3 majority that existed prior to the midterms) also green-lit a new photo-ID law Republicans wanted. But because the court's rationale was that the judiciary had no business getting involved in such politically fraught decisions as redistricting, there is a silver lining here for progressives. As Politico notes, this decision will likely render moot a petition to the U.S. Supreme Court asking for confirmation of the radical "independent state legislature theory" that might ban all state-court involvement in election cases and allow Republican legislatures around the country to redraw maps without fear of legal challenges:
The state court's ruling issued Friday could also result in the U.S. Supreme Court dropping a closely watched case about the power of state legislatures over federal elections. The justices heard arguments on the issue in December, but signaled last month that they were considering changing course as a result of the effort to get the North Carolina court to reverse its earlier ruling.
Still, the decision of the North Carolina court to smile on the most blatant and ruthless partisan gerrymandering (echoing an earlier SCOTUS decision to wash its hands of such cases) is an ominous development for friends of truly representative democracy, as the dissenters argued:
"For a brief window in time, the power of deciding who is elected to office was given to the people, as required by the state constitution," Justice Anita Earls wrote in her 72-page dissent, joined by Justice Michael Morgan …




"Today, the majority strips the people of this right; it tells North Carolinians that the state constitution and the courts cannot protect their basic human right to self-governance and self-determination."
In this closely balanced state, Republicans can once again exert power above and beyond that of their Democratic and independent neighbors.