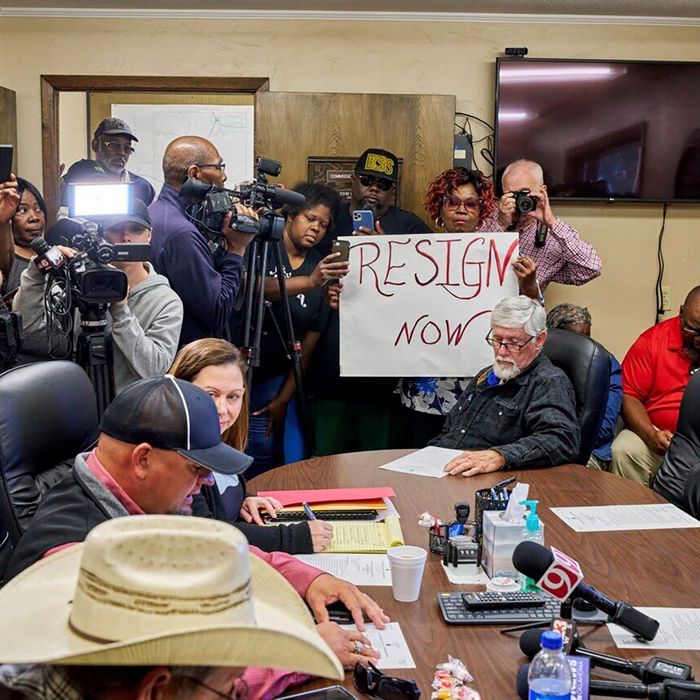 Photo: Christopher Bryan/AP
Sheriff Kevin Clardy of McCurtain County, Oklahoma, was among several officials caught on tape saying some aggressively racist and terrible things — like complaining that they can't lynch Black people anymore. In response, the sheriff is threatening to prosecute the newspaper that exposed his racism.
The recording, published by the family-owned paper, captured a candid conversation on March 6 between Sheriff Clardy, investigator Alicia Manning, and district commissioner Mark Jennings following a county Board of Commissioners meeting. The recording was made by McCurtain Gazette-News publisher Bruce Willingham, who told the Associated Press that he'd left the device in the room, because he believed the group was conducting official business after the meeting ended — a violation of state law.
As it happened, Willingham's son Chris, a reporter at the family-owned newspaper, had filed a defamation suit against Manning on March 6:
After a morbid exchange comparing human remains to barbecue, the trio discussed killing and burying Chris Willingham. "I've got an excavator," Clardy said, according to the tape. Jennings said he already had holes for both Bruce and Chris Willingham that were "pre-dug" and mentioned a hit man he knew who would "cut no fucking mercy."
The three moved on to a conversation about how many candidates would run in the upcoming race for county sheriff. "They don't have a goddamn clue what they're getting into," Jennings said. "Not this day and age. I'm gonna tell you something. If it was back in the day, when Alan Marston would take a damn Black guy and whoop their ass and throw him in the cell? I'd run for fucking sheriff." Jennings was referring to the county sheriff who served in the 1980s.
"Yeah," Clardy replied in the recording. "It's not like that no more."
"I know," said Jennings. "Take them down to Mud Creek and hang them up with a damn rope. But you can't do that anymore. They got more rights than we got."'
Many local officials would resign with such a sordid tape making national news, but the sheriff's office published a statement on Monday describing the "complex situation" it was facing and alleging that the recording may have been doctored. The office promised additional press releases as "findings are forwarded to the appropriate authorities for felony charges to be filed on those involved."
Although Clardy refuses to back down, there is a growing coalition calling for his resignation. On Monday, more than 100 people gathered at the county courthouse calling for him to resign. Republican figures, from the state representative encompassing McCurtain County to the governor, have called for the resignation of Clardy, Manning, Jennings, and jail administrator Larry Hendrix, who was present for the conversation.
On Wednesday, Jennings submitted his immediate resignation in a handwritten note, vowing to release a "formal statement in the near future regarding the recent events in our county." He did not apologize.
This post has been updated.