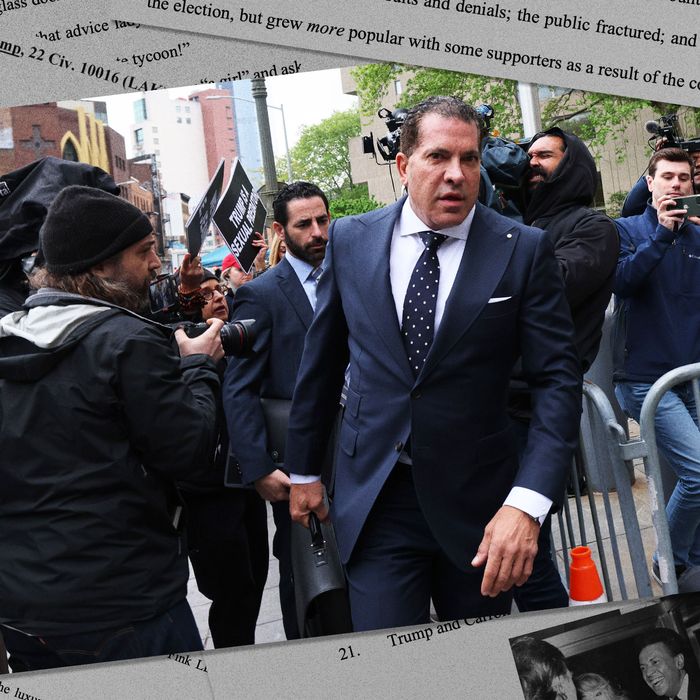 Photo-Illustration: Intelligencer; Photo: Michael M. Santiago/Getty Image
Today in court in lower Manhattan, Donald Trump's attorney Joe Tacopina tried to catch the ever-poised writer E. Jean Carroll on gaps in her memory. Had Carroll met Trump at a party in 1987, 35 whole years ago? Did Trump wave to Carroll on the street in 1994 or in 1995 — and was she even sure he was waving at her? And what, exactly, made Carroll now think the alleged attack had happened on a Thursday night when she had been fuzzy on the weekday after so many years?
These questions didn't quite have the gotcha effect Tacopina intended in the mostly packed Manhattan federal courtroom, given that Carroll's own lawyer picked at these very gaps during her direct testimony the day before. Carroll had already admitted that her memory wasn't perfect, that she didn't have all the answers. She confessed to blaming herself over and over and over again for going into the Bergdorf Goodman dressing room around early 1996 where, she said, Trump violently raped her. (The civil trial began this week with a speedy jury selection on Tuesday.)
Not long after 2 p.m., Tacopina's cross took an eyebrow-raising turn — he repeatedly grilled Carroll about why she didn't scream. Was it true, Tacopina asked, that she never screamed — but instead started laughing when Trump allegedly slammed his mouth against hers? "Laughing is a good, may I use the word 'weapon,' to calm a man down if he has any erotic intention," Carroll said.
"You never screamed for help?" Tacopina asked shortly thereafter. "I'm not a screamer," she said; she was too frightened.
"So when you're fighting and being sexually assaulted and raped, you're too panicked to scream?"
"You can't beat up on me for not screaming," Carroll said.
"I'm not beating up on you, Ms. Carroll," he said. This question is why women don't come forward, Carroll said. He kept at it: "Why didn't she scream? Why didn't you scream, E. Jean? You better have a good excuse."
"I'm telling you he raped me whether I screamed or not!" Carroll said, raising her voice to a volume that wasn't quite a shout, more a clarion call. Firm. Resolute.
Tacopina, who loomed over the lectern during cross, clutching the wooden sides, asked, "Do you need a moment, Ms. Carroll?"
"No, you go right on," she said.
"I don't need an excuse for not screaming," Carroll said at another point.
"Despite that, you would have preferred your story to include your screaming?"
"Of course I do! More people would believe me if I screamed."
At one point of Tacopina's scream-centered line of questioning, Carroll said she was also leery about making a scene. "So you didn't scream while you were getting violently raped because you didn't want to make a scene?" She agreed.
Then came Tacopina's questioning about the mechanics of assault. Where were her tights? "Because your tights were above your knees, you couldn't get your knee up?" to hit Trump, he asked. He took issue with Carroll's handbag and footwear, too.
"While all this was happening, your purse was still in your hand?" Carroll said yes. "Despite the colossal struggle as you were being violently raped, you didn't let go of your purse?" Carroll said that she in fact hit at Trump with her Coach bag. And you managed to balance on four-inch heels throughout the whole ordeal, Tacopina asked.
"I can dance backwards and forwards in four-inch heels," Carroll said.
"Well, you're not dancing at this time," Tacopina said.
"You work out all the time — I've read about it," Carroll said. "You understand the feet."
While Tacopina's focus on Carroll's vocal response to alleged rape seems extreme, it's worth noting that this was pretty mild in the world of rape-accuser cross-examination. On the cruelty spectrum, Tacopina's questions pale in comparison to Donna Rotunno's stomach-twisting cross during Harvey Weinstein's trial, which appeared to cause victim Jessica Mann to hyperventilate. Tacopina was aggressive, to be clear — and anyone accused of wrongdoing would want an aggressive lawyer — but it didn't cross the line into moral abjection.
The trial resumes Monday.