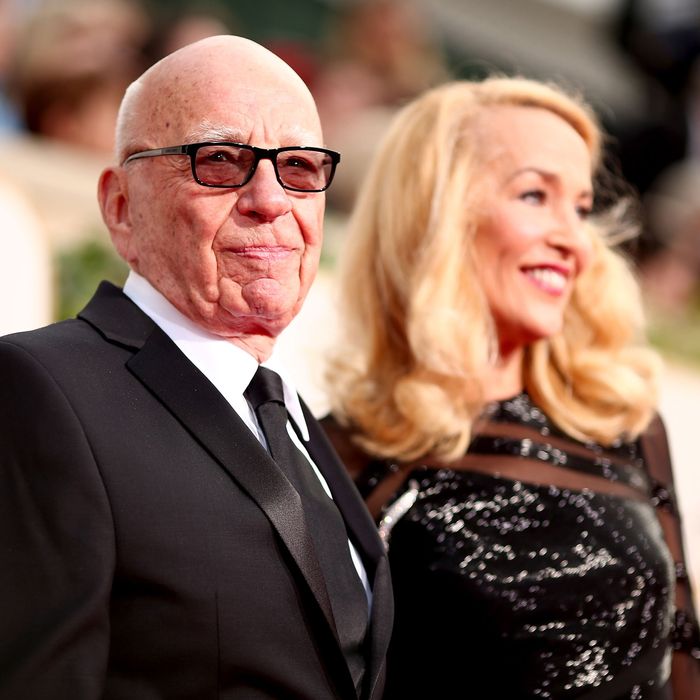 Photo: Christopher Polk/NBC/via Getty Images
Comparatively, it's a hard time for billionaire News Corp executive chairman Rupert Murdoch. Depositions from a $1.6 billion defamation suit against Fox News are revealing huge internal rifts at the network and exposing the hypocrisy of its executives and hosts. Donald Trump, the Republican that Murdoch loathes most, has again secured the support of the party, requiring Fox News to suck up to him again. And his avatar on HBO just died.
On top of all that, a report in Vanity Fair just dumped a ton of dirt on Murdoch — including the allegation that the 92-year-old mogul dumped his fourth wife, Jerry Hall, by email. As News Corp chronicler Gabe Sherman explains, Hall was waiting to meet Murdoch at their estate in Oxfordshire last June when she saw an email on her phone. "Jerry, sadly I've decided to call an end to our marriage," it read, according to a screenshot provided to Sherman. "We have certainly had some good times, but I have much to do … My New York lawyer will be contacting yours immediately."
Hall, a former model and ex-wife of Mick Jagger, was stunned. According to the report, she told friends that she and Murdoch never fought, though there had been some tension due to his anti-abortion views. Two months later, it was finalized. Hall reportedly had to show receipts to prove that what she took from their Bel Air mansion was really hers. When she moved into the Oxfordshire estate she got in the settlement, security cameras were reportedly still feeding video back to Fox headquarters — until Mick Jagger's security guy came over to cut them off.
Why, after six happy years together, did Murdoch blow his marriage up? Well, four months later, he was spotted on vacation in Barbados with Ann Lesley Smith, a 66-year-old former dental hygienist who became a conspiracy-leaning radio voice. Murdoch and Smith speed-ran through their relationship, getting engaged in March — then calling it off two weeks later. A source close to Murdoch told Vanity Fair that Smith's evangelical beliefs were wearing on him: "She said Tucker Carlson is a messenger from God, and he said nope." (A spokesperson for Murdoch declined to comment on the whole story.)
There's plenty more new information on family strife and family health issues. As Murdoch worked to spinoff 20th Century Fox to Disney, Murdoch's son Lachlan flipped out at his dad and his brother James. "If you do this deal, I'm never speaking to either of you again!" he yelled at them, according to someone briefed on the conversation. When he couldn't stop the deal, he reportedly had a panic attack and was treated at a hospital in the Los Angeles area. (A person close to Lachlan denied the hospitalization.) In recent years, Murdoch himself has gotten a serious case of COVID, experienced seizures, pneumonia (twice), atrial fibrillation, a torn Achilles tendon, and a broken back, according to one source close to him.
Naturally, Murdoch has some negative opinions about Succession, the HBO series pretty closely cribbed from the family saga. After James failed to attend Murdoch's 90th birthday party, Lachlan told Murdoch that James was telling family stories to the Succession writer's room. As part of the divorce settlement between Hall and Murdoch, Hall was reportedly barred from giving story ideas to the show's writers.