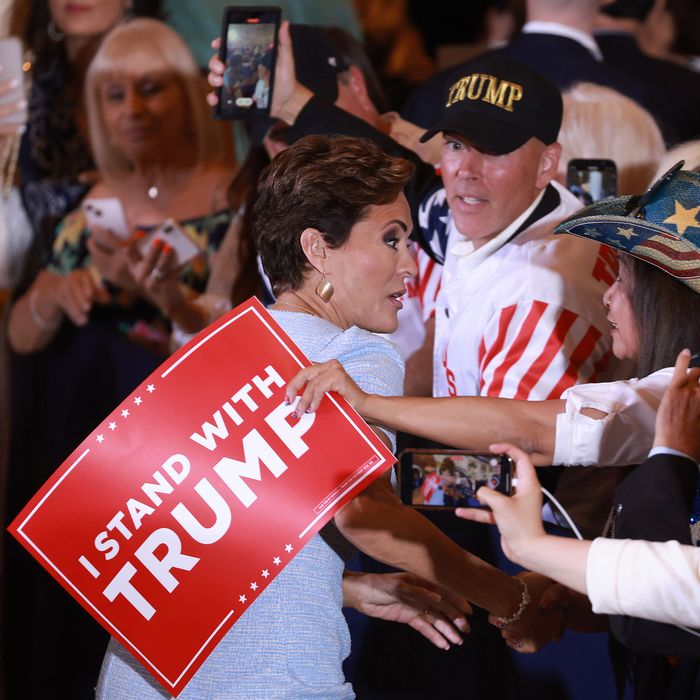 Arizona's Kari Lake, a 2022 gubernatorial loser, now eyeing a 2024 Senate run.
Photo: Joe Raedle/Getty Images
The last time Donald Trump's political future was allegedly on life support, it was in no small part because he was being blamed for a Senate Republican midterm underperformance that left the GOP in the minority. Unhappy Republican senators who did not win coveted committee and subcommittee chairmanships complained both on and off the record about how the party needed to "move on" from Trump in 2024.
Well, Trump's 2024 prospects have obviously turned around. His lead over Ron DeSantis has ballooned in the RealClearPolitics polling averages from 12.8 percent in late February to 26.7 percent now. The long-awaited DeSantis Surge could still happen, but it's further away than ever. And Trump's intraparty standing could get even stronger as Republicans shower him with near-universal support in his collisions with prosecutors, which are likely to continue throughout the 2024 primaries.
Accordingly, there are signs that the Senate Republicans who were so furious at Trump for his contributions to their 2022 electoral shortcomings are coming around to the reality that he may be at the top of the ticket in November 2024. As CNN reports, National Senate Republican Committee chairman Steve Daines of Montana is staying in close touch with the 45th president:
Privately, Daines has spoken multiple times with Trump and has been in touch with his eldest son, Donald Trump Jr., while national Republicans point to the NRSC's early endorsement and fundraising for Rep. Jim Banks in the Indiana Senate race as an example of how the party's warring wings can try to avoid messy primaries.




The goal, GOP sources say, is to keep Trump aligned with Republican leadership — even as the former president has furiously attacked Senate Minority Leader Mitch McConnell in the aftermath of the Capitol attack on January 6, 2021, and as the Senate GOP leader has stayed silent amid the former president's indictment on 34 felony charges in New York. Daines, however, has been vocal in his defense of Trump.
Even frequent Trump target Mitch McConnell has pivoted this year from deploring the ex-president's position in the party to promising to back him if he is the party's presidential nominee (despite all of Trump's scurrilous attacks on McConnell and his wife).
It seems Senate Republicans are trying to avoid fractious primary fights instead of running aggressively against MAGA candidates. And in one highly visible case, they are trying to talk 2022 loser Kari Lake into running a more rational campaign if she makes a 2024 Senate bid, per CNN:
Lake, who has faced blowback over pushing baseless accusations of election fraud, was given this suggestion from NRSC officials: Shift to more effective messaging and away from claims about a stolen election, according to sources familiar with the matter.




The meeting, which was described as a positive one, focused on how Senate bids often turn on issues that are different than governor's races, multiple sources said. Top Republicans quietly acknowledge Lake could become a frontrunner if she runs in the primary, hoping to steer her towards a viable campaign if she mounts one.
The truth is, the gap between Trump (as well as his protégés like Lake) and your average Republican congressional candidate is not all that large. All will savagely attack Joe Biden and his "radical leftist" party as a bunch of America-hating, God-hating, family-hating socialists; all will treat the Trump administration as a sort of Paradise Lost. Disagreements over what exactly happened in 2020 (and on January 6, 2021) will be downplayed even if Trump's not the nominee. And if he is the nominee, the prevailing GOP tune, regardless of prior criticisms of the man, will be "Hail to the Chief."
Perhaps Senate Republicans' more relaxed attitude toward Trump and his followers reflects a stronger GOP landscape in 2024. It's a target-rich environment, all right: Democrats are defending 23 Senate seats, five of them in states carried by Trump in either 2016 or 2020, and two in deep-red states. Republicans are defending just 11 seats, all of them in states Trump carried twice. They only need to flip two net seats to gain control of the Senate — or just one if they win the presidency and the tie-breaking vice-presidency.
So while many of the Republicans in the upper chamber may prefer to "move on" from Trump, they can adjust, just as GOP senators did in 2016 and 2020. That's true even for McConnell, who will enjoy his best and perhaps last chance to serve as Senate majority leader in 2025.