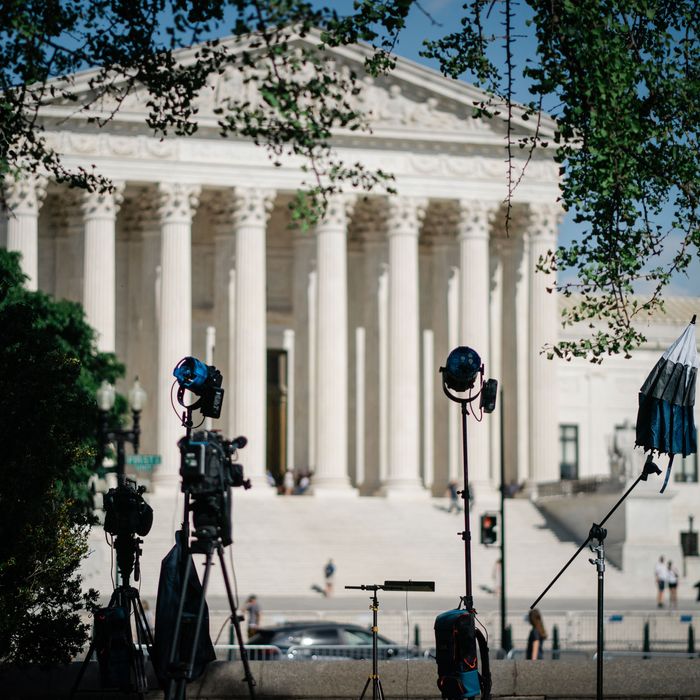 Television crews' equipment outside the Supreme Court of the United States on Friday, April 21.
Photo: Kent Nishimura/Los Angeles Times via Getty Images
The U.S. Supreme Court on Friday evening preserved full access to the abortion pill mifepristone, at least for the immediate future, while a legal battle over the drug proceeds in a lower court. Mifepristone, which is one of two drugs approved in the U.S. for medication abortions, will remain accessible in every state where abortion remains legal.
The unsigned single-paragraph order stayed in full an unprecedented April 7 ruling by a conservative federal judge in Texas suspending the FDA's decades-old approval of mifepristone — which would have barred its use nationwide and put the future availability of all medication abortion in the country in doubt. The Biden administration appealed, but the 5th Circuit Court of Appeals did not fully stay the ruling. Now the nation's highest court has — and sent the case back down to be resolved in the 5th Circuit, where the legal battle could continue for months or years.
The 5th Circuit, which is dominated by conservative judges, had also rolled back the FDA's expansion of access to mifepristone, which began in 2016. The Supreme Court has now blocked that as well.
It's not clear how many justices voted for the stay, nor did any justices explain the reasoning behind the decision, but two — Clarence Thomas and Samuel Alito — publicly dissented:
Though the conservative-majority Supreme Court overturned Roe v Wade last year, eliminating the constitutional right to an abortion in America, it has typically backed the authority of the FDA in determining drug safety.
This post has been updated.