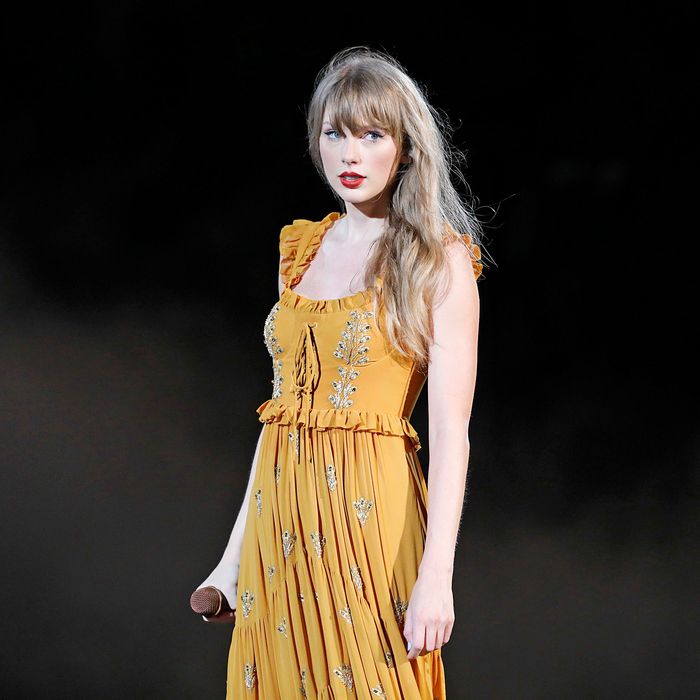 Photo: Octavio Jones/TAS23/Getty Images for for TAS Rights
In his very brief time in business, Sam Bankman-Fried was able to convince a lot of rich and talented people that his cryptocurrency exchange, FTX, was the real deal — rich and talented people who looked pretty foolish when it was revealed in November that it was a fraud from day one. But one person who apparently did her due diligence was Taylor Swift.
According to the attorney Adam Moskowitz, who is leading a class-action lawsuit against FTX and its celebrity spokespeople, Swift was considering an endorsement deal in the fall of 2021. In an appearance on The Scoop podcast on Tuesday, Moskowitz said that during the discovery process, the singer "actually asked: 'Can you tell me that these are not unregistered securities?'"
While Moskowitz didn't say if it was the singer or her lawyers who posed the question, it was the right hunch. In its complaint against FTX last year, the Securities and Exchange Commission stated that the FTX-issued cryptocurrency, as a security, was not properly registered. To recap, the coin was crucial to FTX's fall. In November 2022, CoinDesk reported that FTT made up a huge percentage of the balance sheet of Alameda, the hedge fund closely linked to FTX, leading to a collapse in its value that exposed the whole operation as an alleged fraud.
According to the Financial Times, some members of the FTX team weren't thrilled about the deal either. A December report detailed that a $100 million sponsorship with Swift fell apart after months of discussion. Some members of the crypto exchange's marketing team were confused by the price: One employee said that the nine-figure value was "really fucking high. That's front of the soccer jersey–level prices." (Maybe it would clear up the confusion that Sam Bankman-Fried was not exactly a rational actor and was a fan of Taylor Swift.)
As Moskowitz helms a $5 billion class-action lawsuit against FTX for defrauding investors, he is also taking on the many celebrities who took the crypto exchange's money without doing their homework. Their ranks include Larry David, Gisele Bundchen, Tom Brady, Steph Curry — basically all the people you saw in crypto ads during the 2022 Super Bowl. But not Swift. Perhaps her financial responsibility runs in the family: Her great-grandfather was the chairman of a notable Pennsylvania bank.