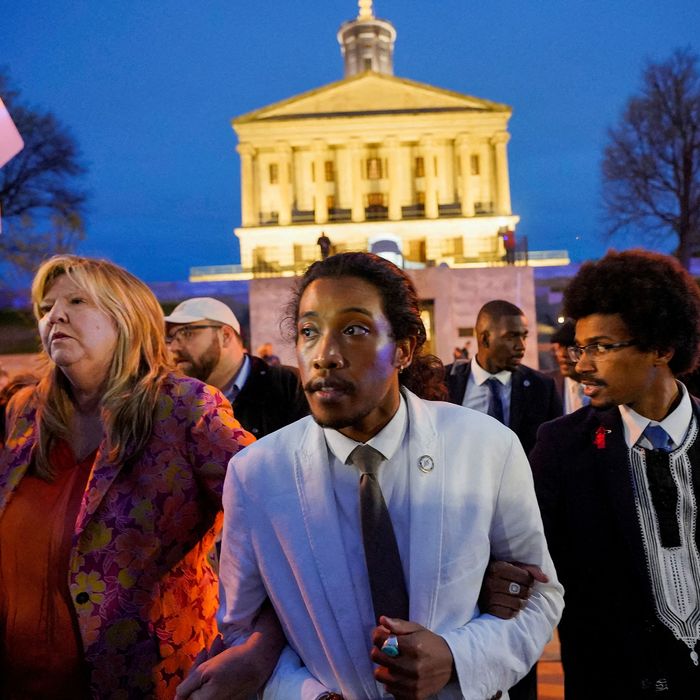 Tennessee representatives Justin Jones (center) and Justin Pearson (right) at the Tennessee state house, where they were expelled from the House of Representatives on Thursday.
Photo: Cheney Orr/REUTERS
On Thursday, Republican lawmakers in Tennessee expelled two of their Democratic colleagues for purportedly bringing "disorder and dishonor" to the House of Representatives during a protest last week. The two Democrats, Justin Jones of Nashville and Justin Pearson of Memphis, joined throngs of ralliers who had converged on the Capitol after the slaying of six people in a Nashville school shooting on March 27. They chanted alongside the protesters on the House floor, calling for swift action to enact tighter gun-control measures — usually a doomed prospect here, since House Republicans outnumber Democrats almost threefold, 73-26. Only two other people have been expelled from the general assembly's lower chamber since the Civil War, making this one of the most extraordinary disciplinary actions in the Tennessee legislature's history.
As the proceedings unfolded, Pearson laid into his Republican colleagues for what he saw as their hypocrisy. "You, who celebrate July 4, 1776, pop fireworks and eat hot dogs, you say to protest is wrong, because you spoke out of turn" on behalf of "children who won't ever be able to speak again," he said in a speech that went viral on Twitter. He and Jones are probably not gone for good. Each is eligible to run for his seat again: Pearson has said he will do so, most likely in a special election, and Jones has the support of several members of Nashville's governing Metro Council, who have said they'll reappoint him. But for now, tens of thousands of residents in two of Tennessee's three most populous metropolitan areas lack House representation. (It would have been all three had a corresponding push to expel Knoxville's Gloria Johnson succeeded, but it fell short by one vote.)
The expulsions leave Tennessee Democrats at a two-man deficit, but their disadvantage is mostly redundant: The assembly's GOP supermajority doesn't need Democrats to pass its agenda. Its recent successes include a bill that bans gender-affirming care for trans minors and another that defines "sex" as immutable and determined at birth, which could exempt some LGBTQ people from anti-discrimination protections. What the GOP is doing instead is a straightforward flex of unbridled power, confirming how little it is concerned with traditional norms of democracy. It also doubles as a warning shot: Tennessee Republicans have not only the numbers but the political will and now a precedent for defrocking whomever they please.
In a state where race is often a proxy for partisan affiliation, this development has especially dire implications for Black officials. When asked why Jones and Pearson were expelled for protesting while she was not, Johnson, who is white, told the New York Times, "It might have to do with the color of my skin."
One of the most remarkable aspects of this process has been how it delineates what is normal from what is deviant. The extraordinary punishment of Jones and Pearson makes clear what is beyond the pale to House Republicans. The slayings themselves are business as usual. On the same day as the expulsion vote, the House passed a bill requiring added security measures in public and private schools, including that exterior doors be locked while students are present and making the active shooter drills that are already required of public schools mandatory for private ones, too. Restrictions on gun access were not considered. Both chambers are also considering budget amendments by Republican governor Bill Lee that would set aside $140 million for more campus cops, according to The Tennessean. The effect will be the continued militarization of U.S. education, marked by an exporting of the prison-inspired methods used to police poor and Black districts nationwide to schools across the state.
Republicans were modestly self-congratulatory about its passage. "While it may not be the full solution to the danger and violence we see in the world, it is certainly a step forward," said House Majority Leader William Lamberth. But it was also clear that their idea of progress means preparing private schools for the same gun battles engulfing public ones. "When that horrendous loss of life occurred," Lamberth continued, "it immediately showed we could not just focus on the safety of our public-school students but on the safety of all our students."
The debate over how to prevent gun deaths to begin with has been functionally laid to rest on a bed of white flags, with lawmakers mostly incapable of solutions. Instead, they are reserving their outrage for people who act like such solutions are all we have left.