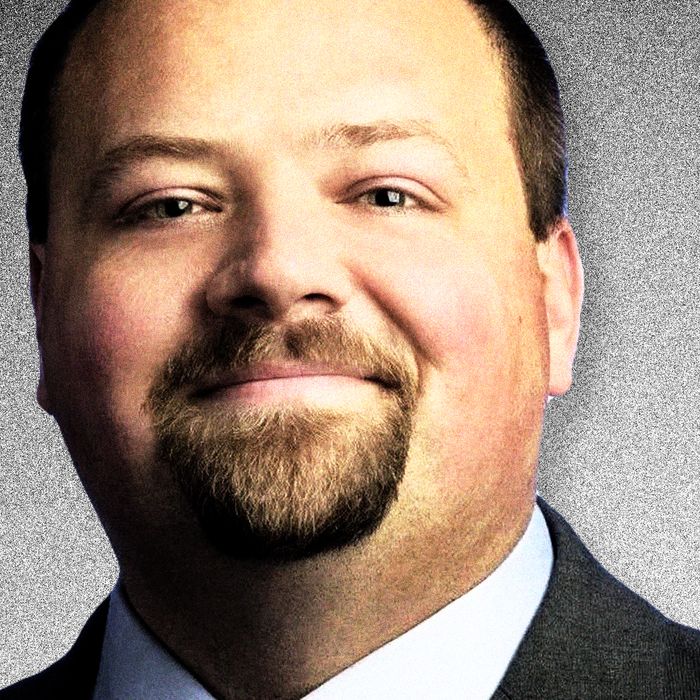 Photo-Illustration: Intelligencer
In his speech shortly before being expelled from the Tennessee legislature for protesting against inaction on gun violence, Democrat Justin Jones ran down some behavior that the Republican majority did not consider expulsion worthy in recent years. He described an "admitted child molester" who spent years in the legislature without expulsion. Another member allegedly urinated on a member's chair in the chamber. "No expulsion," Jones said.
A new report from NewsChannel 5 Nashville adds to that list. According to a memo obtained by the station, a bipartisan ethics subcommittee investigation found that GOP representative Scotty Campbell had sexually harassed at least one intern. "Based on the completed staff investigation, the Ethics Subcommittee finds that Representative Campbell violated" policies against workplace discrimination and harassment, the memo stated. Following the investigation, Republicans did not remove Campbell from his position in leadership or from his committee assignments. Two weeks ago, the 39-year-old representative voted to expel Jones and fellow Democrats Justin Pearson and Gloria Pearson after their demonstrations over gun control.
Hours after Campbell's alleged conduct became public knowledge, he announced his resignation.
In an email from the alleged victim to officials at her university, which was obtained by NewsChannel 5, the victim claims that Campbell, who was her neighbor in a building near the Capitol, recently saw her and another 19-year-old intern enter her apartment. When Campbell and the alleged victim later saw each other in person, Campbell told her he imagined that the two interns "were performing sexual acts on one another and how it drove him crazy knowing that was happening so close to him." The alleged victim then said that was not the case, to which Campbell described "how sexually attractive" he found her 19-year-old friend. The email states that Campbell repeatedly told her that he wished "he had someone with whom he could just cuddle" and how "he is very, very lonely."
On March 15, the victim remembers that she went to Campbell's apartment to return a wrench she borrowed. He then "proceeded to ask how many men I've slept with." She said zero, and claims Campbell told her not to lie. "He then proceeded to ask how many women I've slept with and said he bets girls go crazy over me," she recalled. She claims that Campbell offered her cannabis gummies in exchange for seeing her tattoos and piercings. When she said no, she claims he "reached out his hand towards me and grabbed me around my neck." The investigation found that taxpayers paid to relocate the alleged victim from her apartment building, to ship her furniture to her family's home elsewhere in Tennessee, and for a hotel for the rest of her internship.
When confronted with the allegation, Campbell told NewsChannel 5 that the allegations were "not true," adding "I had consensual, adult conversations with two adults off property."