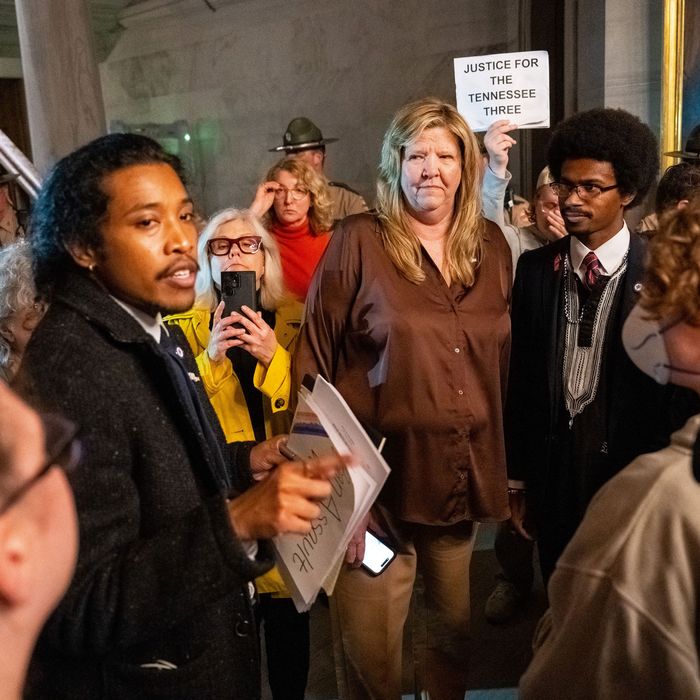 Photo: Laura Thompson/Shutterstock
Tennessee Republicans expelled two Democrats from the state legislature Thursday for disrupting a legislative session by protesting Republicans' failure to address gun violence in the wake of last month's mass shooting in Nashville.
Justin Jones and Justin Pearson were tossed out of the legislature, while their fellow lawmaker Gloria Johnson held on by one vote, as seven Republicans opted against expulsion. Republicans maintain a solid supermajority in the Tennessee House — in part thanks to an aggressive gerrymander that has ripped power away from the state's cities — and Democrats could do nothing to halt the process. Jones and Pearson are Black, and Johnson is white; she pointed to that fact as the reason she barely escaped punishment. Republicans denied that race played a role.
"What's happening today is a farce of Democracy," Jones said in lengthy, impassioned remarks before the expulsion. "What is happening today is the jury has already made their mind up before the evidence was presented." He said that he had been speaking for his constituents who are terrified of mass shootings during the disruption on March 30.
The expulsions drew plenty of national attention, and condemnation from top Democrats. "Last week, three more students and three school officials were gunned down in yet another tragic mass shooting in Nashville," President Biden said in a statement. "On Monday, 7,000 Tennesseans, many of them students, marched to their state capitol to call on their lawmakers to take action and keep them safe. "Instead, state Republican lawmakers called votes today to expel three Democratic legislators who stood in solidarity with students and families and helped lift their voices."
Former president Barack Obama also weighed in:
The three Democrats had interrupted the proceedings for about an hour on March 30, taking to the House floor during a recess and giving remarks through a bullhorn in which they chided Republicans for a lack of action on gun reform as protesters in the gallery joined them in chants.
Thousands of demonstrators, many of them young people, had streamed into Nashville's state capital to demonstrate against Republicans who refuse to change the state's lax firearm laws in the wake of the shooting at the Covenant School, which left three children and three adults dead along with the shooter.
In a letter posted to Twitter on Tuesday, Pearson wrote, "I recognize that I did not follow decorum," but "when I saw thousands of people — mostly children and teenagers — protesting and demanding action from us after the slaying of six innocent people, including three 9-year-old children, it was impossible to sit idly by and continue with business as usual."
The expulsion of lawmakers is exceedingly rare in Tennessee, and expulsion over such a mild offense is unprecedented. As the Tennessean summarizes:
House leadership has never overridden a member's election for simply violating House rules. Only two House members have been expelled from the chamber since the 1800s, both after either criminal charges or sexual misconduct allegations. Both of those times, in 1980 and 2016, followed special committee inquiries and were bipartisan votes.
Democrats have pointed out that, in recent years, state Republicans have been accused of misdeeds that would seem a bit more serious than breaching decorum, including sexual assault and urinating in another lawmaker's chair. They have also accused the GOP of going out of its way to punish three lawmakers — two Black men and a woman — who do not look like most of the House. But the Republican Speaker of the House, Cameron Sexton, compared the trio's actions to "an insurrection," a pointed reference to the January 6 Capitol riot. "They actually thought that they would be arrested," he said. "And so they decided that them being a victim was more important than focusing on the six victims from Monday. And that's appalling."
On Thursday, hundreds of protesters were once again outside and inside the chamber, cheering on the lawmakers they call the "Tennessee Three." Their yelling could be heard in the background as lawmakers spoke.
Ultimately, the wisdom of Republicans taking such drastic action is debatable from a political perspective. The expulsion has elevated Johnson, Pearson, and Jones locally and nationally and attracted often unflattering national media attention to the Tennessee GOP. But, beyond that, the three Democrats are eligible to run in the special elections that will be held to replace them. So they may be back in a matter of months, newly minted as semi-household names.
As for Tennessee actually doing something about gun violence: Dream on.