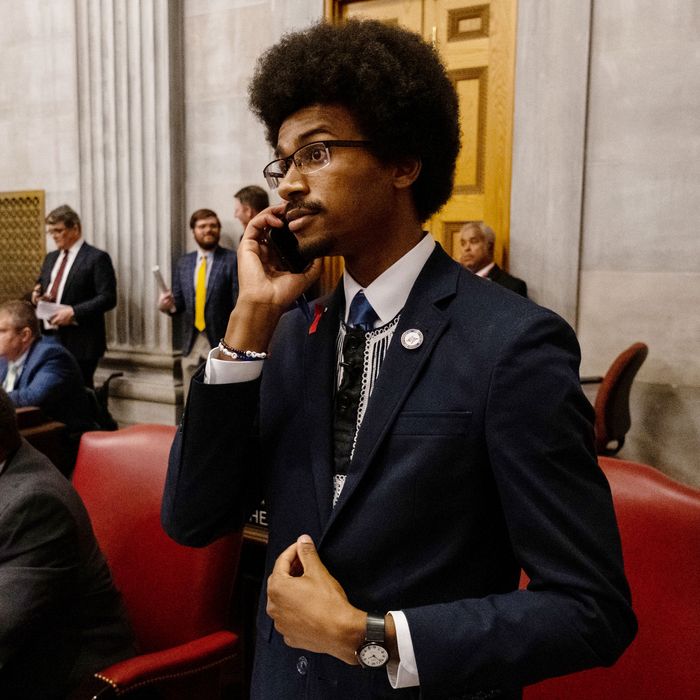 Photo: Seth Herald/Getty Images
A few days after Republicans expelled two Democrats from Tennessee's state house for demonstrating against GOP inaction on gun violence, both of those lawmakers have been reinstated. On Monday, Nashville's Metropolitan Council voted unanimously to return Justin Jones to the Tennessee General Assembly, where he'll serve as an interim representative for his district until a special election is called. And on Wednesday, a Memphis commission voted 7-0 to reinstate Justin Pearson. Like Jones, Pearson will serve in an interim capacity. Both men have said they'll run in the special elections for their seats.
"The message for all the people in Nashville who decided to expel us: You can't expel hope. You can't expel justice," Pearson said after Wednesday's vote, the AP reported. He had been joined by hundreds of supporters on a march to the Board of Commissioners meeting.
On April 6, Jones and Pearson, along with fellow Democrat Gloria Johnson,occupied the assembly floor to call for gun reform in the wake of the school shooting in Nashville the week before, which left three children and three adults dead. With a supermajority in the assembly, Republicans voted to expel Jones and Pearson, who are Black, but they failed to get the votes to kick out Johnson, who is white. Although Republicans deny that race was a factor, Johnson told CNN that she thinks the reasoning is "pretty clear: I'm a 60-year-old white woman, and they are two young Black men." The expulsions became a flash point in the fight over democracy and attracted national attention, with Vice-President Kamala Harris visiting Jones and Pearson on Friday. Despite his removal, Jones remained confident that the city — which first elected him last year — would put him back in office through a council vote. "We'll see you on Monday," he said last week.
Prior to his reinstatement, Pearson had described his expulsion in a New York Times op-ed as an "assault against democracy" and detailed the gun violence that had impacted Tennessee recently — including 20 people shot in mass shootings over a ten-day period in February in Memphis.
When Pearson and Jones are both back in the assembly, GOP Speaker Cameron Sexton might still try to kick them out a second time. "If they reappoint, we'll go through that process when the time comes," he said on Saturday.
"Today, we are sending a resounding message that democracy will not be killed in the comfort of silence," Jones said to supporters on Monday. "Today, we send a clear message to Speaker Cameron Sexton that the people will not allow his crimes against democracy to happen without challenge."
This post has been updated.