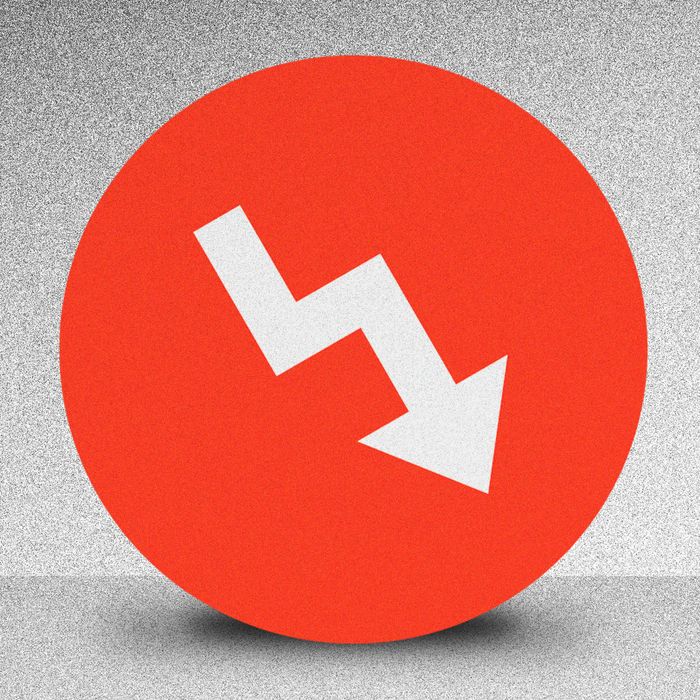 Photo-Illustration: Intelligencer; Photo: BuzzFeed
Maybe it shouldn't have come as a surprise that BuzzFeed News shut down today. The timing of its demise came coincidentally a week or so before its founding editor Ben Smith was to publish his book, Traffic: Genius, Rivalry, and Delusion in the Billion-Dollar Race to Go Viral. He quickly wrote a piece for his digital-news start-up, Semafor, declaring, "The End of the BuzzFeed Era in News."
But really, hadn't it been over for a while? Facebook and Google stopped acting like partners with digital-news operations a while back, preferring to keep ad revenue for themselves. Meanwhile, the Trump years gave the average resistance reader a reason to pony up for a subscription to legacy places like the New York Times, the Washington Post, and even The New Yorker. And the SPAC market and venture capital both aren't nearly as flush with cheap money to put somewhere as they were not so long ago.
Had Smith seen the writing on the wall back in 2020, when he left the newsroom he started for a job at the Times? "I've been surprised," he tells me, "even since then, at the sort of withdrawal of Facebook from the news space and of Twitter in some ways" — Twitter erased blue check marks from journalists' accounts today — "I think you could kind of see the direction, but I didn't think it was going to happen this fast."
"There was always the sword of Damocles hanging over BuzzFeed News," says a newsroom employee, one of about 60 who will be affected (120 jobs across other divisions are also being cut). "Everyone in news knew it wasn't profitable, the board hates it, Jonah kind of keeps it around 'cause he likes it, and eventually the day would come where it's a terrible line item in red. And, you know, I guess the day came."
It was back in 2011 that Jonah Peretti first hatched his plan for BuzzFeed News. By then, he'd built his website into a successful meme-and-listicle factory, but he wanted his operation to grow up. News seemed like a natural evolution — and a way for BuzzFeed to burnish its cred with advertisers. Peretti hired Ben Smith, then 35 years old and working for Politico; the two launched their newsroom during the run-up to the 2012 presidential election. It got off to a scoopy start. ("McCain To Endorse Romney Tomorrow.") Many more scoops were to follow from the other digital hustlers, each competing to get something — almost anything — out on Twitter first. It changed reporting, for better and for worse.
Peretti, in his letter to staff today, wrote, "I made the decision to overinvest in BuzzFeed News because I love their work and mission so much." In doing so, he had managed to build a serious, investigative, and political news operation on the back of those listicles and memes. He was well intentioned and idealistic about it, meeting early on with top figures at the Times to learn the ins and outs of the news business, even as the old newspapers were hemorrhaging advertising dollars and journalistic talent. A new generation of young reporters came up at BuzzFeed News. NBCUniversal invested hundreds of millions in BuzzFeed while it attempted different ways to alchemize its digital heat into dollars. (In 2018, BuzzFeed began selling cookware at Walmart; Peretti set up a mini movie studio in Los Angeles in 2020.)
But BuzzFeed's life force was always tied tightly to its ability to go viral; it was heavily dependent on platforms like Facebook, which could send BuzzFeed tumbling with the simple tweak of an algorithm. And eventually, the social-media giants began sucking up more and more digital ad revenue. The era of the paywall took hold, but not at BuzzFeed News.
News-gathering is expensive, and as the picture for BuzzFeed grew bleaker, its newsroom underwent a yearslong lingchi. As it bled out, the journalists who remained managed to write ambitious stories, even winning a Pulitzer in 2021. That was also the year that Peretti took BuzzFeed public by merging it with a SPAC, which combined it with Complex Networks in the process. Peretti was attempting to roll up the other digital shops in order to have one entity that could withstand the changing forces of the new media landscape. (BuzzFeed had already acquired HuffPost a year earlier.)
Many experts at the time saw the move for what it was — a sign of weakness. The stock price instantly plunged, and it's all been downhill ever since. Still, while employees aren't shocked that their newsroom ultimately was killed, some are surprised that it happened now, since editor-in-chief Karolina Waclawiak had just told the newsroom in March that it was time for a pivot, encouraging staffers to crank out more stories in order to boost traffic as opposed to focusing on longer features. "There are so many things outside of our control — the advertising market, the economy, a recession," she'd told them. "But what we can control is how many stories we publish each day."
Now, staffers are in a sort of limbo — their emails and Slack accounts are still functional, and some reporters who've got stories in the hopper are wondering if they should go ahead and publish. The Zoom call between the journalists and Peretti this morning "weirdly was not as contentious as some other ones, which was strange, 'cause we all lost our jobs," says the employee. "He was very contrite."
Is it the end of an era, or just déjà vu? Peretti initially worked out of an apartment in Chinatown, and first lured Smith to start BuzzFeed News over a meeting at Lure Fishbar in Soho. Now, Smith is back in lower Manhattan, running a tiny digital upstart from an inexpensive office space above an Italian restaurant. And he's still giving his content away for free. "I think people are always going to want news," says Smith, "and we and many others are trying to deliver it to them, but I think the era that's over is the era where news and social media were profoundly entangled, and that's what Jonah saw, and what lured me to BuzzFeed in the first place." He adds, "If you look at us, or at other places trying to do journalism in 2023, we aren't primarily focused on the web. We have a great website, we get a good amount of traffic — more than I expected — but we're very focused on delivering email newsletters directly to our audience, we're really focused on building communities at these events."
"Obviously, I do think these venture-backed businesses sort of bet on a line that kept going up and to the right," Smith says. "You learn the lesson of the thing you did before, and I certainly, if you ask my staff, at some point they'll tell you I'm very focused on building a sustainable business. And on staying small as we do it."