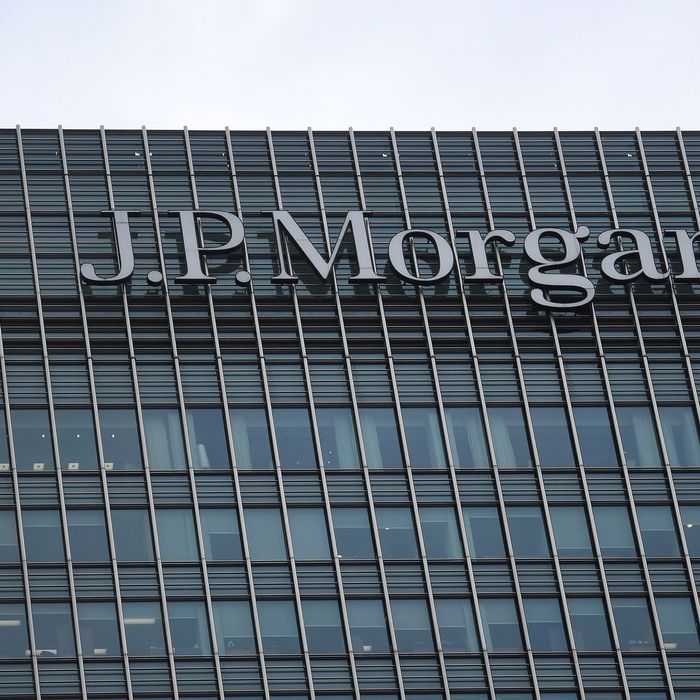 Photo: Andy Rain/EPA-EFE/Shutterstock
On Tuesday, just a few blocks from where Donald Trump was arraigned, there was another Wharton graduate whose criminal fraud case was also just getting started. At the federal courthouse downtown was Charlie Javice, the former high-flying CEO of a student-loan fintech called Frank, in sad, gray yoga clothes, fresh from her apprehension at Newark Airport after a flight from Miami a few hours earlier.
She's not a household name per se, but it's not like Javice wasn't gunning for that status: She's photogenic, a Forbes "30 Under 30" figure who gave interviews about how the financial system was broken and made references to meditation and sex. She was also apparently brilliant enough to have leapfrogged past Wall Street to tap a market of millions of prospective and current college students, the kind of people who a bank like JPMorgan Chase would love to have relationships with. And in 2021, JPMorgan had, in fact, bought her company for $175 million. Jamie Dimon, the bank's CEO, had personally met with her, to shepherd the deal, according to court documents. But it took only a few months to see the deal disintegrate after it turned out that key data — the information about all those students who could one day turn out to be wealthy banking clients — was full of trash nonsense about people who may or may not have ever existed.
Javice's pedigree, her status forever being linked to fakery, puts her in the kind of ignominious company as Elizabeth Holmes. Like the Theranos founder, Javice found success at incredible speed, having founded the company around 2017, when she would have been about 25, apparently frustrated with her own college experience. But her case is proceeding faster, and with more intensity, than the former Silicon Valley doyenne's ever did. It took about two years from the start of a criminal probe to charges getting filed against Holmes, while the Justice Department indicted Javice a little over a year after first discovering that key data was fake, according to the prosecutors' timeline. Javice is now facing charges of conspiracy to commit fraud, banking fraud, and fraud against a financial institution — all of which carry maximum sentences of 30 years, about as long as she's been alive — as well as a securities fraud charge that could put her in prison for another two decades. She has claimed that she never deceived the bank, and the charges are retribution for realizing that JPMorgan overpaid for something it can't use or doesn't understand. In her counterclaim against the bank, filed in February, she portrays herself as "an outsider whose youth and lack of institutional longevity made her an easy target."
What makes the case so strange is that no one is disputing that the information here is fake. See, Javice's company was built around the Free Application for Federal Student Aid (FAFSA), a maddeningly complicated and intrusive government form that helps students afford college. (It was also apparently baffling to Javice, who once wrote an op-ed in the New York Times that required a lengthy correction.) Frank was supposed to simplify the process, making it easier for students to get the money they need. By 2021, the company was claiming on its Twitter account that millions of students "chose" it to be their financial platform, according to JPMorgan's suit against Javice.
All the technical know-how, together with a direct pipeline into a young audience, made Javice's company a natural target for Wall Street to take it over. JPMorgan wasn't alone — the criminal complaint, as well as the the civil suit between the bank and Javice, make it clear that another bank had looked at buying the company. But what banks wanted — names, addresses, email addresses, and the like — turned out to be missing. What isn't in dispute here is that Javice went out and made it up. Just before the deal was agreed on, Javice worked with an outside data scientist to allegedly fabricate data based on a much smaller list of about 300,000 students who had actually started FAFSA forms, to make it look like they had information on 4.25 million. (She and another executive later bought data on real students for about $105,000, which was allegedly later used to try to scam the bank.)
Federal prosecutors have filed charges that say that this fake data was used to boost up the buying price, making themselves seem bigger than they actually were. This is, by and large, the bank's argument in the civil case, too. There are emails between Javice and a data-science professor where they talk about whether "the fake emails look real with an eye check" and "would look fishy (to him) if he were to audit it." JPMorgan cites meetings between the two companies where Javice allegedly dissembled about the number of users, though she claims she never did that and the bank didn't understand how her company worked. But this is where it gets tricky. The information on students that Frank had was guarded by student privacy laws, and "JPMC was not buying a list of Frank's historical users or their information for direct marketing or otherwise," her attorneys argue in court filings. In a counterclaim, Javice said that a JPMorgan executive had asked her to make up the data — she doesn't say why — and then went out and did it.
What they did is create something called "synthetic data" — basically, fake data that looks real enough. "It's intended as a privacy-preserving technique when you have private data that's too sensitive to release but others could make use of," says Columbia University professor Steven M. Bellovin, who co-authored a paper on the topic that's cited in Javice's counterclaims. (Bellovin said he wasn't aware of the fracas between the two companies and hadn't previously been contacted about it.) The purpose of using synthetic data is to help understand things like demographics from the U.S. Census, where personal information isn't needed, he says. "Names and email addresses are hard to deal with, with synthetic data. It's much better suited for numbers and categories, things like that," he says. In fact, when JPMorgan tried to use that data to reach out to actual students, it found that only about one percent of people actually opened their emails, as opposed to the 30 percent who normally do.
After pleading not guilty, Javice is now out on a $2 million bond and restricted to New York City and South Florida, where she lives. She has retained attorney Alex Spiro — whose clients include Elon Musk, Mick Jagger, and Bobby Shmurda — but he declined to comment. (The bank also declined to comment.) Could she have a shot at beating the case? Javice claims this is, essentially, a misunderstanding that she's now being punished for as a way for Dimon to save face. Considering that fraud requires intentional deceit, this would make sense as her defense. Federal prosecutors as well as the Securities and Exchange Commission don't seem to buy her explanation about the reason behind the fake data, and have focused, instead, on how she allegedly represented that there were more than ten times the number of users than there actually were. It's pretty clear that JPMorgan rushed into this deal — Dimon himself called it a "huge mistake" — but it's also hard to understand why the bank would ask her to go out and make up data that they'd then use to make more money.