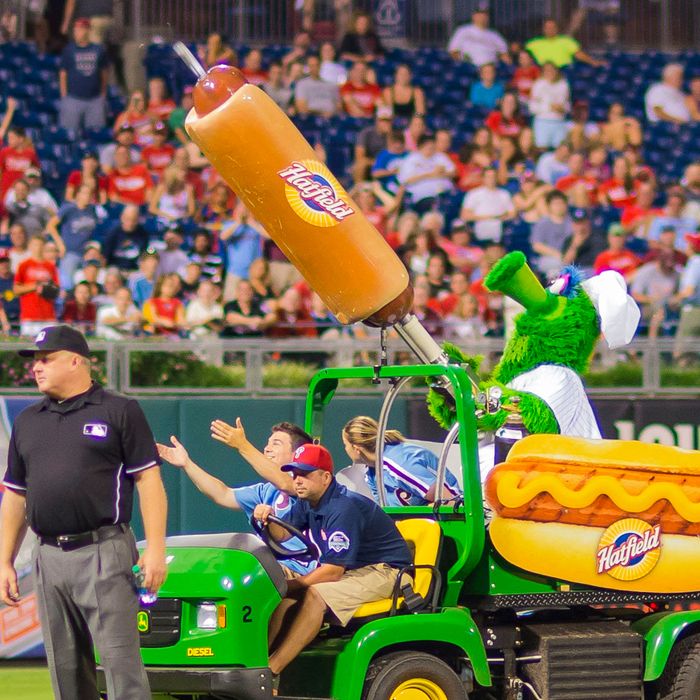 Are you not entertained?
Photo: Gavin Baker/Icon SMI/Corbis/Icon Sportswire via Getty Images
Major League Baseball is back, and I'm pretty hyped about it. But my excitement has nothing to do with the new, much-ballyhooed rules that have allegedly made the sport less boring. No, I'm more into the sideshow elements of baseball, namely the mascots — one of my favorites is Lou, the hella chill, backwards cap-wearing seal who represents the San Francisco Giants — and the between-innings entertainment. And there's no better example of that than the hot-dog cannon.
The hot-dog cannon is pretty self-explanatory. It's like a t-shirt cannon, except instead of launching garments into the crowd, it catapults lunch — wrapped in paper and coated with duct tape — to a few lucky fans. This modern mainstay of the game debuted in humble fashion on Opening Day in 1996 at Veterans Stadium in Philadelphia. The original cannon was roughly three-and-a-half feet long, and sat in the back of an ATV used by the Philly Phanatic, the sport's most famous mascot. "I'd have to get off the ATV, hold it like a gun, and shoot hot dogs into the crowd," said Tom Burgoyne, who has played the Phanatic since 1989. "It took off, right from the beginning. People thought it was great. They'd never seen that before." The Phillies ended up losing 5-3, but the hot-dog cannon was a big winner.
The device was dreamed up by Hatfield Meats, which makes the official frankfurter of the Phillies. "We were trying to figure out a good way to get the crowd going during one of the half-innings. Generally the thought was, 'Hey, let's throw hot dogs,'" said John Masotta, the vice president of marketing and communication at Clemens Food Group, Hatfield's parent company. (The team at Hatfield was inspired by the potato launcher, a spud-chucking device you might remember playing with as a kid, which dates all the way back to World War II.) When the Phillies moved to Citizens Bank Park, a larger stadium, in 2004, the hot-dog launcher also grew in size. Nowadays, it's a six-foot long fiberglass beast, powered by nitrogen, as opposed to the carbon dioxide of old, and lives on the roll bar of a John Deere truck. And 27 years into the hot-dog cannon era, fan enthusiasm remains undimmed. "We don't do it every game, but every time we bring it out, people still go crazy for it," Burgoyne said.
"Maybe it's a little squished, maybe it's a little lukewarm — but there's nothing us 44,000 fans want more than a dog fired by our beloved Phanatic," Frank Katona, a 40-year-old communications consultant and diehard Phillies fan, told me. He added that if he ever did catch one, "it would be the pinnacle of my lifelong Phillies fandom."
"It's so kitschy and fun," said Diane Rotondo, a season-ticket holder who lives in Paoli, Pennsylvania. She particularly enjoys "the piped-in PYEEEEW sound that's never in sync with the actual hot-dog launching." Rotondo, too, has never actually caught a hot dog, but "I'm pretty sure I would not eat it if I did."
Since '96, at least four other pro sports teams, the St. Louis Cardinals Kansas City Royals, Pittsburgh Pirates, and Seattle Seahawks (as I witnessed when attending a game last season), have utilized sausage artillery at their home games. The device's biggest moments, though, have mostly gone down in Philadelphia. Hours before a Phillies-Braves game in September 2008, Burgoyne shot some dogs in his Phanatic suit while filming a commercial for Hatfield. Just before 5 p.m., as the gates were about to open, Burgoyne was sitting in his office when he noticed something odd going down. "Somebody goes, 'Well, apparently there's a bomb scare,'" he recalled. "Someone had found three oblong packages wrapped in duct tape. I'm like, 'Wait a minute. That's not a bomb. That's three hot dogs.'" The bomb squad arrived anyway and blew up the offending sausages.
"They haven't let me forget about that one," Burgoyne said.
A decade later, 58-year-old Kathy McVay of Plymouth Meeting, Pennsylvania, was hospitalized after getting hit in the face by the hot dog launcher. "It just came out of nowhere. And hard," she told WPIV, Philly's local ABC station, after the incident. "And then the next thing I know, he shot it in our direction and bam! It hit me like a ton of bricks. My glasses flew." (Burgoyne said he called McVay the next day, and she was "very, very nice" and understanding.)
Aside from the Super Bowl halftime show, in-game performances at professional sporting events are a largely underappreciated art form. It's at baseball, basketball, and football games — not in avant-garde theaters or on the subway platform — where I've witnessed the most delightful entertainment offerings. At a Portland Trail Blazers game, I saw an Eastern European dad, mom, and toddler son perform an acrobatic balancing act. During halftime at a Kings game in Sacramento, I saw a washed-up Coolio (rest in peace) singing "Gangsta's Paradise." And of course, I became acquainted with the hot-dog cannon when I saw the Seattle Seahawks fall to the Carolina Panthers at Lumen Field last December.
In-person memories aside, I'm able to access these strange snippets of charming Americana on NBA League Pass, which allows me to watch non-nationally televised basketball games ad-free. It was via League Pass that I became enchanted with a woman who goes by the moniker Red Panda, an acrobat who rides a unicycle while balancing bowls on her head, seen at halftime shows around the nation. (Acrobats balancing on things is a recurring theme in in-game entertainment: There's also a guy who balances himself on basketballs with his little puppy.) And it's where I fell for all the elderly dance crews, usually affiliated with small-market teams, who pull off extremely cute routines during timeouts.
Still, the Phanatic's hot-dog cannon is the acme of in-game entertainment. Maybe that's because baseball is the perfect venue for this art form. The new pitch clock may speed up the game, but there are still built-in breaks from the action after every three outs. Sure, you could use that time to take a bathroom break, get a beer, or speak to your family and friends. But none of those things are as enjoyable as attempting to snag a mediocre hot dog coming at you from hundreds of feet away.
So as the baseball season gets into gear and the basketball season winds down, I implore you — while at IRL games or watching on television — to stay put when there's a break in the game and enjoy the beautiful weirdness that's unfolding in front of you. And if you ever manage to catch one of those dogs, savor your good luck along with the beef.