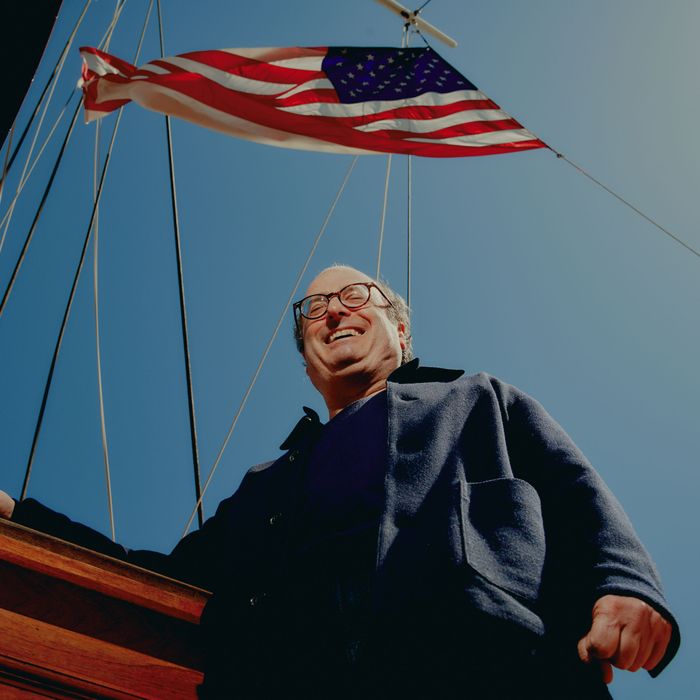 David Grann aboard the South Street Seaport Museum's tall ship, the
Wavertree
.
Photo: Victor Llorente
David Grann is the first to say he isn't a natural-born explorer. Thanks to a degenerative eye condition, the longtime New Yorker writer sees the world as though looking through a windshield during a rainstorm. He doesn't hike or camp, and he has a tendency to take the wrong train when he rides the subway. While researching The Lost City of Z, his 2009 book about a Victorian-era adventurer who went missing in the Amazon and never returned, he briefly got lost in the Amazon himself. So it wasn't all that surprising when, on a sunny morning in April, Grann showed up at the wrong location for our interview. When I found him on the sidewalk near the South Street Seaport Museum, where we were supposed to meet, he was grinning from ear to ear. "It's just like me to get lost," he said, laughing.
Grann, 56, may not have the strapping physical attributes of his subjects, but his meticulously researched stories, with their spare, simmering setups that almost always deliver stunning payoffs, have made him one of the preeminent adventure and true-crime writers working today. "We often think that reporters have to be super-capable in every way in order to get the best material, but sometimes if you have something like weak sight, you compensate in such a brilliant way that it's better than if you have the best vision," said Daniel Zalewski, Grann's longtime editor at The New Yorker. In just over a decade, Grann has published The Lost City of Z; Killers of the Flower Moon, about the targeted assassinations of members of the Osage Nation; The White Darkness, about a polar explorer obsessed with crossing Antarctica alone; and two collections' worth of magazine stories about murderers, master manipulators, and scientists on the hunt for the elusive giant squid.
His latest book, The Wager: A Tale of Shipwreck, Mutiny, and Murder, traces the journey of the H.M.S. Wager, a British warship that ran aground on a Pacific island in 1742 while on a secret mission. Stranded, the crew members mutinied and spent months fighting for survival, testing not only their physical limits but those of military law and the social order. Multiple groups of survivors miraculously made it back to England only to offer different, sometimes conflicting, accounts of the ordeal. More than the adventure story, the Rashomon-like atmosphere is what gives The Wager the intellectual heft of a David Grann endeavor. "After all they had been through — scurvy, shipwrecks, typhoons, violence — these castaway voyagers are summoned to face court-martial, and they could be hanged. So hoping to save their lives, they released testimony or written accounts, which became quite a sensation, but they also sparked this furious war over the truth," Grann said.
After spending two years poring over journals, court records, and logbooks, he still felt he could never fully understand the experience of the Wager's crew unless he visited the island. That's how this reluctant explorer found himself sitting in a small boat as it motored across a stretch of Pacific Ocean often referred to as the Gulf of Pain, while waves tossed the 50-foot vessel around like a soda can. "That journey was probably stupid, probably foolish, but in the end was really essential," Grann said. As he walked around the island, the brutal conditions the sailors described — the windchill, the lack of food, the dense foliage that suffocated their movement — felt real. "I understood why this British officer had called Wager Island the kind of place where the soul of man dies. I'm like, Okay, my soul would have died here."
Grann grew up in Westport, Connecticut, the middle child of the late Victor Grann, a cancer specialist and recreational sailor who occasionally exhibited some of the madman qualities his son would later explore in his subjects ("If a hurricane was coming he would not sail away from it," Grann said), and Phyllis Grann, a powerhouse book editor and publisher who shared one piece of wisdom above all: Don't become a writer.
Like any good child, he ignored his mother's advice. After graduating from Connecticut College, he wrote a coming-of-age novel that he never published and briefly taught fiction while getting a master's degree in creative writing at Boston University. Eventually, he gave up on fiction and committed himself to journalism, where he has mastered a streamlined, propulsive type of narrative that readers devour for its hide-and-seek reveals. The success of that form is indisputable — Killers of the Flower Moon has sold over a million copies — but it's not without detractors. "If you taught the artificial brains of supercomputers at IBM Research to write nonfiction prose, and if they got very good at it, they might compose a book like David Grann's Killers of the Flower Moon," Dwight Garner wrote in his New York Times review. Grann, however, is diligent about removing stylistic flourishes from his writing. "You're really only as good as the material you're working with," he said. "You might be able to improve it some, or you may not make it as good as it could have been, but at some level, if the material isn't good, you're kind of sunk."
"David spends weeks and weeks and months and months sifting through possible stories," said David Remnick, editor of The New Yorker. "I'd wander by his office and he'd be reading these archives and old letters and all kind of material, holding the paper close to his face like an ancient Talmudic scholar."
Nowhere are the twists and turns of Grann's stories more hotly anticipated than in Hollywood. According to one film scout, producers sometimes hear about Grann's ideas before he has committed to pursuing them. Four of his stories have been adapted into movies, and at least four others are in development as either films or series. The bidding war for Killers of the Flower Moon was heated, with the winners paying a reported $5 million for the rights. Martin Scorsese and Leonardo DiCaprio ultimately signed on to make the film, which is scheduled to premiere at the Cannes Film Festival in May. Scorsese and DiCaprio acquired the rights for The Wager last July, nearly a year before its publication.
Inside the Seaport Museum — where Grann revels in the knowledge that its tall ship, the Wavertree, was once battered rounding Cape Horn, just like the Wager — he tells me he doesn't think about his projects as movies. His interest in the Wager was stoked by an 18th-century account written in stilted English, hardly cinematic gold. This account was given by John Byron (who would one day be the grandfather of the poet Lord Byron), who was 16 when he left Portsmouth aboard the Wager. As Byron's story was one of a handful given by survivors, "I tried to gather all the facts to determine what really happened," Grann writes in an author's note at the beginning of the book.
Where other writers might take liberties, Grann is obsessive about accuracy. "David's stuff reads like literature, but every detail, every quote, every seemingly implausible glimpse into a subject's mind is accounted for," said David Kortava, who fact-checked both The White Darkness and The Wager. Grann verifies his own work before sending it to a fact-checker, and his devotion to the fact-checking process can seem comical. The first time he asked Kortava if he had checked the spellings of his kids' names on The Wager's dedication page, Kortava thought Grann was joking. The second time he asked, Kortava checked the spellings. "He doesn't have an OCD diagnosis, as far as I know, but I do, and I definitely consider him one of the tribe," Kortava said.
Grann didn't always have the freedom to pursue his idiosyncratic interests. He was once a general-assignment magazine writer delivering stories about Barry Bonds, John McCain, and Newt Gingrich. A 2000 profile of the now-deceased Ohio congressman Jim Traficant that Grann wrote for The New Republic helped him discover the types of stories he wanted to tell and how to go about telling them. In an Ohio courthouse, Grann unearthed a 1980 recording of Traficant, then a candidate for sheriff, talking to two mobsters. "I hear Traficant dropping the F-bomb every other word, and I hear him talking about taking bribes, and then I hear about people coming up swimming in the Mahoning River. And it was a voice that was so different from the voice I heard on C-SPAN," Grann said. "It was kind of the beginning where I was thinking, Oh! These are the voices of the stories I want to tell. It also showed me the power of archives for the first time. You can find things that are just kind of sitting there if you look, and they can peel back façades and get you closer to the hidden truth."
I ask Grann if he misses reporting on contemporary figures. He holds up his hand and makes a zero with his fingers while letting out a sigh of relief. "The kind of reporting I really like to do is so immersive, and usually figures like that do not want you to be with them," he said. Their ghosts, he has learned, have no choice.