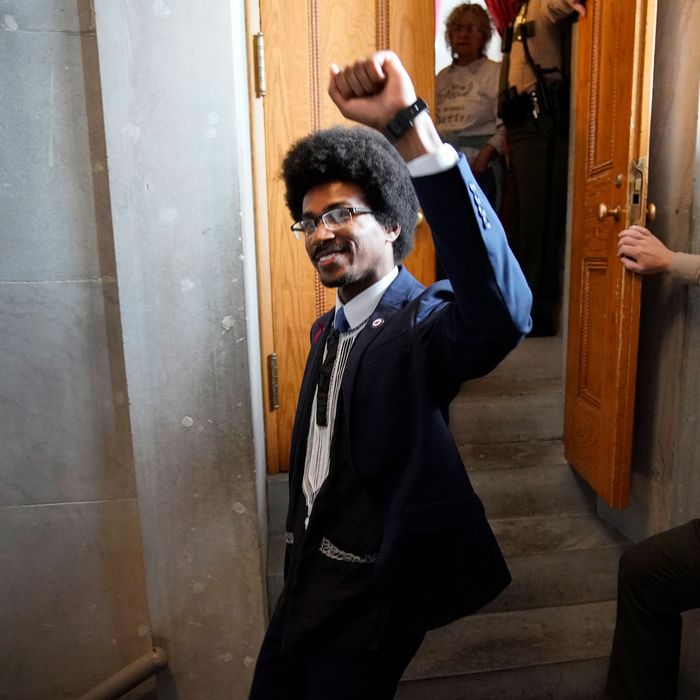 Rep. Justin Pearson of Memphis on the day he was expelled from the Tennessee House.
Photo: George Walker IV/AP
In a national political environment often focused obsessively on Washington, DC, or the pursuit of public offices in Washington, DC, the 50 state governments are often implicitly regarded as the minor leagues. It's where future presidents, members of Congress, Cabinet members and federal judges hone their skills in obscurity and await a call-up to The Show.
In reality, of course, the states have their own areas of exclusive and shared responsibilities that they work on incessantly, including criminal justice, education, health care, economic development and public works. On some topics where Washington becomes gridlocked (e.g., voting rights and gun violence) the so-called "laboratories of democracy" become not just centers of innovation or experimentation, but the only place where governing actually happens. And on occasion, moreover, the U.S. Supreme Court may suddenly hand over to the states a policy topic long thought resolved, as happened last year when Roe v. Wade was reversed.
Now and then we see a week like this one, where it's impossible to ignore that states are where the action is.
On Tuesday in Wisconsin, the most expensive state judicial race in history produced a smashing liberal (and indirectly Democratic) victory in perhaps the most closely contested jurisdiction in the country. It will have an almost immediate effect on reproductive rights in Wisconsin where an ancient abortion ban will be overturned. The new liberal Supreme Court majority is also likely to strike down congressional and legislative gerrymanders, and prevent attacks on voting rights.
On Wednesday, and also on the abortion front, Michigan Governor Gretchen Whitmer signed legislation repealing another very old abortion ban, subsequent to her state's voters approving a November 2022 constitutional amendment re-establishing reproductive rights. But on the same day in North Carolina, a Democratic legislator changed parties out of the blue, giving Republicans a super-majority that will keep Democratic Governor Roy Cooper from vetoing legislation on a broad range of issues, including likely new abortion restrictions. It came a week after the defector missed a vote that overrode a Cooper veto of legislation abolishing a permitting requirement for pistol purchases.
On Thursday the heavily Republican Idaho legislature and GOP Governor Brad Little tested the boundaries of anti-abortion legislation with a new law that "prohibits an adult from helping a minor travel to receive an abortion or access abortion medication without their parents' consent." Advocates on both sides of the abortion barricades will be watching the inevitable court challenges to this radical law unfold.
And also on Thursday, in another precedent-setting action, Tennessee's Republican-controlled House expelled two Democratic members for participating in a "disruptive" protest along with activists in the galleries aimed at the GOP's active hostility to gun safety measures in the wake of last week's mass shootings at a religious school in Nashville. The two expelled were Black, while a white lawmaker narrowly defeated a vote to throw her out. This is a moment that will echo in Tennessee politics for many years to come, and could inspire similar protests by people weary of gun violence – and crackdowns by Second Amendment absolutists – elsewhere.
There's another work day this week, and likely something else of note will happen in one or more state capitals. If you don't bother to watch, you may miss something far more important than old CSPAN tapes of congressional hearings or polls comparing presidential candidates (and even there, contests in the states will determine the nominees, as you can already tell from the Republicans wandering around Iowa and New Hampshire). It's not insignificant that this country is called the United States of America.