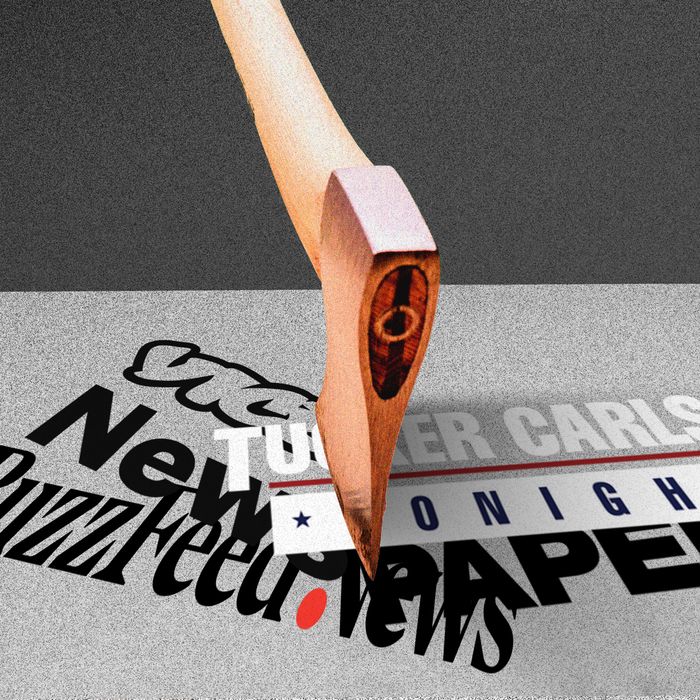 Photo-Illustration: Intelligencer
Ongoing financial weirdness and persistent rumblings of a recession have made for a year of heavy layoffs in media. But even for an industry prone to turbulence, the past week or so has stood out. Behind the headline departures — Fox's Tucker Carlson, CNN's Don Lemon, and NBC's Jeff Shell — there has been a wave of cuts in recent days, some of them resulting in the shuttering of entire newsrooms. Below is a roundup of notable firings, layoffs, resignations, and shake-ups across the media landscape since last week.
Fox fires its biggest star
As any American with a TV or internet connection knows by now, Fox News's top-rated prime-time host was fired on Monday morning, reportedly given just ten minutes' notice before the statement was made public. After much reporting on the subject, a full understanding of Tucker Carlson's departure is becoming clearer. Executives were growing tired of his holier-than-Fox attitude and increasingly outré programming decisions; meanwhile, according to a former producer's lawsuit, he was running a misogynistic and anti-Semitic workplace.
CNN fires one of its biggest stars
In a weirdly formatted statement less than an hour after Carlson's firing, CNN host Don Lemon announced on Monday that he had been "terminated" abruptly after 17 years and that nobody in management had informed him of the decision. But the network didn't agree with Lemon's characterization, claiming on Twitter that his announcement was "inaccurate" and that he was "offered an opportunity to meet with management but instead released a statement on Twitter."
Regardless of how things actually went down this week, CNN had been souring on Lemon for months. After he made a misogynistic comment on air about Nikki Haley in February, Variety reported on Lemon's unprofessional conduct and alleged threat against a fellow host, after which his days were likely numbered. In recent weeks, some guests reportedly began boycotting Lemon's show, and internal research showed that his ratings were slumping.
NBC parts ways with top exec over 'inappropriate relationship'
The day before Lemon and Carlson went off the air, NBCUniversal CEO Jeff Shell stepped down, releasing a statement in which he admitted to an "inappropriate relationship with a woman in the company." In a statement, the company announced that Shell was out immediately after an outside counsel found he engaged in "inappropriate conduct."
On Monday afternoon, CNBC's international correspondent Hadley Gamble announced she had filed a lawsuit alleging sexual harassment and sex discrimination, naming both Shell and the company. Gamble's attorney Suzanne McKie stated that the investigation into Shell "arose from a complaint by my client." McKie claims that Gamble did not intend to be named publicly in the matter at this time, but came forward after Deadline reported her name — which McKie considered a violation of privacy.
A Fox Corp alum, Shell stepped up as NBCUniversal's head in 2019, running the massive company's holdings, which includes Universal Pictures, MSNBC, and channels like Bravo and E! For now, he'll be succeeded by Comcast president Mike Cavanagh.
BBC pushes out its chair
The resignations kept coming on Friday, when BBC chairman Richard Sharp announced he would be stepping down after an investigation found that he did not disclose his role in helping secure a $1 million loan for former prime minister Boris Johnson in 2021. His exit is part of larger crisis at the BBC, which has been accused of maintaining overly close connections with the Conservative government in power. In a statement, Sharp — who was the boss of current PM Rishi Sunak when they were both at Goldman Sachs — described the failure to report the loan as "inadvertent and not material."
The Wall Street Journal loses top editor
The monthly Wall Street Journal Magazine lost its editor on Thursday morning when the paper announced that Kristina O'Neill would exit this summer. No successor was named to lead the magazine, which was founded in 2008 after Rupert Murdoch bought The Wall Street Journal. O'Neill described her resignation as "bittersweet."
Bon Appétit's editor moves back to books
Dawn Davis, who has run the Condé Nast culinary magazine since 2020, left the publication on Tuesday to return to her roots in book publishing. (She will become the publisher at 37 Ink, the imprint she founded at Simon & Schuster.) Davis, who will remain on the job until September, joined Bon Appétit during an internal crisis at the magazine after an old photo of then-editor Adam Rapoport in a racist costume surfaced online, prompting an exodus of staffers.
At the time, Davis wrote that "when the call came to leave book publishing to take the helm at this storied magazine as it reckoned with racial and cultural equity, it was impossible to resist." But, she said in a statement, "being away from books has only made me realize how much I love working on manuscripts."
BuzzFeed shuts down BuzzFeed News
Last Friday, BuzzFeed CEO Jonah Peretti announced a 15 percent workforce cut across the company and the dissolution of BuzzFeed News. In a memo to staffers, Peretti pointed to the uncertain economy while also admitting some responsibility for allowing BuzzFeed to be in such a vulnerable position, stating that he could have held "the company higher to standards for profitability, to give us the buffer needed to manage through economic and industry downturns and avoid painful days like today." A total of 180 people were let go, including around 60 in the newsroom.
It was the end of a complicated saga for BuzzFeed News. The site, founded in 2011 when Peretti poached editor Ben Smith from Politico, was built as a model newsroom in the era of social media. It helped attract a $650 million offer from Disney to buy BuzzFeed in 2013, which Peretti turned down in pursuit of larger profits. (Smith recalls the episode in his new book about that media era.) By 2015, the company boasted a $1.5 billion valuation, but a huge payout never came. When BuzzFeed when public through a SPAC process late in 2021, its stock sputtered. And though BuzzFeed News won a Pulitzer that year, Peretti's revised vision for the future involves less deep-dive journalism and more AI bots.
Disney axes FiveThirtyEight's founder …
Nate Silver revolutionized political data journalism in the late aughts, and FiveThirtyEight, the site he founded, has been a go-to resource for politics junkies ever since. But on Tuesday, Silver tweeted that his contract would not be renewed by Disney, which has owned FiveThirtyEight site since 2013 — first as part of ESPN and then ABC News. Silver's imminent departure comes as part massive shake-up at its parent company, Disney, which aimed to cut 4,000 jobs this week alone and 7,000 overall. The company isn't getting rid of FiveThirtyEight altogether but did lay off others at the site.
… And makes cuts at ESPN
The Worldwide Leader in Sports also saw some layoffs this week — likely fewer than 100 — including Russell Wolff, the general manager of ESPN+. And a further round of cuts expected before the summer will likely affect some on-air talent at the network.
Paper closes shop
Paper, the culture magazine that's been known for its colorful celebrity cover shoots since 1984, laid off its entire editorial staff on Wednesday. Between 20 and 30 full-time employees are gone and editorial operations will cease immediately, though publisher Tom Florio is reportedly looking to sell the brand.
Insider pares its staff
"Economic headwinds" struck again, per Insider president Barbara Peng, who announced last Thursday that the company was laying off 10 percent of its workforce. In an all-hands call Thursday morning, CEO Henry Blodget cited the "significant" decline in ad dollars that has hit the industry since the pandemic.
Clubhouse gets smaller
Is the audio chat-room app that became popular in the early days of COVID technically a media company? Maybe not, but it's acted a lot like one since its buzzy launch in March 2020. Despite raising cash from investor Andreessen Horowitz at a $4 billion valuation in 2021, Clubhouse announced Thursday that it would lay off half of its workforce in order to "reset the company" as it continues to struggle with relevance in a post-pandemic world.
Vice News Tonight is no more
The upstart magazine turned digital-media juggernaut turned portfolio albatross known as Vice Media Group announced big changes on Thursday. Vice News Tonight, the weekly newscast that aired Vice TV, is no more. The Vice World News brand, which produces digital and TV programs for an international audience, is also gone. In a statement, co-CEOs Bruce Dixon and Hozefa Lokhandwala said the restructuring and layoffs were a "response to the current market conditions and business realities." As part of the reorganization, around 100 jobs are being slashed.