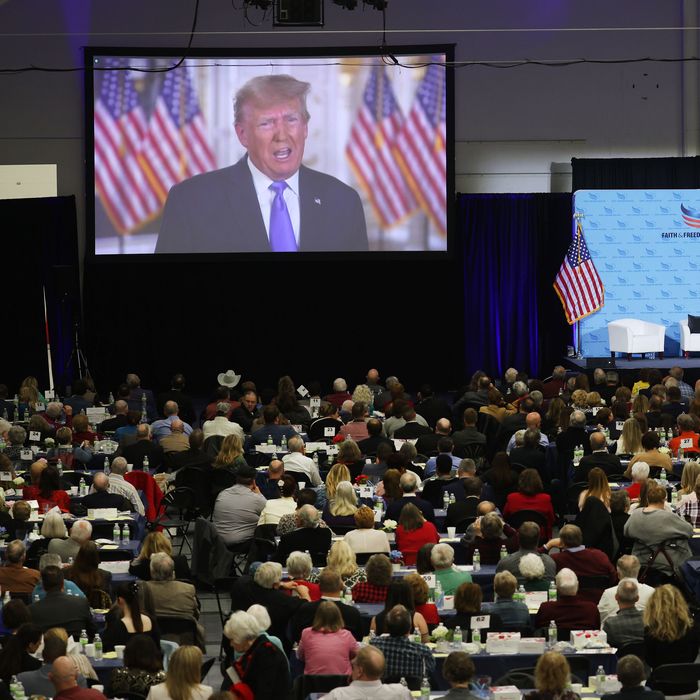 Trump speaks via streaming video to the Iowa chapter of the Faith and Freedom Coalition.
Photo: Scott Olson/Getty Images
"Cattle calls" — events at which all presidential candidates, real or rumored, are invited to strut their stuff before potential Caucusgoers — are a staple of Iowa politics. The state's first major round-up of the 2024 presidential cycle was held this weekend near Des Moines by the state chapter of Ralph Reed's Faith and Freedom Coalition. Since the group represents a major gathering point for politically active conservative evangelicals, who are a mighty force in Iowa GOP politics, there was a lot of buzz about the various candidates' position on a prospective national abortion ban (if Republicans ever have enough federal power to secure one).
Just a day earlier one major anti-abortion group (SBA Pro-Life America) attacked Donald Trump for taking the position that abortion should remain a state issue following the end of Roe v. Wade. The potential 2024 rival most eager to embrace the idea of a national abortion ban, Mike Pence, underlined that difference of opinion at the Faith and Freedom Coalition event, as the Washington Post reported, arguing that "the Supreme Court didn't turn the issue of abortion over to the states; they turned it over to the American people." Pence has signaled that as president he'd sign any national ban that reached his desk. That's exactly what the anti-abortion groups want to hear.
The same groups were already angry at Trump over his comments following the 2022 midterm elections blaming GOP abortion extremism for the underwhelming results. Trump, who attended the Iowa event virtually, dealt with the potential disgruntlement of his audience by reminding them how much the anti-abortion movement owed him, as Politico observed:
In his remarks, Trump cited his appointment of three justices (Neil Gorsuch, Brett Kavanaugh and Amy Coney Barrett) to the U.S. Supreme Court. All three voted in the majority in Dobbs v. Jackson Women's Health Organization to overturn the 1973 Roe v. Wade ruling that had legalized abortion nationally.




"Those justices delivered a landmark victory for protecting innocent life. Nobody thought it was going to happen," the former president said. …




"Together we achieved more for our values than any other administration in the history of our country, and it is not even close," he said, saying he took "historic action to protect the unborn." He also touted his support for "religious liberty" and Israel.
What happened in Clive, Iowa, was a rare and fascinating debate between the past and future on an issue of supreme importance to the audience in question; a veritable struggle for their souls. Pence has distinguished himself by embracing the far frontiers of the most militant anti-abortion groups that want to stamp out legal abortion in blue states as quickly and thoroughly as possible. His slim hopes of winning the 2024 nomination depend entirely on following the successful Huckabee-Santorum-Cruz strategy of pandering aggressively to Christian Right activists who have the wherewithal to reward their favorite with robust Caucus Night attendance.
That might work for Pence if his only Iowa rivals are candidates like Nikki Haley and Tim Hutchinson, who embrace the "state issue" mantra in part because they fear a general-election backlash to any freshly aggressive anti-abortion drive (Tim Scott and Ron DeSantis have so far managed to avoid taking a clear position on a national abortion ban). But only Trump has the political capital with grassroots anti-abortion voters to claim he has earned their trust.
A lot of pro-choice observers may not fully comprehend the extent to which Donald Trump was the first Republican president to keep his promises to the anti-abortion movement. For decades, the U.S. Supreme Court was loaded with pro-choice justices who were appointed by Republican presidents (a short list includes Anthony Kennedy, Sandra Day O'Connor, David Souter, John Paul Stevens, William Brennan, Lewis Powell, Warren Burger, Potter Stewart, and the author of Roe v. Wade, Harry Blackmun).
Trump promised to ensure Roe v. Wade was reversed, and in four short years he got it done. For people who believe every abortion is a murder and legalized abortion is a holocaust, that's a lot more impressive than Mike Pence's slavish adherence to the latest positions of SBA Pro-Life America. After all, it's Pence rather than Trump who is attracting boos at a lot of early 2024 campaign gatherings, due to his disloyalty on January 6, 2021, to the man who served Christian conservatives by implementing their most urgent goal.
It's still very early days for the 2024 Iowa Republican Caucuses, though people I talk with in the state are impressed at how slowly the various campaigns are unfolding. If Trump can get away with defying the big anti-abortion groups on a national ban, it may be because Iowa evangelicals (in the pews if not the pulpits) don't share the apparent ingratitude of their professed leaders. If that's the case, and evangelicals in Iowa and everywhere overlook the 45th president's many issues, it's hard to see anyone overtaking him in the 2024 GOP primary.