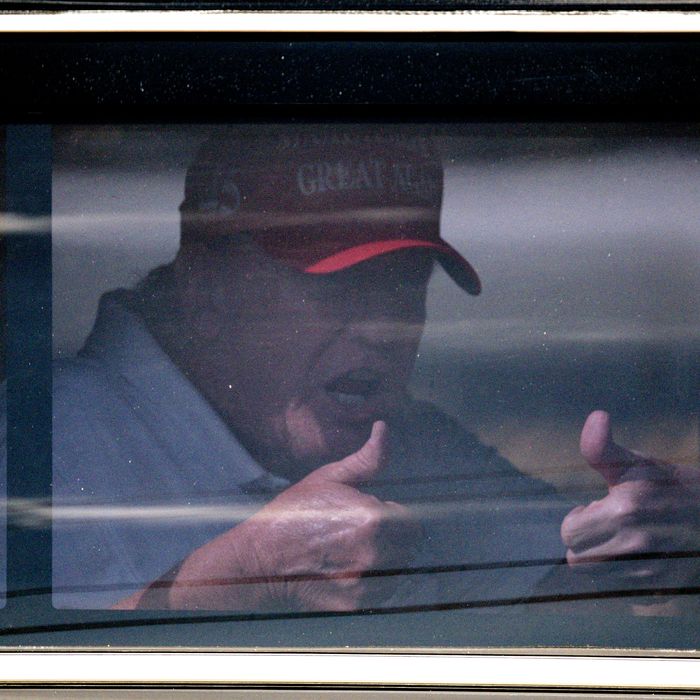 Donald Trump sits in the rear of his limousine as he departs Trump International Golf Club on April 1.
Photo: CHANDAN KHANNA/AFP via Getty Images
Based on Donald Trump's Truth Social tirades, the 19 fundraising emails he has sent since Thursday night, and everything I've learned about the former president in the past seven years, I assumed he wasn't taking the news of his indictment well. Sure, he seemed pretty normal while dining at Mar-a-Lago with his wife, Melania, and her parents on Thursday night. (The New York Times reported that he was "eager to project confidence and calm.") But especially after Ivanka Trump released a less-than-inspiring statement of support, I imagined that behind closed doors he was having the mother of all meltdowns.
Turns out I was wrong. The former president isn't totally calm, but longtime Trump observers seem impressed that he hasn't hurled his lunch against the wall, as he was accused of doing at the White House.
"While Trump is not said to be throwing things, he is extremely angry and his family is, not surprisingly, rattled," noted Times reporter Maggie Haberman.
People around Trump are divided on why he isn't pelting them with water bottles right now, as CNN reported:
Despite the initial shock of the indictment that caught Trump and his advisers "off-guard," Trump has remained surprisingly calm and focused in the days ahead of his court appearance, according to the sources. Some believed he was compartmentalizing the situation, while others believed he was convinced the case against him was weak and would only help him politically.




"[Trump's] definitely pissed off and wants to take this on aggressively, but he has been pretty low-key for Trump," one source familiar with the former president's recent conversations said.
A CNN source confirmed that, for whatever reason, his reaction falls short of a "rage fit":
"As someone who has been present for a rage fit, this [response] has not been that," another source close to Trump said, but stressed that the former president did not want to be indicted or paraded through court Tuesday. "He is being told by a lot of people that this is a weak case and he can beat it," the source added, despite the fact that charges have not been revealed and will not be public until the indictment is unsealed.
The lesson here: If you can't learn to regulate your emotions, at least try to lower the expectations of everyone around you.
Despite Trump's new, somewhat less rage-filled demeanor, we don't need to worry about his putting on any less of a show during his postarrest press conference on Tuesday evening. "He'll do Trump," David Urban, a longtime Trump adviser, assured the Washington Post. "He'll show up. He'll be indignant."