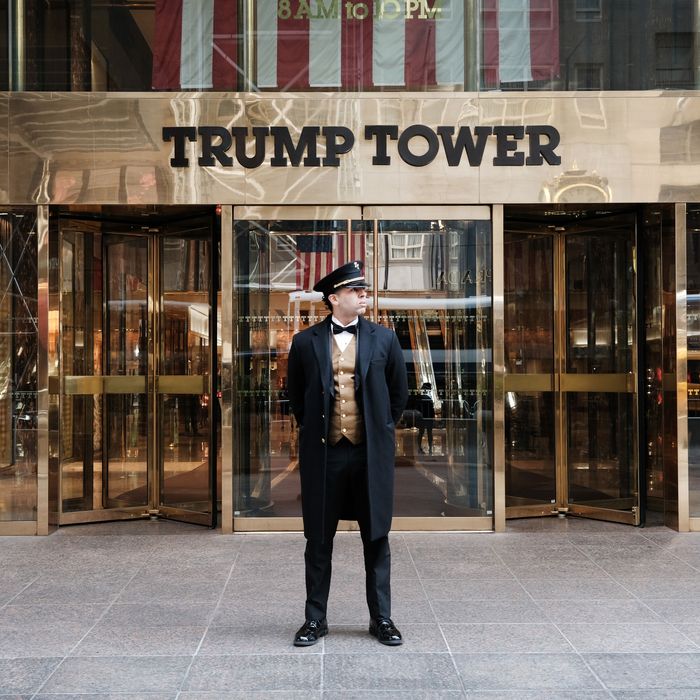 A doorman who has
not
accused any former presidents of tawdry behavior stands outside Trump Tower.
Photo: Spencer Platt/Getty Images
Memory works in mysterious ways. That's especially true when you've spent years cramming your brain full of information about Donald Trump, our weirdest president. For some reason, I vividly remember things like Stormy Daniels's claim that Trump is terrified of sharks and the CNN chyron "PRESIDENT GETS 2 SCOOPS OF ICE CREAM, EVERYONE ELSE 1." Yet the other day, I had to Google whether Trump had actually fired James Comey, as I was hazy on this historic shitshow that I had devoted many hours of my life to covering.
Much to my surprise, the documents released by the Manhattan DA's office after Trump's arraignment on Tuesday contain a reminder of a tale that was expelled from my mind even though it is especially salacious: A doorman once claimed Trump had had an affair with his former housekeeper that resulted in a secret love child.
Today, Trump pleaded not guilty to 34 counts of falsifying business records, all of which related to the hush-money payment made to Daniels. But the indictment's accompanying statement of facts references the doorman's claims in an attempt to establish a pattern of behavior, alleging that this was the first story National Enquirer publisher American Media, Inc. had squashed as part of a "catch-and-kill scheme" struck with Trump to suppress negative stories during his 2016 presidential campaign. The statement reads:
B. Suppressing the Doorman's Story




10. A few months later, in or about October or November 2015, the AMI CEO learned that a former Trump Tower doorman (the "Doorman") was trying to sell information regarding a child that the Defendant had allegedly fathered out of wedlock. At the AMI CEO's 4 direction, AMI negotiated and signed an agreement to pay the Doorman $30,000 to acquire exclusive rights to the story. AMI falsely characterized this payment in AMI's books and records, including in its general ledger. AMI purchased the information from the Doorman without fully investigating his claims, but the AMI CEO directed that the deal take place because of his agreement with the Defendant and Lawyer A. 




11. When AMI later concluded that the story was not true, the AMI CEO wanted to release the Doorman from the agreement. However, Lawyer A instructed the AMI CEO not to release the Doorman until after the presidential election, and the AMI CEO complied with that instruction because of his agreement with the Defendant and Lawyer A.
So … did Trump actually have a child with his former housekeeper? Do Ivanka, Don Jr., Eric, Tiffany, and Barron have another sibling or maybe siblings? And did we all just forget about this absolutely bonkers Trump allegation? Is it possible AMI did some kind of Men in Black memory wipe on us as a society?
The answer is no on all counts — or at least we have no evidence to support it.
Former Trump Tower doorman Dino Sajudin's claim that the mogul fathered a child with another ex-employee back in the '80s was one of many embarrassing stories that Trump fixer turned nemesis Michael Cohen tried to suppress during the campaign, along with the candidate's alleged affairs with Daniels and the former Playboy model Karen McDougal. We didn't stop talking about the allegations because of a case of collective amnesia but a lack of credibility and new information.
The Associated Press and The New Yorker's Ronan Farrow investigated the story separately, and both published reports on their findings in April 2018. Sajudin never claimed he had firsthand knowledge of the affair; it was just a rumor he'd been told. The AP talked with the woman Trump allegedly had a relationship with — who has never been publicly named — and she said the story was untrue:
The woman at the center of the rumor about Trump denied emphatically to the AP last August that she'd ever had an affair with Trump, saying she had no idea the Enquirer had paid Sajudin and pursued his tip. The AP has not been able to determine if the rumor is true and is not naming the woman. "This is all fake," she said. "I think they lost their money."
The second paragraph of Farrow's story says the alleged daughter and the father of the family also denied the tale:
The New Yorker has uncovered no evidence that Trump fathered the child. A spokesperson for the Trump Organization denied the allegations, including the assertion that Calamari told Sajudin the story. When I reached out to the alleged daughter, she declined through a representative of her employer to answer questions. Her mother did not respond to repeated requests for comment. I spoke with the father of the family, who said that Sajudin's claim was "completely false and ridiculous" and added that the Enquirer had put the family in a difficult situation. "I don't understand what they had to pay this guy for," he said. The New Yorker is not disclosing the family members' names, out of respect for their privacy. 
Trump and AMI might have wanted to keep the story out of the media, but that doesn't mean there was anything to it. Farrow reported that Sajudin had refused to talk when he realized he wouldn't be paid:
When I reached out to Sajudin, he responded, in an e-mail, "My time is valuable. What's your offer??" After being told that The New Yorker does not pay sources, Sajudin declined further requests for an interview.
After the AP and New Yorker stories were published, Sajudin released this statement to CNN:
Today I awoke to learn that a confidential agreement that I had with AMI (The National Enquirer) with regard to a story about President Trump was leaked to the press. I can confirm that while working at Trump World Tower I was instructed not to criticize President Trump's former housekeeper due to a prior relationship she had with President Trump, which produced a child.
A few months later, Sajudin was released from his contract with AMI, leaving him free to discuss his Trump dirt and the subsequent cover-up. But Sajudin declined to speak to any media outlets and didn't offer further details to corroborate his story.
So if you too forgot all about the doorman until he showed up as a figure in Trump's indictment, it doesn't mean your memory is broken. You just needed space in your brain for all the fresher, more plausible, and more ridiculous Trump gossip we've heard in the past five years.