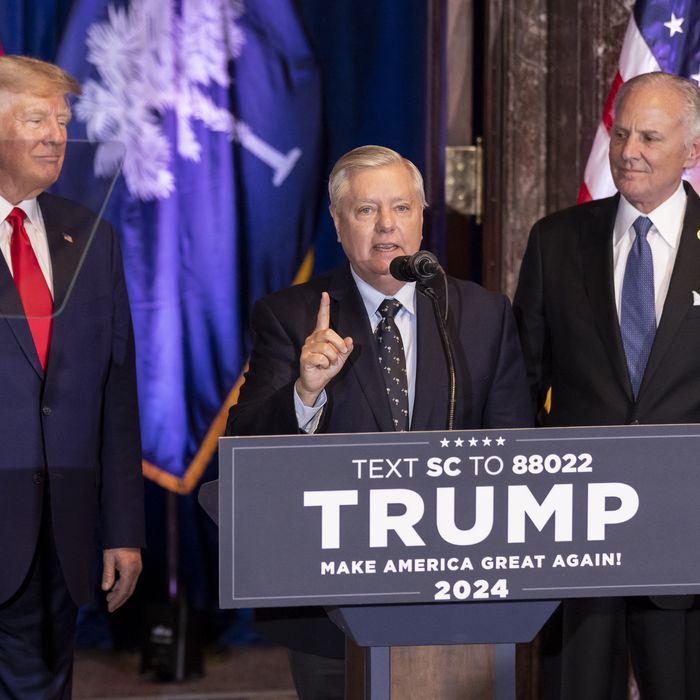 Senator Lindsey Graham and Governor Henry McMaster endorse Trump's 2024 candidacy in January of this year.
Photo: Sam Wolfe/Bloomberg via Getty Images
The early narrative of the 2024 Republican presidential-nomination contest was that GOP elites from a broad range of ideological viewpoints were determined to rid their party of Donald Trump and were beginning to consolidate support behind Ron DeSantis. The Florida governor was benefiting from a boffo 2022 reelection campaign that boosted Republican morale after meh results nationally; sycophantic coverage from conservative media; a comprehensive series of high-profile lib-owning initiatives that thrilled MAGA types; and a longer-term record that made the stolid DeSantis reassuring to more conventional conservatives. My colleague Jonathan Chait argued last November that you had to go back to George W. Bush in the 2000 election cycle to find a presidential candidate with more widespread conservative movement and party-Establishment backing. "DeSantis has put together Bush-like support from every corner of the movement: its donors, its activists, its media personalities," he wrote.
But while an infrastructure of movers and shakers in the background is an indispensable sign of elite support, eventually that support has to be manifested publicly with endorsements from elected officials and party leaders. And by that metric, Trump is roaring out to a big lead over the alleged darling of Republican elites.
FiveThirtyEight has a rating system for presidential-candidate endorsements that awards eight points for governors, six points for senators, three points for U.S. House members and big-city mayors, two points for statewide elected officials and state legislative leaders, and so on and so forth. Right now, the site shows Trump with 221 points and DeSantis with 11, followed by Nikki Haley and Mike Pence with three points. And the former president is really building some recent momentum: He has 27 point-earning endorsements in March and April — including four U.S. senators, a governor, and 19 U.S. House members — compared to three for RDS.
There's also growing evidence that Trump's endorsement-gathering campaign is striking at the heart of DeSantis's base of support in his home state. Just this week, a planned DeSantis event for Republican House members in Washington turned into an embarrassing display of Team Trump's superior organization and its candidate's charisma, as CNN reported:
While Florida Gov. Ron DeSantis held a meet-and-greet on Capitol Hill Tuesday evening, former President Donald Trump and his team aimed to be one step ahead — planning a dinner at his Mar-a-Lago resort with members of the Florida congressional delegation just two days after the DeSantis reception …




[I]n the 24 hours ahead of DeSantis's visit to Washington, three Florida Republicans — Reps. Greg Steube, John Rutherford and Brian Mast — officially announced their support for Trump, while DeSantis locked down his first Florida endorsement, his third overall, from Rep. Laurel Lee …




Trump's team is keeping close tabs on who is — and isn't — endorsing him, and is expected to roll out more endorsements from the Florida delegation this week.
And as Politico Playbook reports, Trump isn't even having to fight that hard for endorsements from DeSantis's own congressional delegation:
"The amazing part of it is how easy it was," one person close to Trump said, noting his team was shocked, for example, that Florida Rep. Byron Donalds — who had introduced DeSantis and his family at the governor's Election Night victory party — was all-in when they called him up recently …




[T]he snub from GOP lawmakers in his home state is particularly striking, and it's playing into the narrative that DeSantis is too aloof and inattentive to the interpersonal niceties of big-league politics.
Yes, it's early in the race; some potential DeSantis backers aren't going to endorse him until he's formally launched his candidacy. But that doesn't explain the growing number of Republican elected officials climbing onto the Trump-comeback train.
It's also important not to overrate endorsements in themselves as leading indicators of who is ahead in a presidential nominating race; after all, in the last competitive GOP primary battle, the endorsement leader by leaps and bounds was Jeb Bush. But as FiveThirtyEight shows in a second piece, most eventual presidential nominees have led the field either in endorsements or the polls — or both — before the contest formally begins in Iowa (Trump led the polls in 2016).
Right now, Trump is leading in both endorsements and the polls. At some point soon, DeSantis needs to catch up in one or the other metric to sustain the idea that he commands a powerful coalition of those who want to drop Trump to the bottom of the sea and those looking for MAGA 2.0.