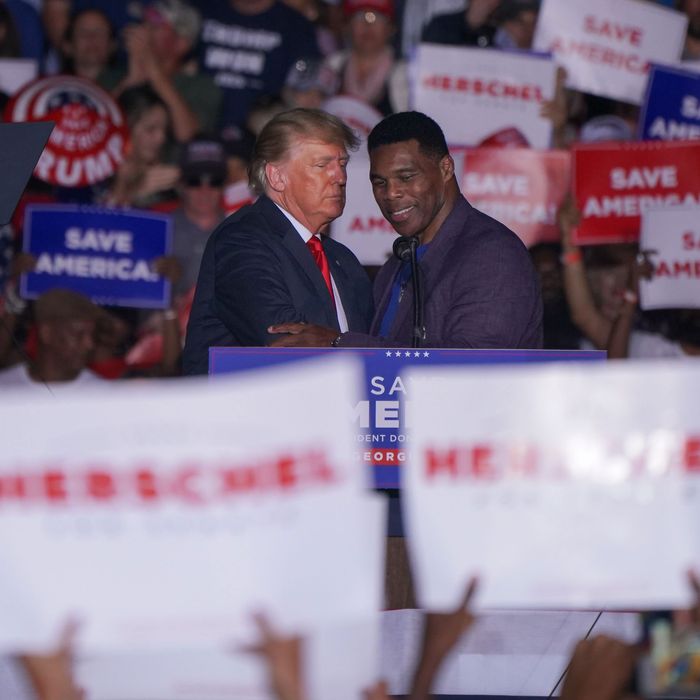 Trump with Herschel Walker, another of his bad ideas for statewide candidacies in Georgia.
Photo: ELIJAH NOUVELAGE/EPA-EFE/Shutterstock
If there's any state Donald J. Trump would probably like to forcibly separate from the other 49 and let it drift out into the ocean, it's probably not some liberal dystopia like New York or California. It's probably my home state of Georgia, which has been his personal hell for the last three years.
In 2020, Trump became the first Republican since George H.W. Bush to lose the Empire State of the South, and only the second since Georgia's own Jimmy Carter was president. His efforts to overturn that result led to two incidents (a fake elector scheme and a call to the Republican secretary of state Brad Raffensperger asking him to "find" some more Trump votes) that may lead to criminal indictments of the 45th president and/or his cronies. For dessert, the state delivered two Democratic senators in a January 2021 runoff, flipping control of the chamber and humiliating Trump, whose clumsy and self-focused efforts on behalf of defeated Republican incumbents David Perdue and Kelly Loeffler earned part of the blame for the outcome.
It got a lot worse in 2022. Trump leapt into Republican primaries in Georgia with both feet. He mostly wanted to purge Raffensperger and Governor Brian Kemp (who confirmed Raffensperger's certification of Joe Biden's 2020 win in Georgia), and managed to recruit a sitting congressman to take on the former and the above-mentioned ex-Senator David Perdue to take down the latter. Instead, Team Trump got trounced, with Kemp winning by a landslide, Raffensperger beating two rivals without a runoff, and Trump's endorsees for Attorney General and Insurance Commissioner losing as well. It was by far Trump's worst state in the midterm primaries.
But the agony didn't end. The one big Trump primary winner in Georgia was football legend Herschel Walker, a long-time personal friend of the 45th president. He abruptly moved back to Georgia from Texas and jumped into a Senate challenge to incumbent Democrat Raphael Warnock after extensive encouragement from Mar-a-Lago.
Walker turned out to be a terrible candidate who struggled to articulate a message and spent most of his time dodging an endless series of allegations from his past, including multiple out-of-wedlock children he fathered and claims he had encouraged and even paid for abortions (he was, of course, a hard-core anti-abortion zealot in public). He wound up running behind the rest of the Kemp-led GOP ticket in Georgia, and then lost the very winnable seat to Warnock in another general election runoff. When Republicans blamed Trump for ruining their chances of getting control of the Senate in 2022, they were thinking (among several others) of Herschel Walker.
All of this leads me to gaze in wonder at the first major public poll of the 2024 Republican presidential nominating contest in Georgia, as reported by Greg Bluestein of the Atlanta Journal-Constitution:
Donald Trump has a roughly 20-point lead over his closest Republican rival in a poll of likely Georgia GOP voters, a sign of the former president's enduring popularity in a state where he suffered some of his most humbling electoral defeats. Trump led the field with 51%, followed by Florida Gov. Ron DeSantis, who is expected to enter the race within months, at 30%. Every other Republican contender lagged in the single digits. Only 7% of respondents were undecided.




Trump is the clear favorite among almost all blocs of Republican voters at this early stage in his comeback bid, scoring some of the heftiest advantages among the party's most conservative voters, and those who are older, poorer and have lower levels of education.
If there's any state that should provide traction for a non-Trump Republican it's Georgia, with its relatively well-educated electorate and its robust roster of GOP pols who have disrespected the former president and lived to tell the tale. It's also worth noting that Georgia borders Ron DeSantis's Florida and Nikki Haley's and Tim Scott's South Carolina. Things could obviously change when the full field emerges and when the campaigns come to Georgia with personal candidate appearances and ads. It's unclear at this point when the state will hold its Republican presidential primary. But it's worth remembering that before all his travails in Georgia it gave him a solid 2016 primary victory when he still had four major rivals running against him.
In 2024, if Trump can make it there, he can make it anywhere. And it looks like he can.