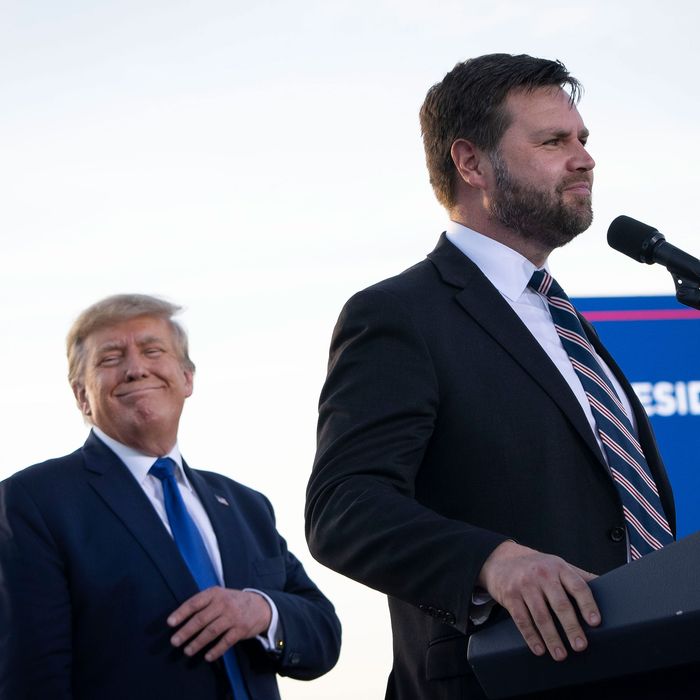 J.D. Vance was going nowhere fast in 2022 until Trump endorsed him. Now he's in the U.S. Senate.
Photo: Drew Angerer/Getty Images
When Donald Trump launched his 2024 presidential campaign on November 15, he was already in a bit of a hole thanks to perceptions that he was a major factor in the underperformance of Republican midterm candidates, especially for the U.S. Senate:
Trump-blessed candidates lost winnable Senate general elections in four battleground states: Arizona (Blake Masters), Georgia (Herschel Walker), Nevada (Adam Laxalt), and Pennsylvania (Mehmet Oz).
Trump's GOP foes often cite the underperformance of the 2022 candidates he endorsed when arguing that it's time for the Republican Party to move on from him. New Hampshire governor Chris Sununu made the argument just this week.
"Republicans want someone who can win in November of '24. Donald Trump is a loser. He has not just lost once. He lost us … our House seats in 2018," Sununu said. "He lost everything and '20. We should have 54 U.S. senators right now, and we don't because of his message."
The ex-president may have a losing general-election record, but the problem for anti-Trump Republicans is that all these "losers" won Republican primaries (two of them, in Arizona and Pennsylvania, that were highly competitive). And his overall record in the 2022 primaries (among the Republican voters who will, after all, decide his fate in the 2024 primaries) was very good, as three political scientists concluded after looking comprehensively at the record (which one of them, Seth Masket, explained on Substack):
We focused on all the Republican primaries for US Senate and Governor in 2022 in which there were at least two candidates. This comprises some 60 contests, with 362 candidates among them …




We found the following:

1.    Donald Trump's endorsees enjoyed a huge vote bump. In contests where Trump endorsed, the endorsee got an average of 16 points more than the non-endorsed candidates, holding all the other variables constant.

2.     The Trump endorsement enabled some candidates to overcome other deficits. A candidate in a contest where Trump didn't endorse who spent about 70% of all the funds would do about as well as a Trump-endorsed candidate who spent about 30% of all the funds.

3.     Trump endorsed strategically. That is, he picked candidates who were already pretty likely to win the primary. His endorsees had about 40 percent more Fox News appearances than the other candidates, as well as substantial leads in polling and spending, before he endorsed them.
In other words, Trump knows Republican constituencies and what they want and need to hear. In some cases, GOP-candidate preferences turned out to be less compatible with what the general electorate wanted and needed to hear. This latter factor, which got so much post-midterm attention, may or may not help convince some 2024 Republican presidential-primary voters that Trump is less "electable" than his rivals. It's hard to say; Trump fans may argue that GOP underperformance in the midterms simply shows that Trump has to be on the ballot to maximize the MAGA vote. But "electability" worries about Trump shouldn't obscure how much Republicans like and listen to the 45th president, as his dazzling 2022 primary record (not to mention his 2016 record, when he won 37 of 49 presidential primaries) shows.
That's clearer than ever in polls of Republicans taken since Trump became the first former president to be indicted, as the Washington Post's Aaron Blake points out:
While we don't have extensive post-indictment data, virtually all of it shows Trump widening a lead that DeSantis had spent months trying to close.




And other polling, not focused on the head-to-head matchup, reinforces that there has indeed been a Trump rallying effect in the GOP — if not with the public at large.




A CBS News-YouGov poll released Monday got at this perhaps better than any post-indictment poll.




It showed the percentage of Republicans who said it was "very important" to be loyal to Trump rising from 35 percent in both September and January to 46 percent today. And those labeling it "somewhat important" or "very important" have increased from two-thirds to around three-fourths.
Rank-and-file Republicans like Trump. They always have, and it's foolish to assume that, virtually overnight, party elites will be able to convince actual primary voters to spurn him. Indeed, as an undoubtedly close and bitter 2024 general election grows nearer, Trump's siege mentality may strengthen his bond with the GOP voters in Iowa, New Hampshire, South Carolina, and Nevada who will determine whether he's the nominee. At a time when partisans across the ideological spectrum value the willingness of candidates to "fight" more than anything else, it's hard to underestimate the appeal of a presidential candidate who won't even let actual defeat convince him to concede and who has an insurrection on his resume to prove how far he will pursue combat with the hated foe.
With that perspective, instead of mocking Trump for endorsing general-election "losers" in 2022, it might be more germane to acknowledge he took some sketchy candidates and dragged them across the primary finish line, which he clearly did. When it comes to the 2024 Republican presidential primaries, that's as much a sign of strength as it is of any weakness.