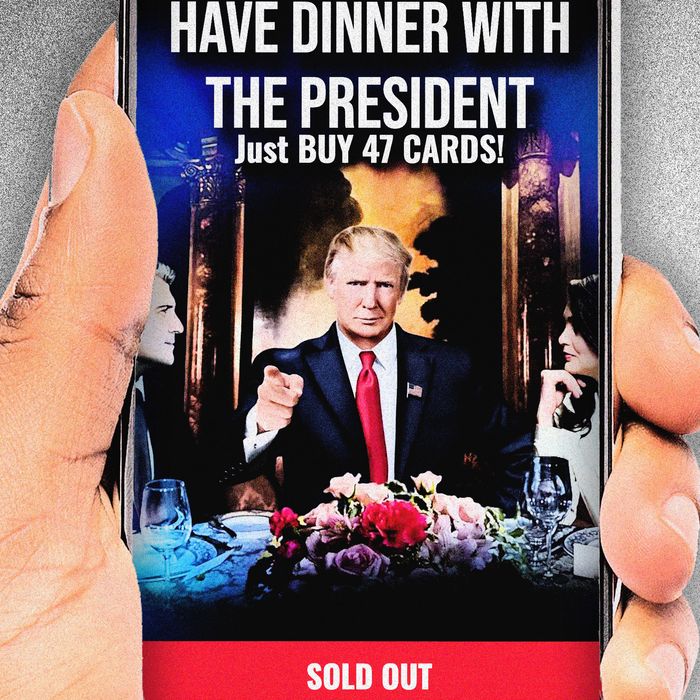 Photo-Illustration: Intelligencer; Photos: collecttrumpcards.com/Getty Images
Two weeks after he was indicted on 34 felony counts related to paying hush money to a porn star, Donald Trump isn't just surviving, he's thriving. He's running laps around likely 2024 rival Ron DeSantis. He's days away from dropping his revenge coffee-table book, Letters to Trump. And on Tuesday, the former president returned to Instagram for the first time since he was banned for inciting an insurrection to plug series two of his lucrative NFT collection.
But he has one problem: He knows no one — especially not the "Fake News" — is going to give him credit for not making his NFT venture even more scammy than it already is.
We know this because Trump posted a nearly 500-word lament as the caption to one of his four Instagram posts announcing the new batch of non-fungible tokens.
"I hope everyone notices, & I'm sure the Fake News won't, that I'm leaving the price of the Trading Cards the same as last time, even though they are selling for MANY TIMES MORE (It's called the MARKET!), & sold out almost immediately, because I want my fans & supporters to make money, & have fun doing it," Trump wrote. "I could have raised the price MUCH HIGHER, & I believe it still would have sold well, with a lot more money coming to me, but I didn't choose to do so. I WILL BE GIVEN NO 'NICE GUY' CREDIT?"
This was accompanied by a shot of the NFT depicting Trump as Superman (one of his favorite motifs). Not all heroes wear capes — and if they don't, they should definitely keep releasing images of themselves as superheroes until people get the message.
Trump announced his first NFT collection in December with a delightfully tacky two-minute video that gave major '90s-infomercial vibes. He made a video announcement for series two as well, but for some reason he appears only as a disembodied voice-over to a still photo in this one.
"Series two the new collection features incredible artwork of me as a rock star and also as a monster trucker," Trump says. "People love to collect baseball cards, but why settle for that when you can collect the greatest trading card in history?"
This last line appears over a shot of an NFT depicting Trump on a golden board, surfing in a business suit over an ocean of bills with his face on them.
Trump's Instagram NFT rant was mostly correct. Series two, like the first set of NFTs, sold out within a day. He probably could have squeezed more than $99 out of his followers, who have proven themselves willing to buy even pretend MAGA credit cards. And no member of the Fake News, including this journalist, is giving him "'NICE GUY' CREDIT." But I will grant him this: The NFT of Trump hanging ten on a wave of fake money is probably the greatest trading card in history.