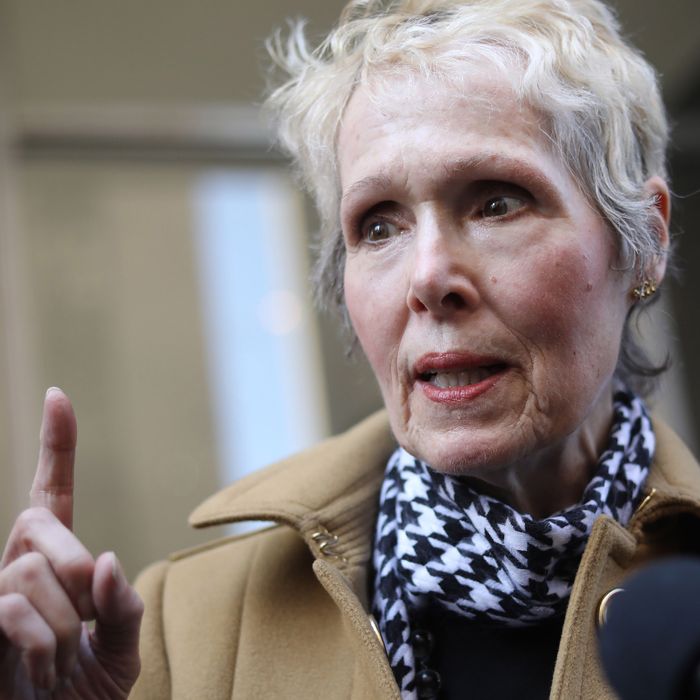 E. Jean Carroll at court in March 2020.
Photo: TNS
Donald Trump's lawyers on Thursday made yet another 11th-hour request to delay his April 25 civil rape trial in Manhattan. Their claim: They had just learned that E. Jean Carroll's litigation against him had been subsidized by Democrat megadonor Reid Hoffman.
Trump's legal team claimed in a letter that Carroll didn't disclose Hoffman's involvement during her October 14 deposition in a related lawsuit. Now they want to reopen discovery "for the limited purpose of addressing this issue."
The revelation was "troubling and raises significant questions that require further investigation" — meriting a one-month delay of the heavily anticipated proceedings, they wrote.
In their letter, Trump's lawyers pointed to an exchange during Carroll's deposition where she was asked, "Are you presently paying your counsel's fees?" Carroll responded, "This is a contingency case."
Trump's attorney further pressed Carroll, asking, "So you're not paying expenses or anything out of pocket to date, is that correct?"
"I'm not sure about expenses. I have to look that up," Carroll said during her deposition. Trump's team then asked, "Is anyone else paying your legal fees, Ms. Carroll?" She answered, "No."
Trump's lawyers said they learned Carroll's litigation had received outside funding in an April 10 letter from her attorney, Roberta Kaplan. In the letter, Kaplan pointed to this portion of Carroll's deposition and said that "during the course of preparing for her testimony at trial, Ms. Carroll has recollected additional information."
While Carroll stands by her testimony that this is a contingency case, Kaplan wrote in her letter to Trump's lawyers, "She now recalls that at some point her counsel secured additional funding from a nonprofit organization to offset certain expenses and legal fees." Kaplan insisted in this letter that the issues were "irrelevant" to Carroll's allegations that Trump raped and defamed her.
Trump's counsel, unsurprisingly, has seized on this disclosure, treating it as some sort of proof that Carroll's suit is part of a Democrat plot against him. They pointed to Hoffman's comment during an episode of On With Kara Swisher that he would "spend as much as I possibly can" to keep Trump out of the White House.
"This revelation raises significant questions as to Plaintiff's credibility, as well as her motive for commencing and/or continuing the instant action," Trump's lawyers wrote. "It also strikes at the heart of one of the key aspects of Plaintiff's defamation claim — whether the instant action is a 'hoax' that was commenced and/or continued to advance a political agenda."
Hoffman was an early executive at PayPal and a co-founder of LinkedIn, and he introduced Mark Zuckerberg and Peter Thiel. His longtime friendship with Thiel has been strained, he told Swisher, because of Thiel's strong support for Trump. But Hoffman's support of Democratic causes has effectively borrowed a page from Thiel's playbook: Thiel famously funded lawsuits intended to destroy Gawker Media, including the Hulk Hogan lawsuit that resulted in Gawker's bankruptcy.
Carroll's lawyers fired back at Trump's team, claiming that the latter's request for additional discovery — and a trial delay — is "baseless for multiple reasons." Kaplan noted that a nonprofit did provide money to cover some costs and fees in Carroll's case against Trump but did so in September 2020 — almost one year after she first sued him.
"We informed Trump's counsel that Carroll has never met and has never been party to any communications (written or oral) with anyone associated with the nonprofit," Kaplan wrote in a letter responding to Trump's filing.
Kaplan, pointing out that the trial is "less than two weeks away," described the request from Trump's team as a "transparent effort to keep a jury from deciding Carroll's claims" that should also be rejected.
Kaplan also noted that this is the second request for a delay in three days. Indeed, on April 11, Trump attorney Joe Tacopina asked the judge for a one-month postponement of the trial because of the ex-president's recent indictment.
"President Trump's right to a fair trial depends upon a brief 'cooling off' period between the trial of this matter and the recent deluge of prejudicial media coverage concerning his unprecedented criminal indictment and arraignment in Manhattan," Tacopina said in a filing dated April 11.
"Holding the trial of this case a mere three weeks after these historic events will guarantee that many, if not most, prospective jurors will have the criminal allegations top of mind when judging President Trump's defense against Ms. Carroll's allegations," Tacopina said.
Trump pleaded not guilty to 34 felony counts of falsifying business records related to allegedly paying off adult-film star Stormy Daniels so she'd keep quiet about an alleged affair. Carroll has accused Trump of raping her in a Bergdorf Goodman dressing room in the 1990s; he has denied her allegation.