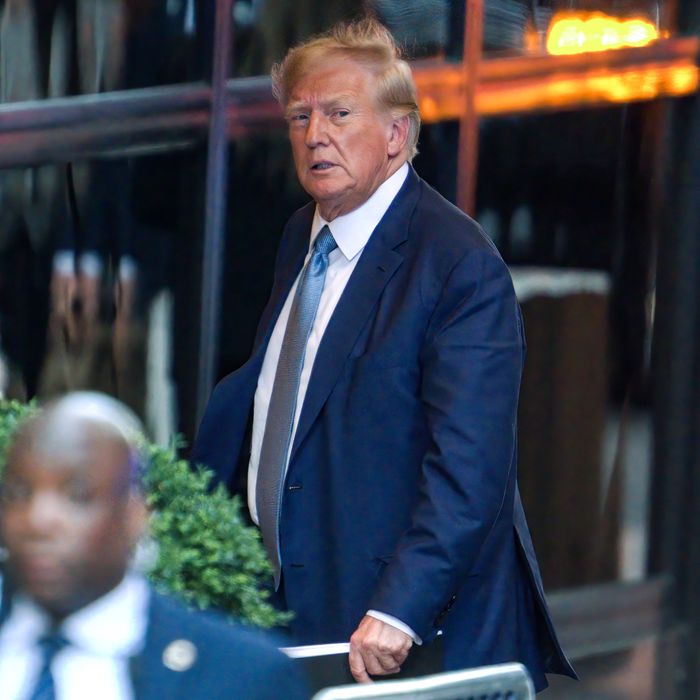 Donald Trump in Manhattan on April 13, 2023.
Photo: GC Images
Donald Trump's highly anticipated civil rape trial starts with jury selection on April 25 in Manhattan federal court. The trial stems from writer E. Jean Carroll's allegation — first published in New York Magazine as an excerpt of her book What Do We Need Men For?: A Modest Proposal — that Trump raped her in a Bergdorf Goodman dressing room around late 1995.
Trump, whose many vulgar comments about women include his notorious "grab 'em by the pussy" quip, denied the allegations — claiming he'd never met Carroll in the first place and that she was lying. Carroll responded in turn by hitting Trump with a defamation lawsuit in November 2019, claiming that his denials had smeared her reputation.
After years of litigation, Carroll's allegations against Trump will finally go before a jury. The jurors will decide whether Carroll has shown, by a preponderance of evidence, that Trump sexually assaulted her. The jurors also have to determine whether Trump's comments about Carroll were defamatory. That the trial will prove to be bombshell goes without saying: A New York jury is going to decide whether Trump committed rape. The proceedings will also unfold before another made-for-tabloid backdrop: Trump's unrelated criminal case, which is playing out more slowly just two blocks away, at the 100 Centre Street courthouse in downtown Manhattan.
Why is Carroll suing Trump?
Carroll first sued Trump in 2019. It was a defamation lawsuit involving his denials of her rape allegation — not over the alleged attack itself. Carroll specifically cited Trump's public statement where he claimed, "I've never met this person in my life. She is trying to sell a new book — that should indicate her motivation. It should be sold in the fiction section." Trump also said: "Shame on those who make up false stories of assault to try to get publicity for themselves, or sell a book, or carry out a political agenda" and implored "if anyone has information that the Democratic Party is working with Ms. Carroll or New York Magazine, please notify us as soon as possible. The world should know what's really going on. It is a disgrace and people should pay dearly for such false accusations." Trump at one point also said, "I'll say it with great respect: Number one, she's not my type. Number two, it never happened. It never happened, okay?"
Carroll contended that Trump's comments caused "emotional pain and suffering at the hands of the man who raped her, as well as injury to her reputation, honor, and dignity." She allegedly endured "professional harm" after Trump's comments which, she claimed, not only impugned her honesty but falsely suggested financial and political motivations. "Carroll's professional success is inextricably bound up with her 'Ask E. Jean' advice column, where readers look to her for wisdom, wit, honesty, integrity, and courage. By attacking Carroll, Trump has injured the reputation on which she makes her livelihood and attracts readers," her suit alleged. (Carroll claimed in February 2020 that Elle fired her following Trump's furor, which the magazine has denied.) Carroll could not sue Trump over the alleged sexual assault, as the civil statute of limitations had passed.
Why can Carroll sue him for sexual assault?
In November 2022, Carroll filed a new lawsuit against Trump on both sexual battery and defamation grounds. Carroll was able to do so because of the Adult Survivors Act, a new New York state law that went into effect that same month giving adult survivors of sexual misconduct a one-year window to file civil cases that would otherwise be outside the statute of limitations. The case that will be heard is Carroll's new lawsuit, not the original, defamation-only proceeding. The new lawsuit's defamation claims involve statements Trump made after he was president, not comments he said while in the White House. There might not be another trial for the original suit; that likely depends on how these proceedings play out.
Will Trump be testifying in court?
Probably not. For starters, Trump doesn't have to be there, as it's a civil case and he's not being called to the stand. Trump claims that he wants to be there, but says he's worried that another court appearance would cause traffic and annoy people. In a letter to Judge Lewis Kaplan, one of Trump's attorneys, Joe Tacopina, said of the recent arraignment: "As a former president, the defendant was always accompanied by approximately a dozen Secret Service agents, the FDR Drive was shut down for a significant amount of time while he traveled to the courthouse, the courthouse itself was frozen while he was present, and the streets, within a three-block radius of the courthouse, were blocked off while he was there."
Trump coming to court, he said, "would result in similar logistical and financial burdens upon New York City, its residents, and the court itself." He reiterated the claim that "Trump wishes to appear at trial," but also asked the judge if he could tell jurors not to read any meaning into the ex-president's absence.
How did that go over with the judge?
Kaplan — who is renowned for both his tack-sharp legal mind and his unwillingness to suffer fools gladly — said he didn't think it was his job to say anything one way or the other at this point. Kaplan also took issue with the idea that Trump's presence would be just too much for everyone to handle — and pointed out that the ex-president didn't seem too worried about going to other places: "Moreover, the Court notes from Mr. Trump's campaign website and media reports that he announced earlier this week that he will speak at a campaign event in New Hampshire on April 27, 2023, the third day of the scheduled trial in this case," Kaplan wrote. "If the Secret Service can protect him at that event, certainly the Secret Service, the Marshals Service, and the City of New York can see to his security in this very secure federal courthouse."  Carroll will be attending the trial.
What else should we know about Judge Kaplan?
Kaplan, who was nominated by Bill Clinton, has overseen a host of high-profile proceedings. He presided over actor Anthony Rapp's recent sexual-misconduct trial against Kevin Spacey and is now overseeing crypto-bro Sam Bankman-Fried's fraud case. Kaplan is exacting and impatient, so his proceedings aren't glacial. Jury selection in Spacey's case was less than a few hours, for example. The judge has issued a memo to the attorneys explaining how they can keep the trial moving — explaining, for instance, that lawyers should have a witness immediately available when the previous witness finishes testifying, and that he might consider the attorney's case concluded if that next witness isn't available.