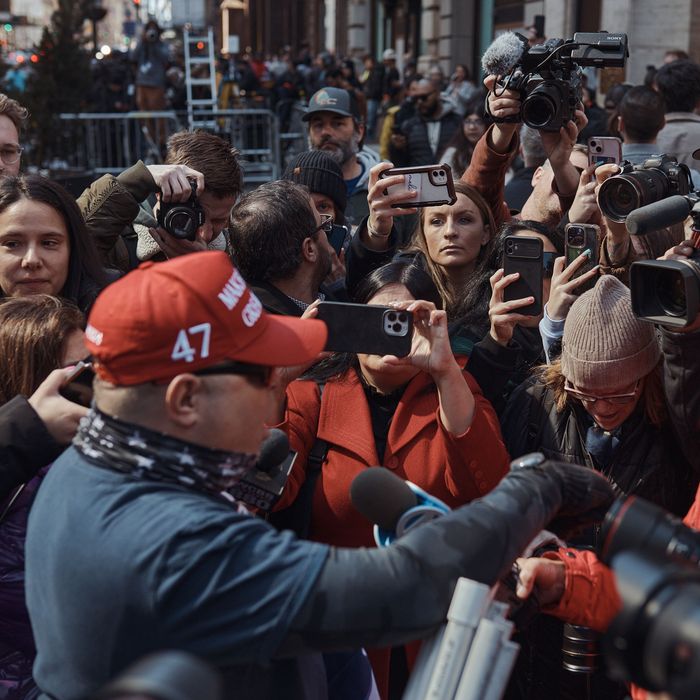 A Trump supporter speaks to journalists outside Trump Tower.
Photo: Andres Kudacki
"This is my new favorite flag," says Dion Cini, who is holding a flag that says "Trump or Death" outside Trump Tower on Monday morning. "It doesn't necessarily mean my death; it could mean your death."
Cini, a South Brooklyn resident who sells MAGA merch and medical software for a living, had organized a "homecoming" for the former president ahead of his arraignment Tuesday to face charges related to the alleged hush payment for porn star Stormy Daniels. Cini was hoping for a strong turnout. Roger Stone had amplified his rally announcement, urging followers to keep it "peaceful and legal." But in a city that loathes Trump, just a handful of his supporters actually showed up. They were far outnumbered by the police and Secret Service on Fifth Avenue — who were rivaled in number by the press on the scene.
As the world waits for the first-ever criminal charges for a former U.S. president to be unveiled, dozens of reporters and cameramen huddled behind steel barricades for background shots of Trump Tower. The mood was tense — not in anticipation of violence or anything like that, but because the sidewalks were so jammed with press people that the usual traffic of window-shoppers and office workers couldn't make their way through. With nothing to do until Trump's arrival, everyone gawked and took pictures of his fans.
There was the woman holding a sign that showed the face of Manhattan District Attorney Alvin Bragg on the body of Fat Albert; the caption read, "Fat Albert and the Commie Kids." There was the man with a "Joe Biden Sniffed Me / Gays for Trump" tee yelling about the "fake pedophile president in the White House" and calling for Bragg's arrest. There were the people waving flags: "Let's Go Brandon" in the NASCAR font and "Trump Pride Save America." Cini — who has made his name among Trump supporters by getting kicked out of baseball games for unveiling huge MAGA flags — sells a version of those flags for $20 a pop.
"So far, as expected, there are too many journalists," he says. "There aren't enough Trump supporters because they've been scared shitless of losing their jobs, losing their livelihoods, or having their picture put online and having their lives taken away from them." As someone who's fairly well connected in MAGA world, Cini doesn't have that problem. Then again, he says he spends roughly 20 percent of his time demonstrating outside Trump Tower — so it could be considered part of his job selling gear to his fellow supporters. Tomorrow, he will head downtown to show his support for Trump. "It's none of my business," he says, referring to the hush-payment allegation. "I don't care if he did or didn't. I care about what he did for America."