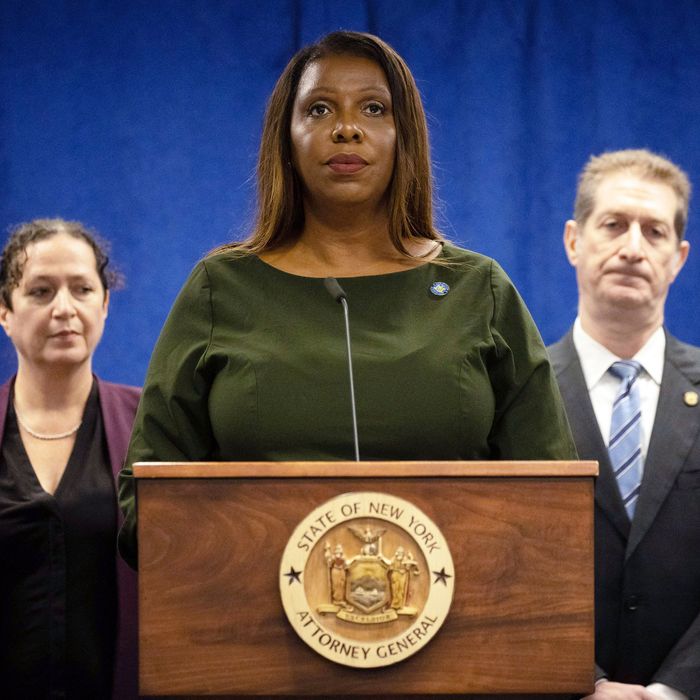 Photo: Yuki Iwamura/AFP via Getty Images
Just one week after getting arraigned on 34 felony counts, Donald Trump returned to his hometown late Wednesday night to face another legal case. On Thursday, he is scheduled to give a deposition under oath in Attorney General Letitia James's civil fraud case against the former president, three of his adult children, and members of the Trump Organization. The Trump Organization itself is also a defendant.
Ahead of his arrival to James's office, Trump took to his social-media platform TruthSocial, calling the case "ridiculous, just like all of the other Election Interference cases being brought against me."
Here's what we know the other major New York case against Trump.
What's the case about?
In September, James filed a lawsuit against Trump and his children Donald Trump Jr., Ivanka Trump, and Eric Trump after her office completed a three-year investigation. In the substantial 222-page filing, the attorney general alleges that Trump misrepresented his net worth and the valuation of several of his properties on his annual financial statements in order to receive more favorable terms on bank loans.
Among the claims made was that Trump's Florida club Mar-a-Lago was valued at $739 million when it truthfully should've been valued closer to $75 million. The filing also claims that inaccurate valuations were made on 40 Wall Street and Trump Tower in Manhattan and additional properties like Trump's golf courses, alleging the defendants made "more than 200 false and misleading valuations" from 2011 to 2021.
"Claiming that you have money that you do not have does not amount to the art of the deal. It's the art of the steal," James said at a press conference last year announcing the suit.
James is seeking to permanently bar Trump and his children from ever operating a business in the state and $250 million. Trump has maintained his innocence since the lawsuit was filed, calling the case a "witch hunt" on social media.
Trump, who has a penchant for personally targeting his perceived enemies, also went after James herself, calling her "racist" and a "fraud who campaigned on a 'get Trump' platform."
This isn't Trump's first deposition.
Last August, Trump previously took part in another deposition with James's office. NBC News reported at the time that the proceeding took four hours and that the former president allegedly invoked the Fifth Amendment more than 440 times.
All three of Trump's children gave testimony for the inquiry after several failed attempts from their legal team to fight court orders requiring their participation.
When will it go to trial?
The case is set to go to trial on October 2, following the judge's rejection of Trump's request for a six-month delay. It will be yet another legal action Trump will be forced to juggle in the upcoming months.
In addition to his recent indictment from the Manhattan district attorney's office, the former president is still awaiting word from the Justice Department's dual inquiries into his mishandling of documents and actions related to January 6 as well as Georgia's investigation into election interference. Additionally, E. Jean Carroll's civil case against Trump, whom she's accused of sexual assault, is set to go to trial this month. However, the former president's business team recently asked for a delay as well, citing the recent media attention following the Manhattan indictment.