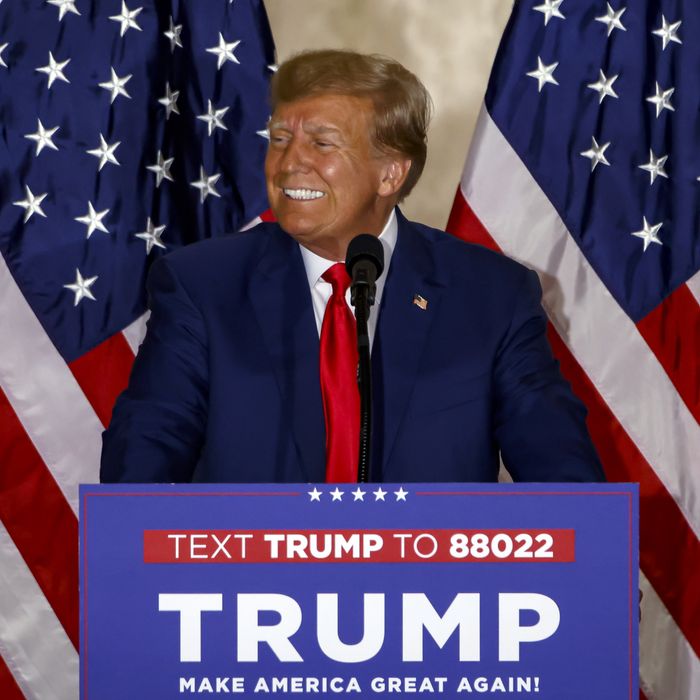 Trump at Mar-a-Lago on Tuesday night.
Photo: Eva Marie Uzcategui/Bloomberg via Getty Images
Most criminal defendants would not immediately go on national television and attack the judge and the judge's family only hours after being arraigned. But Donald Trump is not your normal criminal defendant.
Only hours after the former president was indicted on 34 felony counts of falsifying business records in Manhattan Criminal Court, Trump launched into an abbreviated version of his standard rally-style speech in the ballroom of his private club. There were insults and racially loaded rhetoric. There were repeated claims of persecution and efforts at self aggrandizement. The only thing missing, for understandable reasons, was a "lock her up" chant.
It made for a stunning contrast to his lackluster campaign launch months before in the same Mar-a-Lago ballroom. At that event, a low-energy Trump limped into his 2024 reelection campaign following a disappointing midterms for the GOP weighed down by the poor performance of many Trump-backed candidates. At the time, Florida governor Ron DeSantis looked like a potential juggernaut after his combination of hard-right cultural politics combined with strict message discipline helped him to a successful reelection campaign in the Sunshine State. Since then, however, the political winds have shifted. As Trump's legal troubles have multiplied, so too has his support among Republican presidential primary voters.
Now Trump has been able to shift the debate within the GOP into purely Manichaean terms around his indictment by District Attorney Alvin Bragg. When DeSantis even dared to take the slightest shot at Trump over the fact that he had paid hush money to a porn star, it was met with an onslaught of outrage from MAGA world that the Florida governor would dare to undermine Trump. In his remarks on Tuesday night, Trump went out of his way to heighten these contradictions. Only hours after the judge, Juan Merchan, asked both parties in the court to refrain from making remarks that would "jeopardize the safety or well-being of any individuals," Trump not only attacked Bragg — whom he said was the real criminal — but also attacked Merchan and his family.
Trump built up to these attacks with a ranging review of his other legal troubles, including investigations from Fulton County district attorney Fani Willis in Georgia, New York State attorney general Letitia James, and federal special counsel Jack Smith. Needless to say, Trump launched personal attacks on all of these officials while painting all the legal peril he faces as part of a vast left-wing effort to persecute him and prevent him from taking back the White House.
The question for Trump is whether this playbook can hold up for another 18 months. After all, he not only needs to win the Republican primary next year, he also needs to win a general election in 2024. The challenge for Trump is that while everything he's been through in the past few months has made it that much easier for him to claim the GOP nomination in Milwaukee next summer, it hasn't done anything to help win over a single Wisconsin voter who cast their ballot for Joe Biden in 2020.
In the meantime, Trump's next trial is only weeks away when a civil court in New York will hear a lawsuit brought against him by journalist E. Jean Carroll, who alleges Trump sexually assaulted her in a department-store dressing room in the 1990s. Trump has denied those claims. After one indictment and two impeachments, the only question is how much further another trip to court can boost him with Republican primary voters.