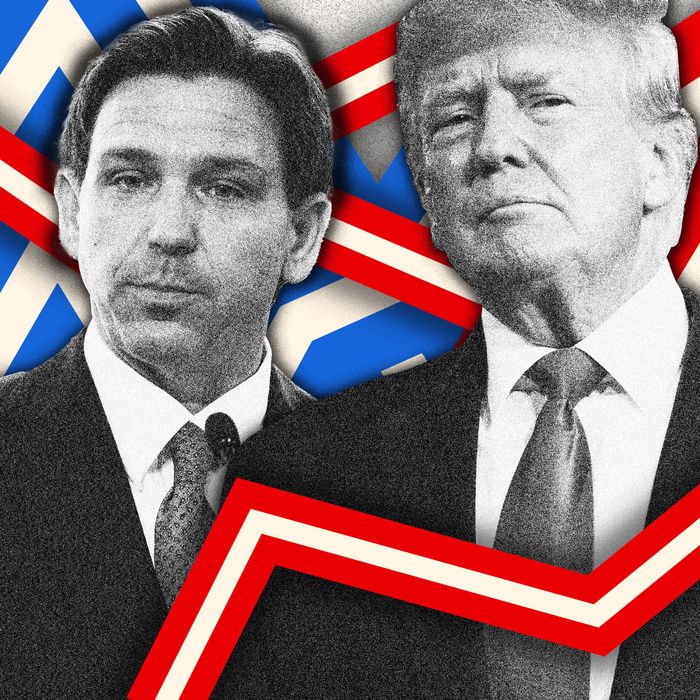 Trump is very slowly but surely doing better.
Photo-Illustration: Intelligencer; Photos: Getty Images
In the "invisible primary" of buzz, hype, and handicapping, the past few weeks have shown Donald Trump taking a solid lead over Ron DeSantis and other actual and potential rivals in the 2024 Republican presidential primary. A lot of it has come from a barrage of bad looks presented by DeSantis, including signing a draconian abortion law then refusing to talk about it and allegations that he eats pudding with his fingers. But there are also some objective indicators of Trump outperforming the Florida governor on the campaign trail, such as the 45th president's bumper crop of endorsements, particularly from the home state the two men share.
When it comes to 2024 polls, Trump has never trailed DeSantis in surveys that include the full range of potential candidates. According to the polling averages, the 45th president's lead is slowly but steadily growing. In the RealClearPolitics averages, Trump led DeSantis by 14.9 points (43.9 to 29.0) one month ago; now his lead is up to 31 points (53.3 to 22.3). Trump is doing better, and DeSantis is doing worse. FiveThirtyEight, which uses a different mix of polls and weights them for past accuracy and partisan lean, shows a less dynamic Trump lead in its averages: 16.7 percent (46.4 to 29.7) a month ago, and 24.6 (49.8 to 25.2) today. Still, the former president is gaining ground, and the Florida governor is losing it. In neither set of averages are other candidates making much of a mark: At RCP, Haley and Pence are tied at 4 percent; at FiveThirtyEight, Pence is at 5.5 percent and Haley is at 4.2 percent.
Another indicator worth watching, though the data points are scattered, involves the occasional one-on-one poll matching Trump against DeSantis with no other options to complicate the choice. Early on in the invisible primary, these polls generally showed DeSantis doing much better than in the full-field polls, suggesting (or so Team DeSantis and his media fans said) that once the governor disposed of the minor candidates and got Trump into a real fight, he might win. This hypothesis is based on the questionable premise that the only reason Trump won the nomination in 2016 is that his rivals split the anti-Trump vote. In reality, once the field shrank, Trump kept doing better. Furthermore, even if candidates other than Trump and DeSantis fade during the 2024 primaries, it may happen too late for anyone to overtake Trump (which is what happened to Ted Cruz in 2016).
In any event, even the one-on-one polls are now showing Trump ahead. As recently as early February, YouGov-Yahoo surveys had DeSantis leading Trump in a straight-up competition by a 45-41 margin. By late March, following Trump's Manhattan indictment, the same pollster showed Trump leading DeSantis by a big 57-31 margin, and in mid-April, he was still up 52 to 36. Similarly, The Wall Street Journal made waves with a December poll sowing DeSantis leading Trump by a 52-38 margin with no one else on the trial ballot. But a new Journal poll now flips those numbers with Trump taking a 51-38 lead in the unlikely scenario of a one-on-one battle.
In another metric of particular importance to Team DeSantis, which hopes to convince Republican voters the ex-president is unelectable, the two men are running basically even against Biden (Trump leads Biden in general-election trial-heat averages by 1.3 percent; DeSantis leads the incumbent by 1.9 percent, according to RealClearPolitics). But Public Opinion Strategies just released general-election polls of two battleground states (Arizona and Pennsylvania) showing DeSantis to be a significantly stronger candidate than Trump against Biden. DeSantis needs a lot more of that kind of electability evidence and maybe a few weeks without negative press.